Commercial court grows in standing
Share - WeChat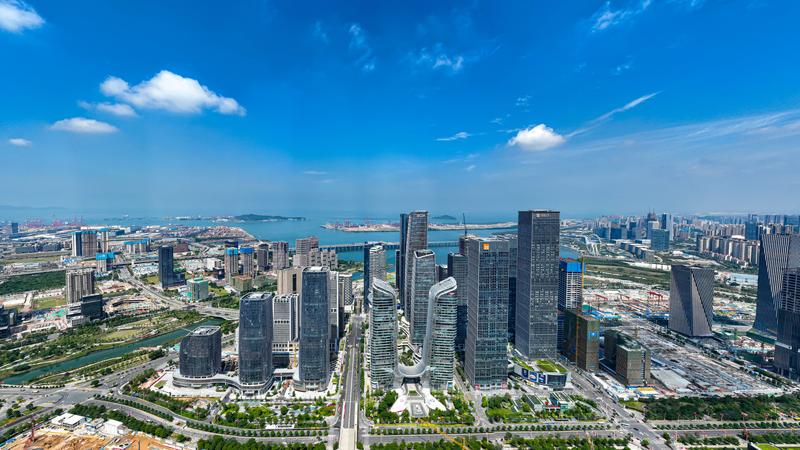 Shenzhen venue becomes preferred choice to handle cross-border cases
A court in the Guangdong-Hong Kong-Macao Greater Bay Area has become the preferred venue for cross-border commercial dispute resolution, as it is better suited to solving such cases through accurate applications of extraterritorial laws and simplified procedures.
"The accurate application of the law means fairness, and the streamlined process means efficiency, both of which are what litigants from home and abroad in commercial disputes most need," said Bian Fei, president of the Shenzhen Qianhai Cooperation Zone People's Court in Guangdong province.
He made the remarks during an exclusive interview with China Daily recently, adding that the court's efforts to ensure fairness and efficiency have boosted its global reputation.
Located in Qianhai, an experimental zone in western Shenzhen that aims to strengthen collaboration between the city and neighboring Hong Kong, the court was set up on Jan 28, 2015, to implement judicial reforms established by the Supreme People's Court, the country's top court.
As a pilot program to contribute to the development of the Greater Bay Area and enhance its international judicial credibility by innovating its external trial system, the Qianhai court aims to tackle first-instance commercial disputes across Shenzhen involving people from Hong Kong, Macao, Taiwan and abroad.
Data showed that from February 2015 to March this year, the court heard 17,254 such cases, covering 128 countries and regions. More than 64.5 percent of the disputes involved Hong Kong litigants.
So far, the court has solved 167 cases by applying extraterritorial laws, including 118 solved by applying Hong Kong laws — ranking first in quantity among courts nationwide, according to the data.
"The ability of ascertaining and applying extraterritorial laws reflects the opening-up level of a court," Bian said, adding that various measures to improve this ability have been taken over the past few years.
For example, the court has built a free platform for judges and litigants to research overseas laws, because only by learning how laws are stipulated can the accurate application be guaranteed, he added.
Wang Hu, a judge from the court, regards law ascertainment and application as a big challenge in tackling cross-border commercial disputes.
"To cope with the challenge, I need to keep learning about extraterritorial laws and get familiar with commercial rules concerning external affairs, because in this way, my capability to hear disputes will be improved, so as to equally protect domestic and overseas litigants," he said.
"Effectively handling cross-border commercial disputes will also help create a sound business environment," he added.
In addition to the efforts made by judges, Bian said that the court has also allowed Hong Kong jurors, who have a better understanding about the special administrative region's laws, to participate in handling cases so that Hong Kong litigants will have more faith in the process.
According to the data, 32 Hong Kong jurors have taken part in the handling of 920 cases, while 2,415 other disputes have been resolved through mediation with the help of 49 mediators invited from Hong Kong, Macao, Taiwan and foreign nations.
Winnie Tam Wan-chi, former chairwoman of the Hong Kong Bar Association, said inviting mediators from Hong Kong, Macao, Taiwan and foreign countries to help settle cross-border commercial disputes is a better way to facilitate the integrated development of legal talent in the Greater Bay Area.
Moreover, litigants from overseas can also enjoy easier access to legal services. For example, case filings, trials and the delivery of legal documents can all be handled online. The court's time for hearing commercial disputes involving external affairs was shortened to 6.4 months in 2022 from 17.5 months in 2015, the data said.
To further promote the integrated development of the Greater Bay Area, Bian said that the court has also stepped up efforts to understand the differences between commercial laws on the mainland and those in Hong Kong.
The laws will be listed online and provided for free to those ready to invest in the area to learn, he said, hoping it can help prevent risks arising.
He added that the court has finished making legal comparisons in eight commercial fields, including private lending and equity transfers, two sectors in which judges see the most frequent disputes.