Wuxi offering incentives to lure new graduates
Share - WeChat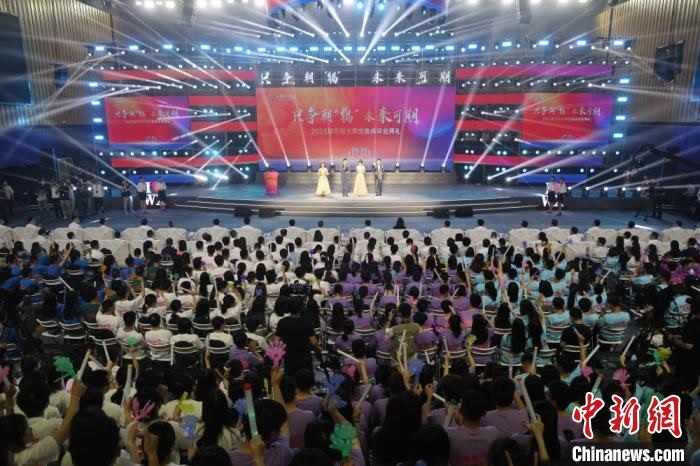 Wuxi, which held a collective graduation ceremony for more than 50,000 of its college graduates on Friday in Jiangsu province, has expanded recruitment and offered preferential policies in a bid to attract more "partners of the city".
Du Xiaogang, secretary of the Wuxi Committee of the Communist Party of China, said at the ceremony that the graduates were more than welcome to work in Wuxi.
"It is never the watches, the necklaces, the text messages or the photos that are the most precious souvenirs," Du said. "It is the marks that the city has engraved on you and me, like what rivers have engraved on mountains, that is the most precious."
The local government, local companies — both private and State-owned — and government-affiliated institutions will expand recruitment by providing more than 20,000 jobs for the graduates.
According to Du, Wuxi will also hold more events, cultural performances and food festivals, such as the FIBA 3X3 World Tour Masters and Midi Music Festival, to impress young people living in the city.
"What you like is what we will do," he said.
To boost communication between the graduates and the recruitment companies and institutions, the local government also held a 24-hour livestreaming event last week, which attracted 18 well-known companies and 220,000 viewers.
Chen Liang, president of Wuxi Talent Group, said that more training opportunities will be provided to college students so that they can better adapt to workplaces, as more than 5,000 young engineers who are third-year undergraduates and second-year graduate students will be trained in the next five years.
For college students who choose to work in Wuxi, they can receive a two-year rental subsidy of up to 20,000 yuan ($2,800).
Also, those who start a business in Wuxi can apply for a one-time startup subsidy of 6,000 yuan and a startup rent subsidy of up to 10,000 yuan per year for three years. Some may even qualify for a subsidy of up to 300,000 yuan from the government.
In addition, students can visit public tourist sites for free until June 2024. They can also visit some sports venues for free and can receive public transportation discounts. Even if they choose not to stay in Wuxi, they can visit those attractions for free in June.
College graduates who come to Wuxi to find jobs from other cities can also take advantage of free accommodation provided by the government for seven to 90 days.
According to the Ministry of Education, China will see a record 11.58 million college graduates this year, an increase of 820,000 year-on-year.
The Ministry of Human Resources and Social Security said the country aims to add 12 million jobs in cities this year while keeping its unemployment rate at around 5.5 percent.