Shenzhou XVI crew docks, meets Shenzhou XV peers
Share - WeChat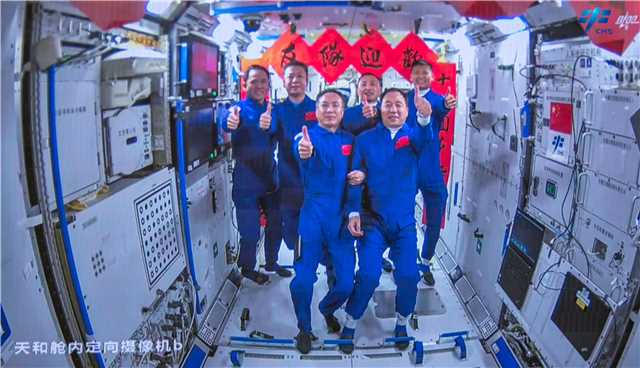 The Shenzhou XVI mission crew has entered the Tiangong space station and met the Shenzhou XV team.
After about two hours of preparatory work following the docking of the Shenzhou XVI spacecraft with the Tiangong space station in a low-Earth orbit of about 400 kilometers, Major General Jing Haipeng, the Shenzhou XVI mission commander, floated into the station's connection cabin at 6:19 pm.
He was welcomed by Major General Fei Junlong, leader of the Shenzhou XV crew, who had been waiting inside the cabin. "Let's hug! I am so happy!" Fei said as he embraced Jing.
Following Jing, astronauts Zhu Yangzhu and Gui Haichao moved into the connection cabin one by one and were greeted by Fei.
The Shenzhou XVI trio then entered the Tianhe core module and greeted their Shenzhou XV peers — Senior Colonel Deng Qingming and Senior Colonel Zhang Lu — who were using a mobile phone to record the emotional moment.
The two teams chatted for a while before taking a group selfie to applause from ground controllers.
The entire process was broadcast live on China Central Television.
The six astronauts are scheduled to stay together for about five days and the Shenzhou XVI crew will then take over the massive orbital outpost — one of the world's largest and most advanced spacecraft — from Fei's team, who have stayed in orbit for six months and will return to Earth on schedule.
Jing's crew set out from the Jiuquan Satellite Launch Center in northwestern China on Tuesday morning. They will stay inside the Tiangong space station for around five months and are scheduled to return in November.
The journey is the maiden flight of China's third generation of astronauts, and the first time a Chinese civilian has traveled to space.
It is also Jing's fourth spaceflight, making him China's most experienced astronaut.