Engineer has been fan of flight since boyhood
Share - WeChat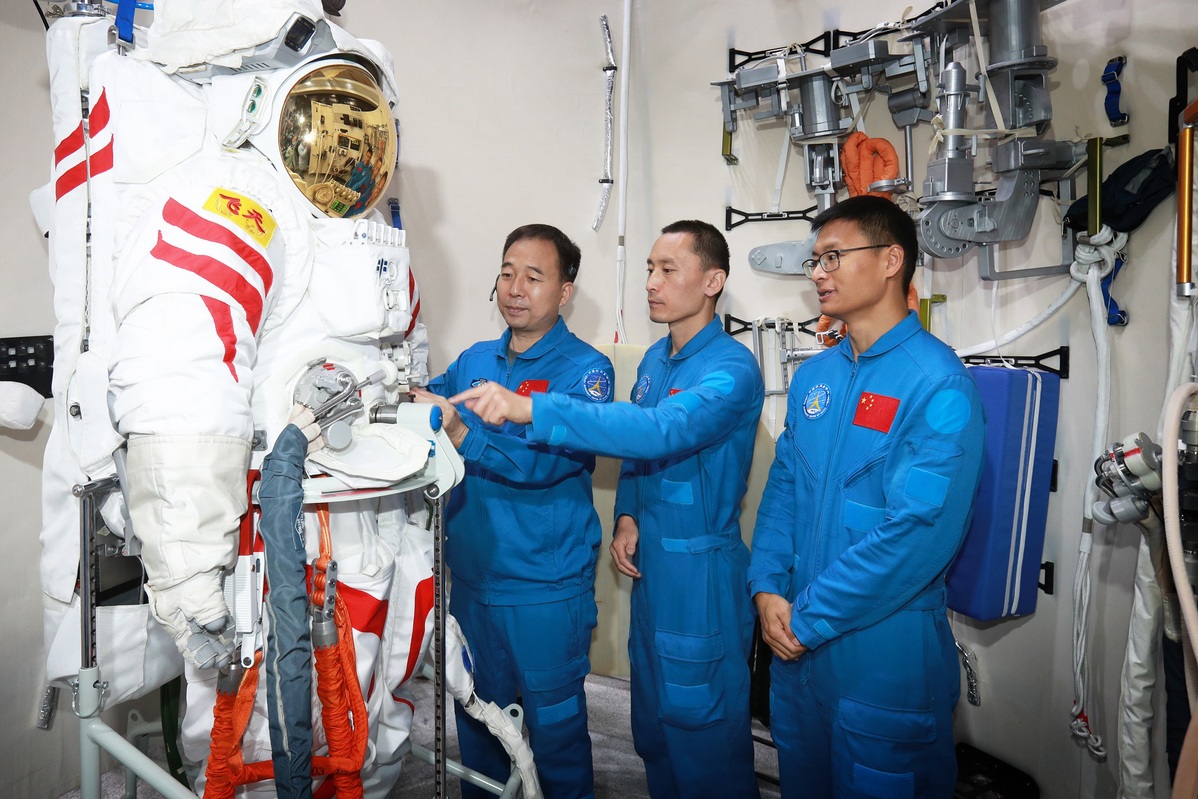 Zhu Yangzhu, the spaceflight engineer for the Shenzhou XVI mission, said he has loved the blue sky, aircraft and flying since he was a boy.
When he was a middle school student, Zhu recalled, he often did physical exercises on equipment designed for pilots at his school, which cooperates with the People's Liberation Army Air Force in selecting students for flight school.
"Before the national college entrance examination, I applied for a major in spacecraft systems and engineering at the National University of Defense Technology, and my second choice was a major in aircraft design and engineering at Nanjing University of Aeronautics and Astronautics. I made these choices because I wanted to learn about flight," Zhu told reporters at the Astronaut Center of China in Beijing before setting out to the Jiuquan Satellite Launch Center ahead of the Shenzhou XVI launch.
Because of his high grades, Zhu was admitted to the College of Aerospace Science and Engineering under the National University of Defense Technology in Changsha, the top educational body in the Chinese military for science and technology, in the summer of 2005 and remained there for the following decade.
At the university, Zhu was known for his dedication to study and research. He was also good at physical exercise, according to his classmates.
Peng Ke, a classmate, recalled that Zhu often ran 10 kilometers during exercises while other students usually ran 3 km. Zhu also likes cycling, Peng said, noting that one time Zhu rode for 14 hours to travel to Loudi, another city in Hunan province about 150 km from Changsha.
"He was outstanding at the university when it came to body strength," Peng said. "There was a 'flying wheel' in the university that was used to hone aviators' endurance. A lot of us tried it but we just couldn't resist the strong nausea caused by the fast spinning. But it seemed pretty easy for Zhu to use it."
At the end of 2015, Zhu graduated from the university with a doctorate and then reported to an infrastructure construction unit of the PLA to assume his first engineering post. He also took part in a post-doctoral program run by the PLA Army Engineering University in Nanjing.
In 2017, he was transferred to the PLA Strategic Support Force's Space Engineering University to help establish a mechanics laboratory.
In the summer of 2018, Zhu heard about the selection of China's third-generation astronauts and decided to throw his hat in the ring.
"I didn't make it into the Air Force to fly fighter jets in blue skies, but then came this opportunity for me to fly spacecraft outside of Earth's atmosphere, so I was determined to try my best to chase it," he recalled.
After many difficult tests, Zhu stood out among thousands of applicants and was recruited by the PLA Astronaut Division in October 2020.