New breed throws down gauntlet
Share - WeChat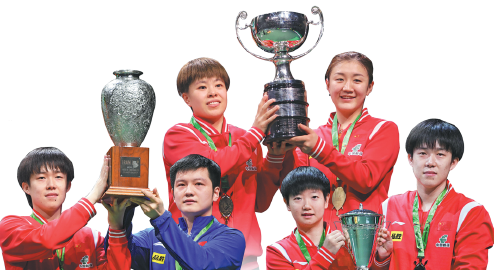 China's exciting young hotshots prove their mettle at world championships
Winning all five golds on offer at the 2023 ITTF World Table Tennis Championships Finals last week, Team China once again underlined its dominance of the sport.
More so than the medals, fans were thrilled by the scintillating performances of China's young guns, who served up more evidence of their growing maturity on the big stage.
World No 1 pair Sun Yingsha and Wang Chuqin got the gold rush underway on Friday by beating Japan's Hina Hayata and Tomokazu Harimoto 3-0 in the mixed doubles final.
On Saturday, top-ranked men's doubles duo Fan Zhendong and Wang Chuqin defeated South Korea's Lim Jong-hoon and Jang Woo-jin 3-0 to claim the second gold, before Chen Meng and Wang Yidi beat South Korea's Shin Yu-bin and Jeon Ji-hee 3-0 in the women's doubles final.
Sunday's men's and women's singles finals were a must-see for fans. World No 1 Sun had to dig deep in a 4-2 win over reigning Olympic champion Chen in the women's final, while top-ranked Fan proved he's still the man to beat with a 4-2 triumph over teammate Wang Chuqin.
"I'm very excited to win the singles world title. My teammate Wang Chuqin played very well today, and he pushed me to my limits on a number of occasions. I lost the first set and the second set was also really tough for me. But at the same time, I tried my best. This victory means so much to me," said Fan.
Although he failed to get the better of Fan on this occasion, Wang Chuqin showed why he is considered one of the sport's most exciting young prospects with another swashbuckling display in Durban.
The 23-year-old set the tone by stunning Fan with an 11-8 victory in the first set. And while world No 1 Fan regained his composure, Wang Chuqin's resilience was much in evidence in the fifth set. After Fan raced into a 10-5 lead, the challenger remarkably saved five championship points before eventually edging it 11-13 to force a sixth set.
The final became trending news on Chinese social media on Sunday night, with the hashtag "Fan Zhendong versus Wang Chuqin" viewed over 430 million times on Weibo.
"The men's singles final was brilliant, and both our players produced their best games. While Fan Zhendong successfully defended his title, Wang Chuqin surprised us by reaching the men's singles final at the world championships for the first time. They represent the highest level of men's singles in table tennis," said Wang Hao, the head coach of the Chinese men's team.
"All of the men's players who came to Durban this time played very well. They all overcame their foreign rivals, and showed improvement.
"It's not easy for Wang Chuqin to play in three disciplines — men's singles, men's doubles and mixed doubles. He was at his best and played a key role in our victory."
The women's singles final between Sun and Tokyo Olympics gold medalist Chen served up more breathtaking action, with world No 1 Sun fending off her older opponent to get her hands on the title for the first time.
Sun has soared to prominence this season, with the 22-year-old topping the podium at a number of WTT events — including an impressive hat-trick of titles (singles, women's doubles and mixed doubles) at the Singapore Smash in March.
She maintained that momentum in Durban, pocketing two golds (singles and mixed doubles), as well as a bronze in women's doubles.
"I'm happy to win the women's singles gold. I think it's more like a victory over myself. Me and big sister Chen Meng are both winners. We fought hard to reach the final, and over all these years, I have learned a lot from her," said Sun.
"I have grown a lot over the past two years. I failed to stand on the highest podium at the last world championships. So this time, it was more like a challenge to myself. It's about how to overcome the barrier inside my heart. And I made it today.
"I just told myself to keep trying hard and finish my work step by step. I need to keep focusing on the details and put in the hard work each day in training."
Next on the horizon for the all-conquering Team China are September's Asian Games in Hangzhou and next year's Paris Olympics.
"Our young players and our veterans still have weaknesses to work on and challenges to deal with. They need to figure out how to win the mental battle with themselves at major events such as the world championships and the Olympics," said Team China head coach Li Sun on Sunday in Durban.
"Many of our players have the strength and potential to win major titles. And among them, there are several world and Olympic champions. So the challenges they face are mostly the internal battles with themselves. We're a year away from the Paris Olympics, and I hope our players can keep pushing themselves and then bloom in Paris."