Ya Ya returns home to Beijing Zoo
Share - WeChat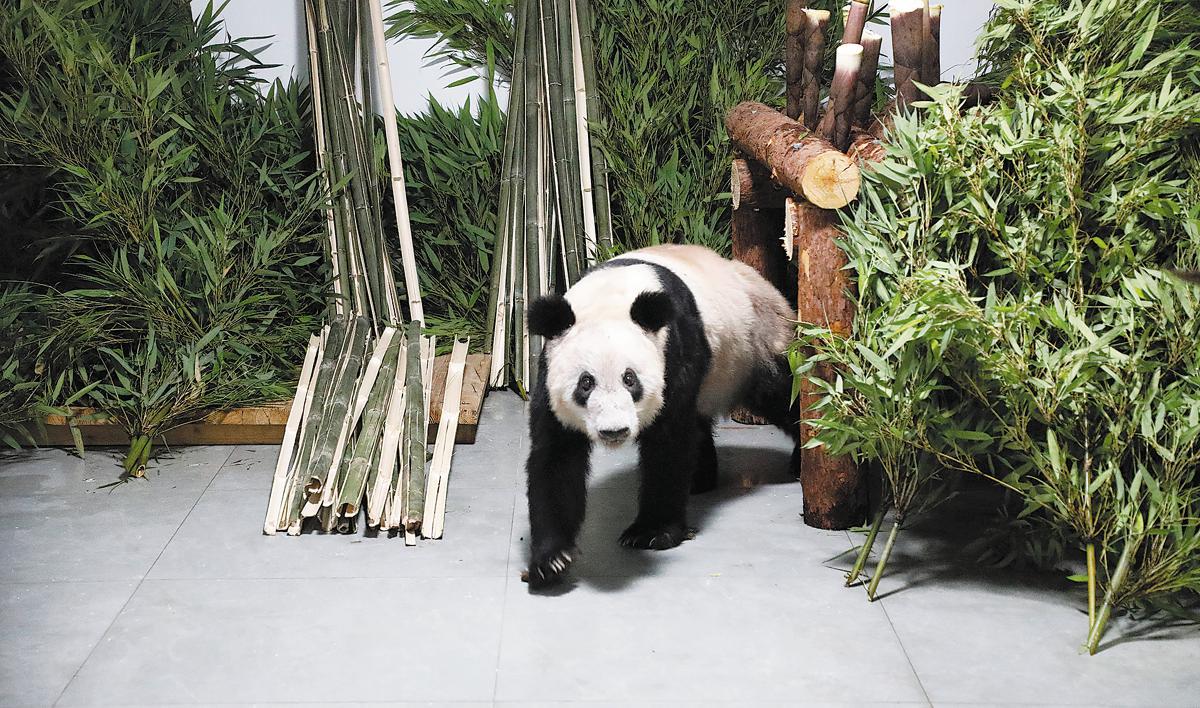 Giant panda Ya Ya returned home to Beijing Zoo early on Monday after spending 20 years in the United States.
Ya Ya will not be on show to the public for the time being as the 23-year-old panda needs to rest and adapt to her new environment. The zoo will periodically release updates on Ya Ya on its official Weibo account, according to the National Forestry and Grassland Administration.
The Sina Weibo hashtag "Ya Ya has returned home and been surrounded by bamboo" had been viewed 450 million times as of Monday evening.
Top comments included "I am sure she will live a good life in her later years", "I am happy at just a mere look at the latest photo of Ya Ya" and "She seems to be in good health. Thank you Beijing Zoo".
In 2003, Ya Ya, who was born at Beijing Zoo, and male giant panda Le Le, born at Shanghai Zoo in July 1998, traveled to Memphis Zoo in the US state of Tennessee as part of a China-US giant panda protection and research program.
In 2006, Ya Ya began to shed her fur, a condition that worsened in 2014. Experts at Memphis Zoo and in China tried various treatments but were unable to solve the problem, according to the Chinese Association of Zoological Gardens.
Memphis Zoo announced in December that it would return the pandas. However, in February, Le Le passed away at the age of 25 (equivalent to 80 in human years) due to heart disease. The zoo hosted a farewell party for Ya Ya on April 8, with hundreds of people attending the event, Xinhua News Agency reported.
On April 27, giant panda Ya Ya arrived in Shanghai, and was then quarantined for a month before moving to Beijing, the administration said.
During the quarantine period, experienced keepers and veterinarians from Beijing Zoo provided round-the-clock care for Ya Ya, due to her old age and changed living environment. Shanghai Zoo offered support and ensured her safety and health, the administration said.
Beijing Zoo has prepared a special feeding place for Ya Ya as well as tailor-made feeding measures, care, medical support and nutrition plans, according to administration.
On Sunday afternoon, Beijing Zoo received a special delivery of fresh bamboo from Chengdu, Sichuan province. The bamboo was airlifted to ensure that each panda at the zoo has fresh food, Beijing Television reported.