Decorated officer lost life protecting colleagues in final act of heroism
Share - WeChat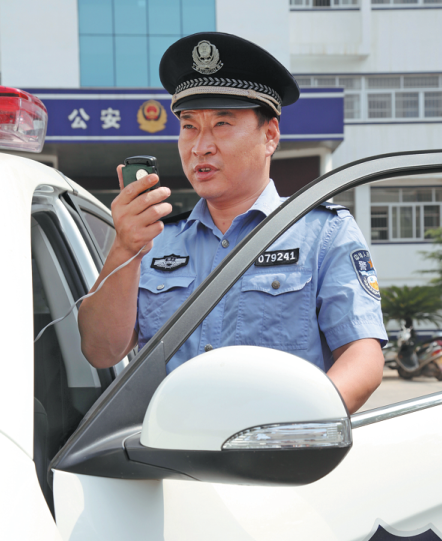 The week before his death, Cheng Kai, former deputy head of the Huangmei Police Station in Huangmei county, Hubei province, and his teammates worked for nearly 20 hours a day traveling around five different counties in search of six suspects.
On Sept 16, Cheng and four other colleagues planned to arrest a suspect involved in a series of car thefts. That morning, police discovered that the suspect had escaped in a van and immediately gave chase.
After stopping the suspect's vehicle on a mountain road, Cheng and his colleagues surrounded the van on both sides and attempted to detain the man when he threw his vehicle into reverse at high speed. Cheng was holding onto the door handle and attempted to stop him from reversing. The suspect fought back and twisted the steering wheel, causing the van to roll over.
At the critical moment, Cheng pushed his colleagues away and tumbled into a pit as the van crushed him. The suspect exited the van and attacked the officers with a long knife as they were trying to free Cheng. He was suffocated by the vehicle.
In January, the Ministry of Public Security posthumously awarded him the title of "Second-Class Hero Model of the National Public Security System".
Born in 1975, Cheng was a native of Huangmei. He joined the armed police force in Chaohu, Anhui province, at 18.
In 1996, a section of a dam on the Yangtze River ruptured in a county in Chaohu, resulting in severe flooding. Cheng and his team joined forces with the commandos to rescue 68 people trapped in a village.
He became a police officer in Huangmei in 1998. During his 24-year career, he participated in the arrest of 100 criminal gangs and solved 1,000 cases. He received numerous awards.
Wan Zhifeng, head of an environmental agriculture company in Huangmei, said that without Cheng's help, he wouldn't have been able to achieve what he has today.
Some 10 years ago, Wan was taken into police custody for provoking trouble and wounding a person after drinking.
Cheng handled his case. He visited Wan's neighbors and community officials several times and discovered that Wan was known for his impatience, so he organized a mediation between the parties.
Later, Cheng told Wan that committing illegal acts could destroy a person's life and urged him not to be so impulsive in the future.
"His care for me made me think about my life, and I decided to make some changes," Wan said.
For more than 10 years, Wan and Cheng remained in touch and looked out for each other, and as his life turned around, Wan was encouraged to start his own company.
Cheng's father, elder brother and daughter are all police officers.
He and his elder brother last saw each other during the Mid-Autumn Festival last year.
The brothers originally intended to go home to be with their father for the holiday, but Cheng was unable to go due to a case he was working on. As a result, his family did not see him before his death.
Cheng's daughter, who fulfilled her dream of becoming a police officer in 2020, said she admired her father. After joining the force, she said she was able to understand why he often had to travel for work and was not able to stay at home with her.
"As my father told me, it's only on the front line of police work that you understand what people think, experience their suffering and are able to serve them up close."