Love sells itself as couples rush to wed on '520' day
Share - WeChat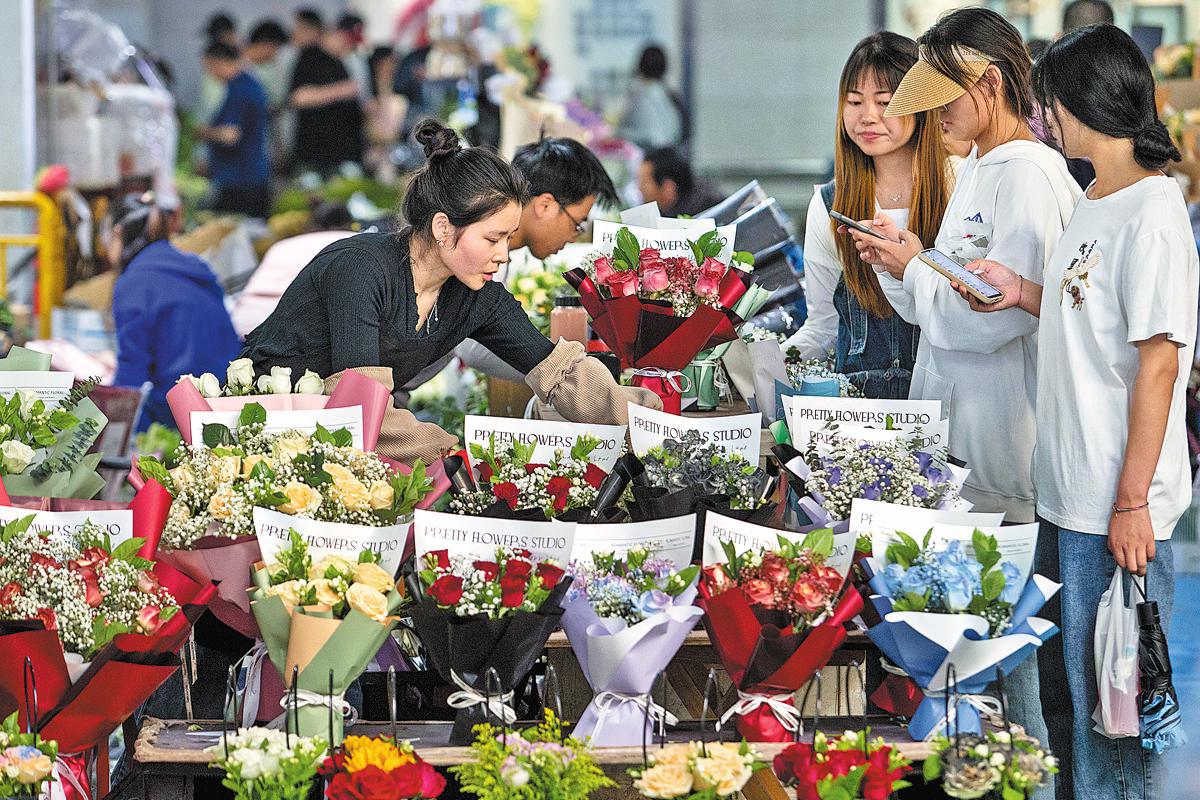 Inside a jewelry outlet at Grandview Mall, a high-end shopping complex in booming downtown Tianhe district in Guangzhou, Guangdong province, salespeople are busy sorting through their stock.
"An increased number of customers, especially young people who plan to register for marriage on May 20, have come to buy gold rings or other jewelry accessories," said Deng Wenwen, a salesman for the Emphasis outlet, a high-end Hong Kong-based jewelry brand.
Young Chinese couples are eager to register for marriage and make grand romantic gestures, such as proposing marriage, on May 20, which falls on Saturday this year, as "520" is a homophone of "I love you" in Chinese.
According to Deng, jewelry sales have climbed significantly in May, thanks to big sales promotions before Saturday as well as for Mother's Day on May 14.
"Sales have increased by almost 40 percent in the past two weeks, compared with the first two weeks of April," Deng said.
Nearby, a store selling garments of a major Chinese sportswear brand is offering four specially designed T-shirts for 520 yuan ($73.98) to mark May 20.
"Young buyers have been keen on buying the specially designed T-shirts in the past several days," said a salesman surnamed Huang.
However, the day isn't only about romantic gifts and sales promotions. Civil affairs authorities across the country are gearing up to handle a surge of marriage registrations.
To meet the strong demand for young people rushing to tie the knot on the special date, civil affairs authorities across Guangdong have announced that they will open on Saturday, outside of their usual weekday office hours.
According to the online reservation system for marriage registration in Guangdong, all offices across the province are fully booked for Saturday.
Beijing's marriage registration offices will also extend their service hours on May 20 to meet the surge in demand for marriage certificates.
"Our usual service hours on Saturdays are from 9 am to 1 pm, but we will definitely work overtime this Saturday," the Beijing Civil Affairs Bureau said in a statement.
According to the bureau, the number of marriage registration appointments in Beijing has already exceeded 4,400 couples. To avoid crowds gathering, residents in the capital need to make an appointment before going for marriage registration.
With many couples picking 520 as an auspicious day, others think the practice is now overdone.
Li Yihui, a young woman who plans to marry her boyfriend this year, believes even though it's a good idea to obtain a marriage certificate on May 20, the date is no longer quite as special as so many couples have chosen it in recent years.
"There are many other good choices, such as one of our birthdays or the anniversaries of some special dates during our relationship," she said. "Then, that date will be only meaningful for us, which is private and special."
Du Juan in Beijing contributed to this story.