Global media eyes on World University Games in Chengdu
Share - WeChat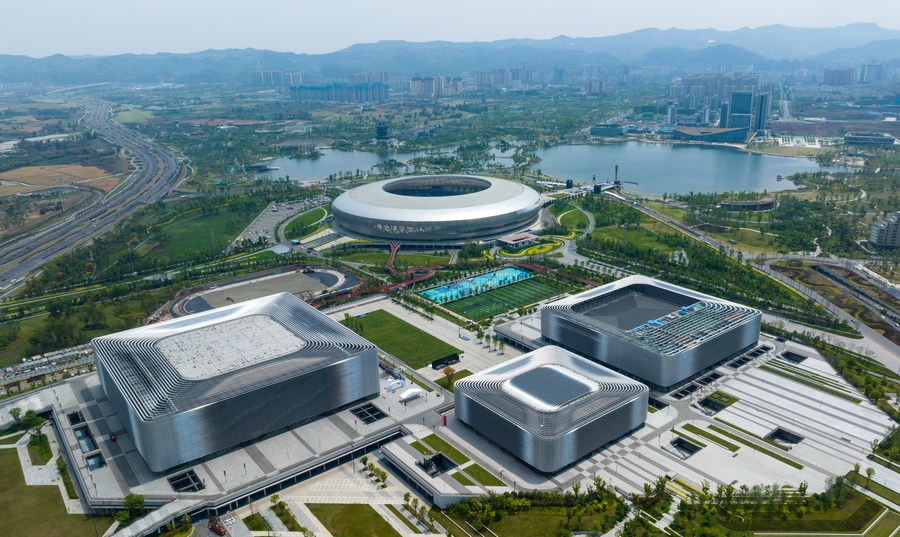 With 74 days to go before the opening of the 31st Summer World University Games, the World Press Briefing of the Chengdu 2021 FISU World University Games was held on Monday in Chengdu, capital of Southwest China's Sichuan province.
More than 60 reporters from around the world participated at the event in Chengdu, the host city, to know about the preparation work of the Chengdu 2021 FISU Games.
Giovanni Merlo, president of the International Sports Press Association, who attended the event with member associations, said at the opening ceremony that AIPS will continue to enhance cooperation between its member associations in defending the sport and the professional independence of journalism.
"AIPS will play the role as a bridge between communication and collaboration with the Chengdu 2021 FISU World University Games Organizing Committee, to ensure that each journalist participating will receive the best conditions of work and services," he said.
Merlo was glad that a young reporters program was launched during the event, to provide university students from all over the world the opportunity to participate in the reporting of international sports events, and to promote mutual learning and cultural exchange among young students at home and abroad.
"I am very proud of this because the Chengdu 2021 FISU World University Games are the perfect event for our young colleagues to make a great experience of work on the field and in the same time to learn about the culture of this land that is amazing," he said.
Merlo also visited the sports venues for the World University Games. He said the venues are perfect and Chengdu has the possibility towards any kind of top event in the world.
Zsuzsa Csisztu, vice-president of AIPS and a Hungarian sports TV presenter, also spoke highly of the venues in Chengdu and the preparation work that has been done.
"Chengdu is a place that you have to see, you have to come, and you have to experience. It is a place that has to be introduced to the world," she said, adding that the people in Chengdu are very nice and make her feel at home.
Csisztu took a lot of pictures and videos during the event. She said she will share them to her audience, write an article to the most well-known paper in Hungary, and will be talking in the sports radio and online media.
To help global media better understand the Chengdu 2021 FISU World University Games, the officials at the executive committee introduced the overall preparations for the event and the media operation in detail. They also answered questions from the media.
Local officials said Chengdu vowed to present a unique and splendid World University Games to the world.
The Chengdu 2021 FISU World University Games will be held from July 28 to Aug 8, which will make Chengdu the third city on the Chinese mainland to host the biennial event, following Beijing in 2001 and Shenzhen in 2011.