Master of the arts
Share - WeChat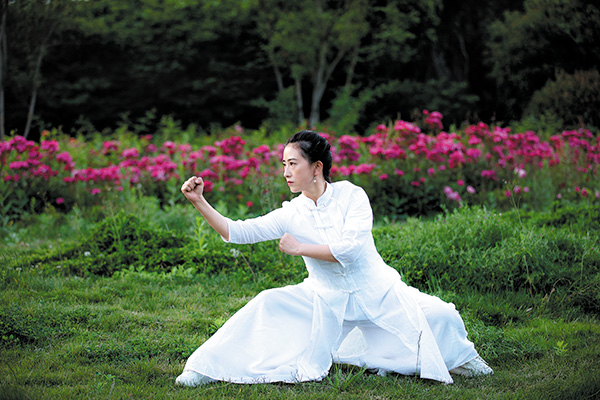 In 2021, a video which shows a woman wielding more than 20 traditional weapons one after another went viral online, providing a feast of Chinese martial arts for the viewer. The slender woman, dressed in black, wielded swords, broadswords, clubs, daggers and even heavy hammers quickly, skillfully and with vigor, just like a heroine in a martial arts novel.
Since then, Zhang Hanliang, who has practiced martial arts for more than two decades, has uploaded more videos of her using other traditional Chinese weapons, and continues to attract attention online. The number of followers she has on China's video platform Bilibili has, thus far, reached 1 million.
She was also invited to demonstrate her techniques at last year's Lantern Festival Gala broadcast by China Media Group, and this year's CMG online Spring Festival Gala.
Zhang, 36, a champion of many domestic and international martial arts competitions, now works as a physical education teacher at Tianshui Normal University in Tianshui, Northwest China's Gansu province, where she imparts her martial arts skills to her students. In recent years, she has trained many successful competitive martial artists. She also works to spread the culture of China's martial arts abroad, in countries like France, Russia and Malaysia.
Zhang was born in 1987 into a family of martial arts practitioners in Wushan county, Tianshui. Her family discovered that the girl had talent, so when she turned 9 years old, they sent her to a sports school in Wuwei, Gansu, to systematically learn the necessary skills.
At the time, she was the youngest student at the school, but the difficulties of learning martial arts didn't scare her. According to Zhang, she and her classmates got up at 5:30 am every day to start their practice. They ran in cold winds during winter and through the scorching days of summer, and she still recalls the pain of stretching and pulling her ligaments to warm up for practice every day.
Most Popular