Ensuring the disadvantaged 'never walk alone'
Share - WeChat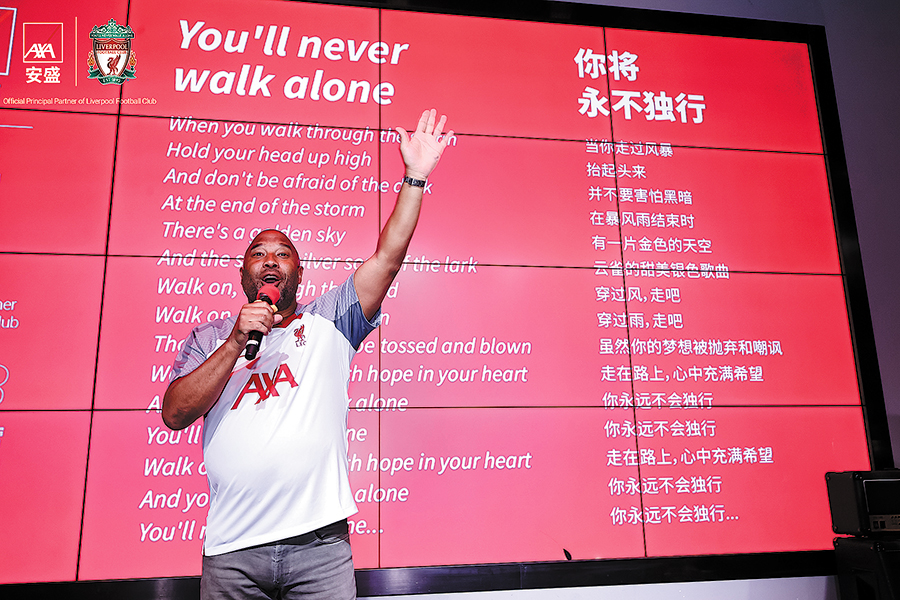 "When you walk through a storm hold your head up high and don't be afraid of the dark," — the opening lines of iconic Anfield anthem You'll Never Walk Alone which never fails to send shivers down the spine as the Liverpool faithful belt out its rousing chorus before kickoff.
Besides being the perfect prematch motivator for the Reds, the song has developed a deeper meaning through the decades to become something of a hymn to the underdog and the disadvantaged.
A charity event in Beijing over the Labor Day holiday continued that lineage, with Liverpool legend John Barnes and a cast of coaches from the club's international academy linking up with the Aiyou Foundation to brighten up the lives of so-called left-behind kids — children usually from rural areas whose parents have moved away to work in cities.
The event adopted You'll Never Walk Alone as a theme, with the excited kids in attendance — hailing from Hebei and Shandong provinces, as well as some locals — clearly enthralled by their day of soccer fun staged at the Zhoujiazhuang sports complex in central Beijing.
Organized by insurance giant and Liverpool partner AXA, the project is as much about lifting the kids' confidence as it is as about improving their soccer skills.
"When we work with this charity, we are helping not only the kids' physical health, but also their mental health," Eva Huang, the chief marketing officer of AXA Tianping, told China Daily at the event.
"We see some kids, maybe they have a normal living standard, but actually because of their unfortunate situation they don't have confidence and they feel they are struggling. We want to build their happiness and see them flourish."
AXA's association with Liverpool dates back to 2018, and the company sponsors the club's training center in the Kirkby area of Merseyside, a facility which was opened in 2020.
Huang said You'll Never Walk Alone "ties in beautifully" with their charitable endeavors.
"Liverpool FC and AXA have the same commitment to the same goal — to build a better and healthier society," she said.
"So that's why this time we chose this community sports center to run this kids campaign and the training activities. Football is not just about superstars, it's for everyday people and for communities."
Most Popular
Highlights
What's Hot