Harvard event promotes Chinese cultural heritage
Share - WeChat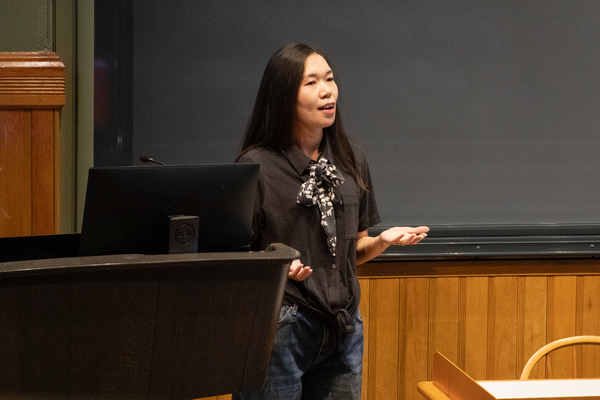 Contemporary China in Intangible Cultural Heritage, an event organized by the Harvard Chinese Students and Scholars Association, was held on April 30 at the university's Sever Hall.
Yang Hong, director of the intangible cultural heritage communication research center at the Communication University of China and a visiting scholar at Harvard's CAM Lab, shared various practices in the protection of Chinese intangible cultural heritage with overseas Chinese and international students.
Four speakers were present at the event: Zheng Fenlan, founder of Xiaoxiangsanxun, a Hangzhou-based company selling products made using local traditional homespun weaving skills; Chen Xin, founder of Jieshengji, a brand specializing in traditional Chinese knotting; Jin Ling, a veteran volunteer at the historical Yongqingfang community in Guangzhou famous for its lion dance; and Jin Lihui, a famous craftsman of Chishui bamboo weaving, a provincial-level intangible cultural heritage in Southwest China's Guizhou province. They spoke via video about intangible cultural heritage inheritance and promotion through training, tourism, business and social media.
The event also featured a medley of intangible cultural heritage presentations by Chinese students from universities in the Boston area.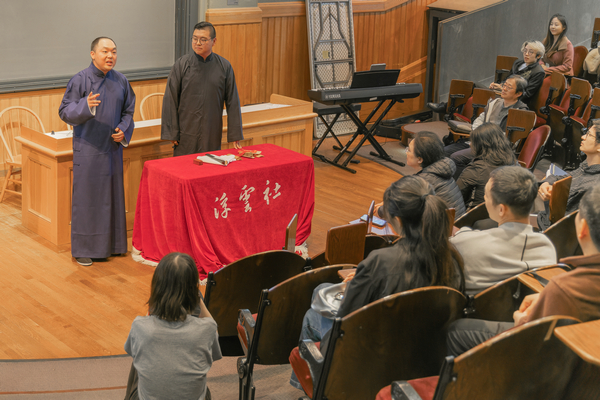 Li Jie, a doctoral candidate in math at Tufts University and founder of the Boston Fuyunshe cross-talk society, and Feng He, a seasoned cross-talk artist, gave a performance. Zhang Guoli, a student pursuing his master's degree at the Harvard Graduate School of Design, staged a calligraphy performance in which he wrote the character fu ("good fortune") using seal script, official script, regular script, running script and cursive script.
Sun Shimiao, a graduate student at Tufts' Fletcher School, shared his knowledge of hanfu, a traditional Chinese attire. Musician Qian Jiaying and electronic music producer Zhan Junyi from Berklee College of Music played a guqin (a zither-like seven-stringed traditional Chinese instrument) and piano duet, YangguanSandie (Three Variations on the Yangguan Pass).
The event culminated in two themed discussions – what intangible cultural heritage gives us and intangible cultural heritage inheritance and innovation. Young artists and leaders of overseas Chinese student associations shared their personal experiences with intangible cultural heritage and their suggestions for its inheritance and innovation in the present.
"Intangible cultural heritage lectures need such immersive interactions," said Min Jiajian, project manager of the CAM Lab. Guan Yilin, a graduate student in immunology at Harvard, hosted a quiz at the event and said such interactions are beneficial as they can help participants better understand intangible cultural heritage.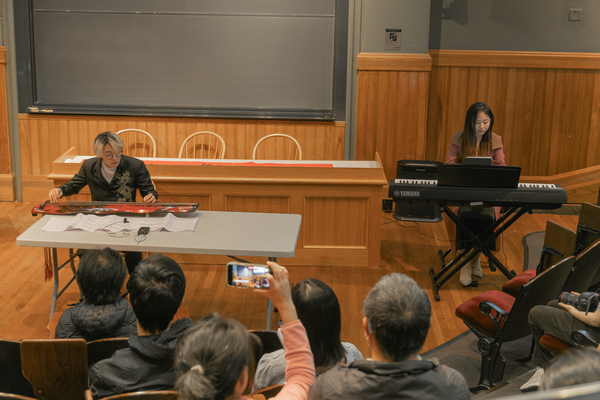 Most Popular