Attacks won't scare me off from Xinjiang research: Australian scholar
Share - WeChat Maureen Huebel, a Melbourne-based scholar who has been the target of online harassment for debunking Western mainstream narratives about the Xinjiang Uygur autonomous region, said she would not back down in her research.
"The more opposition I got, the more determined I became to complete my project," Huebel said in article published on Global Times.
Huebel joined Twitter to do preliminary research on Xinjiang, but she did not expect the outrage she would receive.
One post that has sparked particular backlash was published on March 4.
"I am travelling to Xinjiang in 2024 to study how the Uygurs have contributed to the substantial growth in the Xinjiang GDP and look at their population growth," she wrote, adding "Analyse their happiness and expression through dancing."
Since announcing her plans, Huebel had been hounded by trolls, with some even sending her death threats. Some accused her of being a "sophisticated Chinese bot".
After she started research on Xinjiang, Huebel contacted Adrian Zenz, a German scholar who conducted widely cited studies about Xinjiang that have fueled claims of "genocide", "forced labor" and "human rights abuses." Huebel questioned Zenz's methodology and asked him for field research notes and published peer-reviewed journals.
Zenz took offense to it, and accused Huebel of being a fake account. As a result, Huebel's Twitter account was suspended for "impersonation".
Huebel had to ask Monash University, where she has done postgraduate studies, to write to Twitter to state she had done research there. Twitter then reinstated her account.
Huebel's husband Robert also posted a lengthy thread of photos documenting his wife's academic records and publications.
"I'm very a real person - I'm not a bot," the 75-year-old told news.com.au, an Australian news website. "I'm bona fide and a lot of people don't like it. I've got a lot of qualifications, they're all real."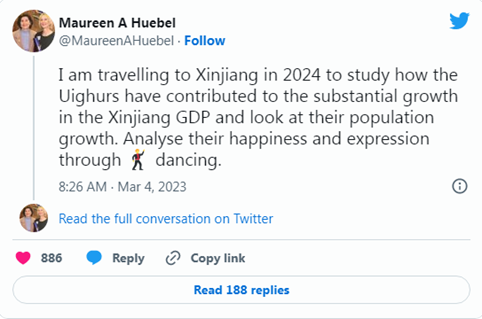 Huebel said she first became interested in studying China when she noticed growing homelessness and poverty in Australia while her friends in China were enjoying a higher standard of living, according to the article she wrote for Global Times.
Believing poverty alleviation is critical for any economy to improve, Huebel said the most outstanding GDP growth in Chinese provinces has been Xinjiang. She wanted to learn more as she could not "reconcile the fact that there was a 'genocide' in Xinjiang with the evidence there was a growing population and no refugees".
Huebel decided to visit Xinjiang, and explore what lessons could be applied in Australia.
The scholar also said that in today's Western media environment where China is always portrayed as a "bad guy", it is hard to be a critical thinker.
"The mainstream media in the West is taken to be accurate, with few questioning its narratives," Huebel said.
She added that mainstream media is highly concentrated and focused on promoting its political interests, and its influence is significant in shaping the opinions of average Australians.
Her treatment on Twitter, she said, is a result of Australia experiencing pressure from the US in every aspect, and growing US fears that China's growth trajectory is set to overtake the US economy.
Edited by Ian Goodrum