Melbourne scholar smeared as 'bot' as she tries to debunk false Xinjiang claims
Share - WeChat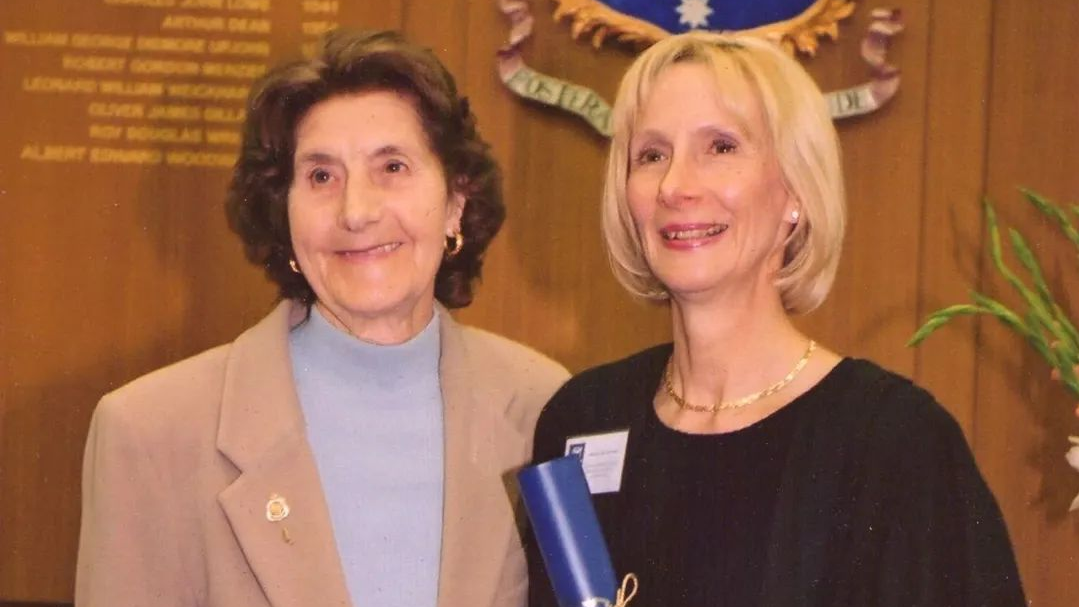 A Melbourne scholar was accused of being an elaborate fake account after she posted a series of pro-China messages to her over 3,000 followers. Some of her posts are focused on debunking claims of the "Xinjiang Uygur genocide," a false narrative that has been repeated by Western politicians and media outlets for years out of political reasons.
Twitter backlash
One viral tweet that sparked particular backlash is that Maureen Huebel claimed she was planning to travel to northwest China's Xinjiang Uygur Autonomous Region to study the "happiness" of the local population.
"I am travelling to Xinjiang in 2024 to study how the Uygurs have contributed to the substantial growth in the Xinjiang GDP and look at their population growth," she wrote, adding, "Analyze their happiness and expression through dancing."
Since the 2024 research announcement, loads of people have begun ganging up on her on Twitter, some even sending her death threats. Many have accused her of being a pro-China propaganda "bot."
Facing the Twitter pile-on, the 75-year-old decided to contact Adrian Zenz, who conducted the original research on Xinjiang and made the claims of "genocide," "forced labor" and "human rights abuses." Huebel questioned his methodology, asked him for his field research notes and published peer-reviewed journals.
Zenz strangely took offense to this, accused her of being a fake account and had Huebel indefinitely suspended from Twitter. To get her account back, Huebel asked Monash University to write to the social media platform to confirm she had done research there. Twitter then restored her account.
Huebel's husband Robert Huebel also posted a lengthy thread of photos documenting his wife's academic records and publications to defend his wife.
"I'm very much a real person. I'm not a bot," she told an Australian news website. "I'm bona fide and a lot of people don't like it that I'm bona fide. I've got a lot of qualifications, they're all real."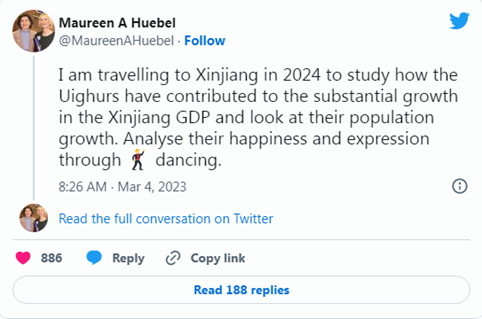 First impressions about China
Huebel, a mother of four, was born in Britain and had done postgraduate studies at Australia's Monash University. According to an article she wrote in the Global Times, she first became seriously interested in studying China when she noticed the growing Australian poverty and homelessness.
She said that poverty alleviation is critical for any economy to improve and a society should not leave the most vulnerable behind. She noted that the most outstanding GDP growth in the Chinese provinces has been in Xinjiang, the region's population is growing, and there are no refugees, evidence which she couldn't reconcile with the "genocide" claims. She decided to explore how this happened and what learnings can there be for Australia.
Her inchoate idea was also corroborated by the higher standard of living of her close friends in China (Shanghai, Beijing and Chengdu). She told Global Times that her first brush with Chinese was through her daughter, who had Chinese friends at school. She described them as kind and good-educated students but added that Australian students were not so welcoming of them. One of them had been kicked by a local student and another was violently shoved in a shopping mall, Huebel learned from her daughter.
As Huebel was raised by an open-minded father who told her to travel and embrace different cultures, she invited these Chinese students to her home for tea, she said. "After they returned to China, we kept in touch, and I began to learn more about China," she added.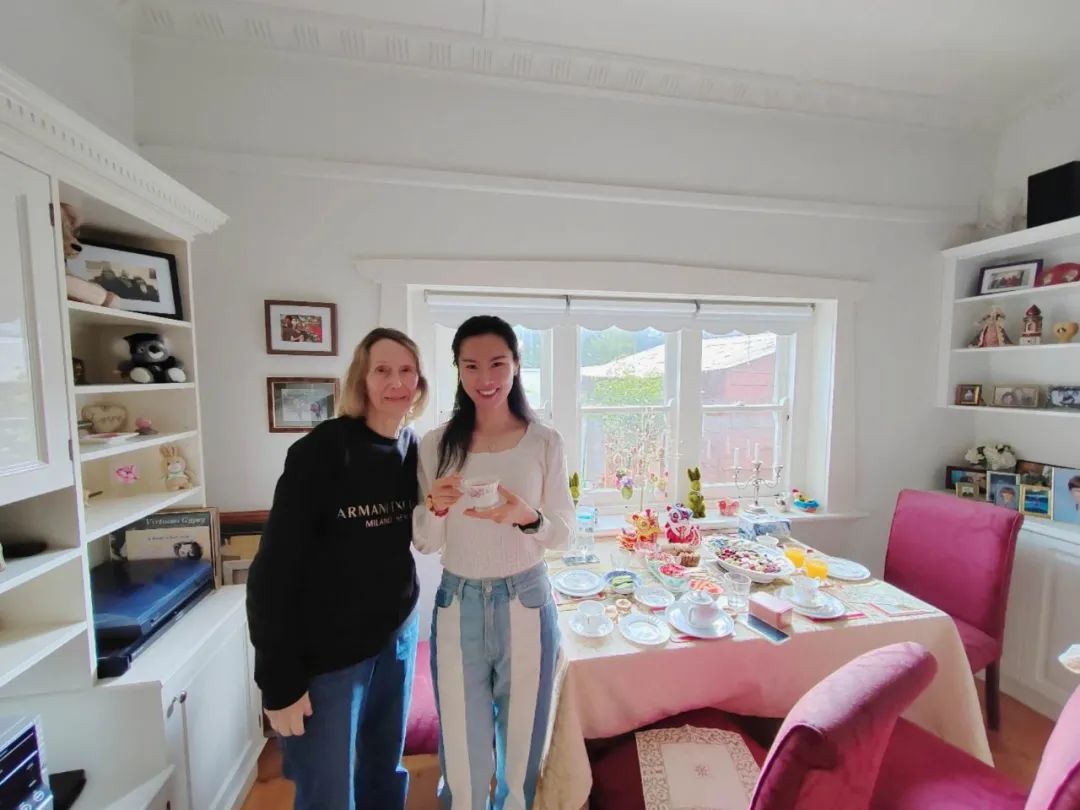 Truth about China "tainted" by controlled Western media
After increased contact with Chinese people, Huebel is getting more critical and suspicious of Western reports about China. She believes that people in the West are convinced that China is bad and that is mostly because of the controlled Western media.
"The mainstream media in the West is taken to be accurate, with very few questioning its narratives," Huebel said in her article. She added that Western mainstream media is highly concentrated and focused on promoting its political interests, and its influence is significant in shaping the narrative and opinions of the average Australian.
"Once the media is controlled, the truth will be tainted," Huebel said.
In Huebel's eyes, the Chinese government's policy is common prosperity, and its words and deeds are defensive rather than aggressive. Chinese Confucianism stresses the importance of good moral character and promotes harmony in a multi-polar world with a win-win strategy, Huebel added.
She also said that many Australians are not familiar with China as their education system provides them with very limited information about the country. Fears that China might "invade" Australia stem from the history of the Japanese invasion in World War II, but the truth is that China was in the anti-fascist camp during World War II, Huebel noted.
"We should improve our education system so that more people can realize that we do not live in America, but next to Asia. We need to better understand the environment in which Australia lives," Huebel said.
She believes that her Twitter suffering is an example of the result of growing U.S. fears as China's growth trajectory is set to overtake the American economy in a few years and Australia is experiencing pressure from the U.S. in every aspect of their lives.
She said that the major challenge of the Australian government is striking a balance between what the U.S. wants Australia to do and what Australia wants to do. She suggested that Australia should stop acting like a U.S. follower and become an "adult" acting in its own interests.
"China is not a threat, but an opportunity," Huebel said. "We should get involved in cooperation with China."