Environmental heroes keeping nature safe
Share - WeChat Editor's Note: As protection of the planet's flora, fauna and resources becomes increasingly important, China Daily is publishing a series of stories to illustrate the country's commitment to defending the natural world.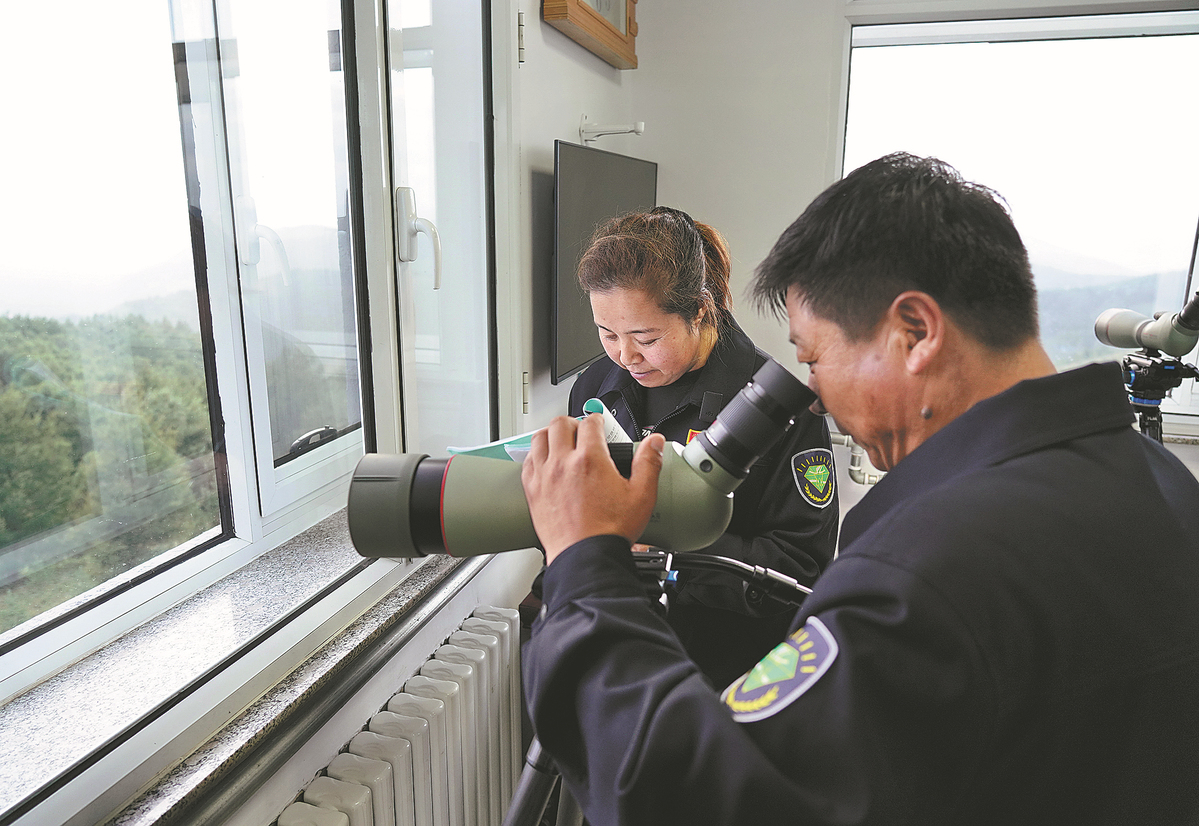 Fire wardens looking out for forest's future
Lonely! That is the most accurate word to describe the lives of Liu Jun and his wife, Wang Juan.
They have spent 24 years at various posts at remote and isolated checkpoints and watchtowers in a vast forest farm.
For the past 14 years, they have hardly enjoyed a good night's sleep because they have to remain vigilant during the hours of darkness to keep a watch for fires.
This year, Liu was selected as one of China's 100 model environmental protection volunteers.
In 1998, after working at the Saihanba forest farm in North China's Hebei province for six years, Liu, now 50, made a decision that consigned the couple to lonely lives. He volunteered to fill a vacancy at Jiaodaokou, the most remote checkpoint on the almost 76,667-hectare farm.
With only a three-room bungalow, the checkpoint was so isolated that there was no other household within 5 kilometers.
To take the post, which has no annual vacation allowance, Liu and Wang had to send their daughter, who was 3-year-old at the time, to live with her grandparents in the Inner Mongolia autonomous region.
"I knew it was not an easy job, but no matter how difficult it was, someone had to fill the vacancy," Liu said.
The couple depended on shoulder poles and buckets to carry water from a nearby creek. When the creek froze in winter, they turned to snow to meet their needs.
Early one winter, Li fell over while carrying water back to the checkpoint, cutting his face and leaving it covered with blood. From then on, Wang decided to only wash her hair once every 10 days or so to save water.
There was no TV set or radio at the checkpoint. For entertainment, they sometimes read the newspapers that had been used to cover the walls. Occasionally, they took out photos to look at their daughter.
The couple worked at that checkpoint for about a decade. Day after day, they inspected all the vehicles and people who passed by to ensure that matches, lighters and other items that could be used to start fires were not taken into the forest.
One of the most memorable events for Wang during that period was when she was hospitalized for surgery to remove her appendix.
After she was rushed to the hospital one day in the winter of 1999, many of her colleagues from the forest farm came to visit.
"It felt so good to have someone to talk with," she was quoted as saying by Hebei Daily in Shijiazhuang, the provincial capital.
Fourteen years ago, the couple transferred to new posts in a watchtower at an altitude of 1,900 meters. At this post, they have to look out from the tower every 15 minutes between 6 am and 9 pm to check for fires. The rest of the time, they have to look out once an hour.
Even when the coast is clear, they have to record their observations every time and report to the forest farm's headquarters via phone calls.
In 2011, the monotony of life in the watchtower was relieved when the forest farm management allocated them a small black-and-white TV set.
"When I was on duty after midnight, I often kept the TV set on. It made me feel like I had some company," Liu said. Their living conditions have also been greatly improved since 2015, when all nine watchtowers at the forest farm were renovated. Now, the couple are not only able to make video calls to family members, but also learn more about the outside world via popular social media platforms.
Although satellites and infrared cameras are now playing a bigger role in fire control at the forest farm, the management hasn't yet been able to completely replace the fire wardens, Liu said, adding that he and Wang are determined to continue keeping the forest safe.
"It's a great honor for us to witness the trees grow up in the plot of forest we oversee," he said.