More graduates attracted to SW. China cities
Share - WeChat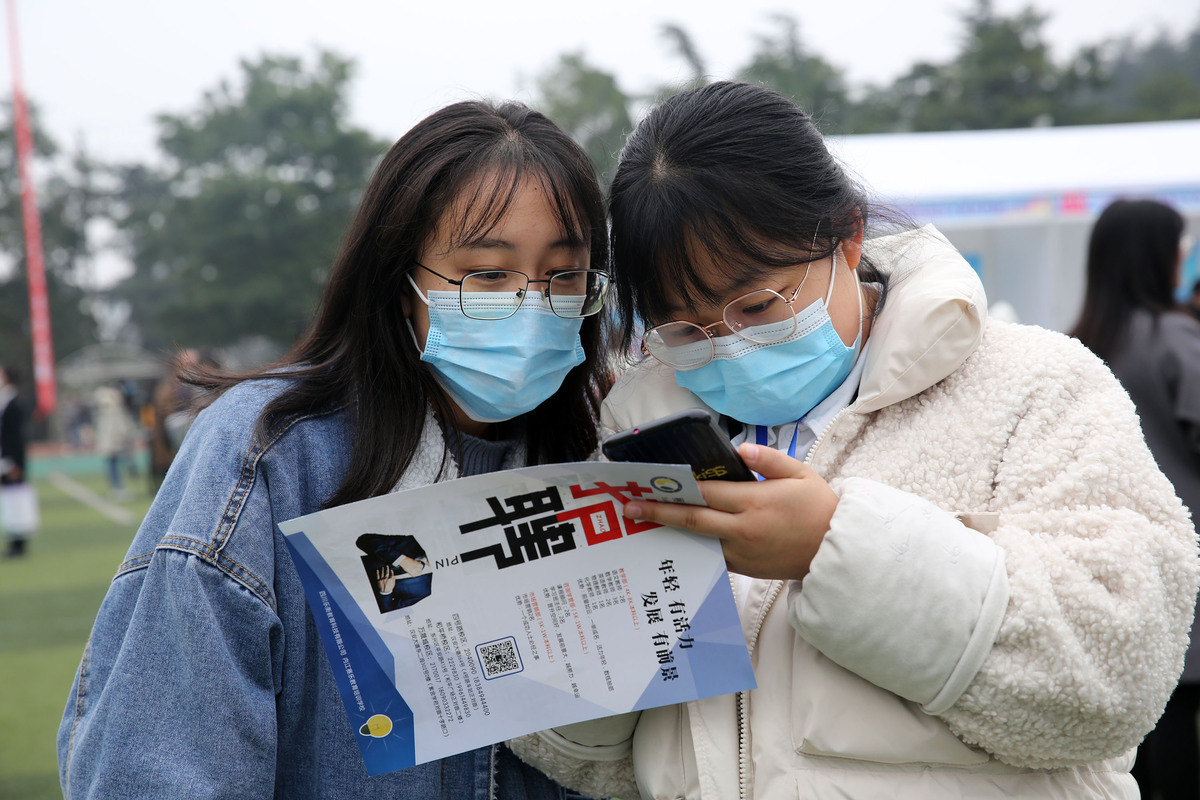 Job opportunities in the cities of Chengdu and Chongqing in Southwest China are attracting increasing numbers of college graduates, according to recruitment website Zhaopin.
In recent years, Chengdu and Chongqing have stepped up their efforts to provide preferential policies for attracting talent, and have held a tremendous number of introduction activities targeting college graduates, Zhaopin CEO Guo Sheng told China Daily on Friday.
"Based on various statistics, we found that more and more young graduates want to work in the two cities," said Guo at the opening ceremony of the Third Chengdu-Chongqing Economic Circle Employment and Entrepreneurship Week, which kicked off in Chongqing on April 11.
Zhaopin released a survey during the week detailing the employment situation across the country.
The survey found that last year, 10.7 percent of the country's graduates wanted to work in Chengdu and Chongqing. The Chengdu-Chongqing city cluster ranked fourth among the hottest city-cluster destinations for college graduates, after the Beijing-Tianjin-Hebei region, the Yangtze River Delta and the Guangdong-Hong Kong-Macao Greater Bay Area.
It noted that Chengdu and Chongqing had a high level of talent drawn from each other's labor forces.
Chongqing and Chengdu ranked fourth and eighth respectively in the Top 10 Chinese cities with the largest GDP last year, financial media outlet Yicai reported.
"Chengdu is a promising place for my major, so it is my first choice," said 26-year-old Liu Ligen, a postgraduate senior majoring in materials and chemical engineering at Southwest Jiaotong University. "It's also not far from my hometown Nanchong in the same province."
Liu said the national initiative has not only bridged gaps between Chengdu, Chongqing and nearby cities — improving the exchange efficiency among industries, but has also attracted many high-tech companies to establish branch offices in the region, including his employer — a semiconductor company that he has just signed a labor contract with.
"Many of my peers have made up their minds to work in Chengdu or Chongqing as well," Liu said.
Guo added that the two metropolises are growing in popularity among young people.
"I chose to study in Chongqing as I heard the city was a hot tourist destination four years ago, and now I am considering settling here upon graduation because I love the city," said Kong Yanglu, 22, a student at Sichuan International Studies University.
She said unlike the drastic change of four seasons in her hometown of Jiamusi, Heilongjiang province in Northeast China, the municipality has a relatively stable climate throughout the year. "It is livable, beautiful and has a moderate pace of life."
Kong said she is focused on local offers and has refused a job offer from elsewhere. As an English major, she is confident in job opportunities driven by fast development in industrialization and tourism in the city.
Initiated in January 2020, the Chengdu-Chongqing Economic Circle continues to expand as an important regional development strategy attracting talent, and higher-quality and fuller employment, according to Guo.
He encouraged the region to strengthen local talent cultivation, including improving workers' professional competitiveness, their adaptability to the job market and their ability to upgrade their employment opportunities.
"Based on analysis of job shortages, I think the region should recruit innovative talent with strategic awareness, so as to become more involved in China's scientific and technological innovation system, and to tackle problems in core technologies that hinder the country's development," Shi Kan, director of the Social and Organizational Behavior Research Center of the University of Chinese Academy of Sciences, said during the week.
According to the Ministry of Education, the number of college graduates in China last year reached a record high of 10.7 million.