Researchers find tallest tree in China's karst landscape
Share - WeChat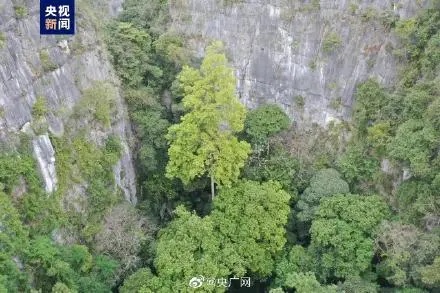 NANNING -- Chinese scientists have identified a 72.4-meter-tall tree in South China's Guangxi Zhuang autonomous region as the tallest growing in the country's karst landscape.
The tree, a Parashorea chinensis, was found in March during a scientific expedition in Ningming county, according to the forestry department of Guangxi.
Aged nearly 150 years, the tree towers over a peak cluster depression, a rocky karst landscape that usually lacks thick, fertile soil required for the growth of a tall tree, scientists said.
Parashorea chinensis is a tall evergreen tree and an iconic rainforest species. It is placed under top state protection in China.
Despite the scanty soil in the depression, the giant tree appears to be in good condition. Officials said the latest discoveries of the tree and a seasonal rainforest have pointed to the region's superior natural environment, which has benefited from decades of heightened protection efforts.
Researchers expect the tree to further grow in height as the closed terrain offers protection from strong winds and lightning strikes.