Online platforms aid climate pledges drive
Share - WeChat Editor's note: As protection of the planet's flora, fauna and resources becomes increasingly important, China Daily is publishing a series of stories to illustrate the country's commitment to safeguarding the natural world.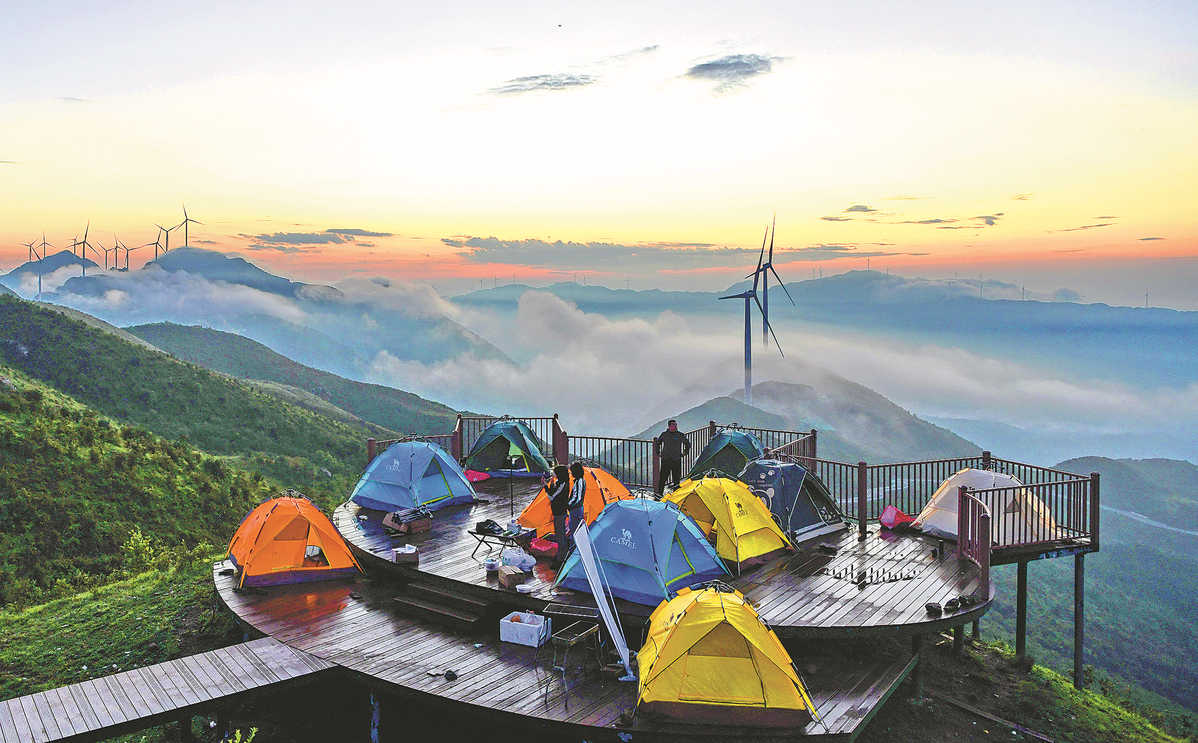 Participants can obtain gifts and vouchers by helping to reduce emissions of carbon dioxide. Hou Liqiang reports.
Shen Xingdong, a student at Shanghai Normal University, likes to drink Coca-Cola. Instead of buying it, though, he has found a new way to get the beverage — by undertaking low-carbon activities.
Using a carbon ledger program called 88 Carbon Account, which was launched by the e-commerce giant Alibaba in August, the 22-year-old can win carbon credits to exchange for the drink by leading a greener lifestyle.
For example, if he rides the subway he can win 200 grams of carbon credits for every trip after uploading a photo to the program to prove that he has commuted via the green transportation method. A photo showing him turning off the lights when leaving a room nets 65.5 grams of credits.
Riding shared bikes, declining single-use cutlery when ordering takeout food from online platforms and reading e-books are among other low-carbon activities that can win him credits.
Shen can exchange 500 grams of credits for 12 cans of Coca-Cola. Other commodities available for exchange include toothpaste and USB cables.
"I have twice exchanged credits for cola," Shen said, "I am still making efforts to earn more credits — I don't think any university student can resist Coca-Cola."
Corporate encouragement
As China forges ahead with its climate targets of peaking carbon dioxide emissions before 2030 and realizing carbon neutrality before 2060, many local governments and companies have started exploring carbon ledgers as a way of encouraging voluntary emissions reduction by members of the public.
Alibaba is just one of them. Called Tanpuhui, the e-commerce company's mechanism, aims to mobilize the general public to adopt green, low-carbon lifestyles via incentives, which are obtained by gains the various Tanpuhui platforms receive from selling carbon credits.
Experts said that even though smokestack, or heavily polluting, industries are currently the government's main priority in its endeavors to reduce carbon emissions, the Tanpuhui mechanism has huge potential, given that public consumption has been contributing to increasingly larger emissions in China.
However, while there have been successful examples showing that such a mechanism can result in a win-win for the public, companies and the government, Tanpuhui's potential cannot be fully unleashed without a national methodology on how to calculate carbon reductions from different low-carbon activities, they added.
Tao Lan, general manager of Green Inclusive Co Ltd, a Tanpuhui solution provider in Beijing, said last year was an important one for the development of the Tanpuhui mechanism in China.
Documents from the State Council, China's cabinet, and many ministries increasingly emphasized greener lifestyles and pledged to promote the mechanism, and at least 21 provincial-level governments included the mechanism in their local development plans last year, she said.
Shandong province, Shanghai and Tianjin municipalities, and Shenzhen, Guangdong province, have all unveiled action plans to promote Tanpuhui, Tao added.
All this indicates that the mechanism no longer has just social appeal and practices in certain cities, it has become a key part of national and regional environmental governance work and climate action, she said, adding that dozens of Tanpuhui programs were launched across the country last year.
Tao provided a raft of statistics from different institutions to demonstrate the "quite considerable" potential of Tanpuhui in helping reduce carbon emissions.
For example, a book on carbon neutrality published last year — with Ding Zhongli, a well-known academician from the Chinese Academy of Sciences, among the lead authors — pointed out that carbon emissions from personal consumption amounted to more than 3.7 billion metric tons of carbon dioxide equivalent in 2019, almost one-third of the country's total emissions that year.
If one consumer refuses single-use cutlery when buying takeout food, it helps reduce carbon emissions by 47.5 grams, while every kilometer of commuting by bicycle rather than car means 250 grams of carbon emissions can be prevented, Tao said.
"These amounts of emissions reductions are small. They really pale in comparison with the country's total emissions of multiple hundreds of million tons," she added. "But China is a country with a huge population. Any consumption on the basis of a total population of 1.4 billion people will be massive."