Ministry protests Tsai's so-called 'transit' through US
By WANG QINGYUN in Beijing and LIA ZHU in San Francisco | chinadaily.com.cn | Updated: 2023-03-31 01:50




Share - WeChat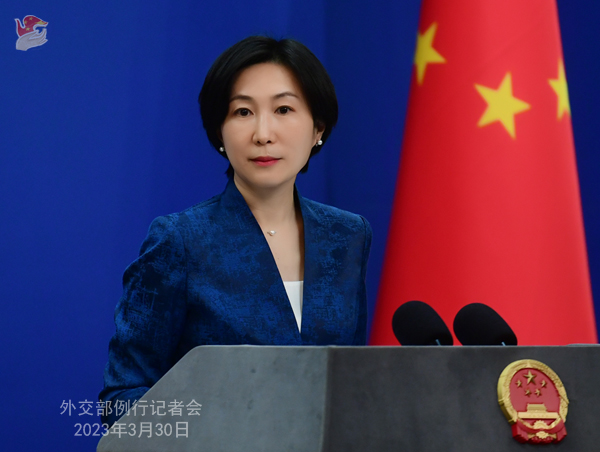 China strongly protested against and condemned the United States for arranging a so-called "transit" for Tsai Ing-wen, the leader of the Taiwan region, in disregard of Beijing's stern representations and repeated warnings, Foreign Ministry spokeswoman Mao Ning said on Thursday.
Mao made the remarks after Tsai arrived in New York on Wednesday.
By making arrangements for Tsai to engage in political activities on the pretext of a "transit", the US and the Taiwan authorities are colluding to upgrade their official exchanges and substantive relations, Mao said.
"This has seriously violated the one-China principle and the three China-US joint communiques, gravely undermined China's sovereignty and territorial integrity and sent a seriously erroneous message to 'Taiwan independence' separatist forces," the spokeswoman said.
"It has proved once again that the fundamental cause of the current new round of tensions across the Taiwan Straits lies in the Taiwan authorities' repeated attempts to solicit US support for 'Taiwan independence' and the intention of some people in the US to contain China using the Taiwan question," Mao said.
Tsai is scheduled to "transit" through New York and Los Angeles on a 10-day trip to and from the Central American countries of Guatemala and Belize.
Betty Yuan, chief executive of the Northern California Chinese Culture-Athletic Federation, condemned Tsai's "transit", saying that her actions had placed her on the wrong side of history.
"What Tsai is doing will not bring safety to Taiwan. It will only provoke more tensions," said Chi Tai, president of Chinese for Peaceful Unification-Northern California. "It will not do any good to the Taiwan people."
China firmly opposes any US visit made by the Taiwan region's leader in any name or on whatever pretext, and will continue to closely follow the situation and resolutely safeguard the country's sovereignty and territorial integrity, Mao said.
"The Taiwan question is the very core of China's core interests, the bedrock of the political foundation of China-US relations and the first red line that must not be crossed in the relations," she said.
Mao urged the US to abide by the one-China principle and the three China-US joint communiques, and act on its commitment of not supporting "Taiwan independence", "two Chinas" or "one China, one Taiwan".
She also called on the US to stop any form of official exchanges with the Taiwan region, stop upgrading its substantive relations with the region and stop obscuring and hollowing out the one-China principle.