Ma Ying-jeou mourns victims of Nanjing Massacre
Share - WeChat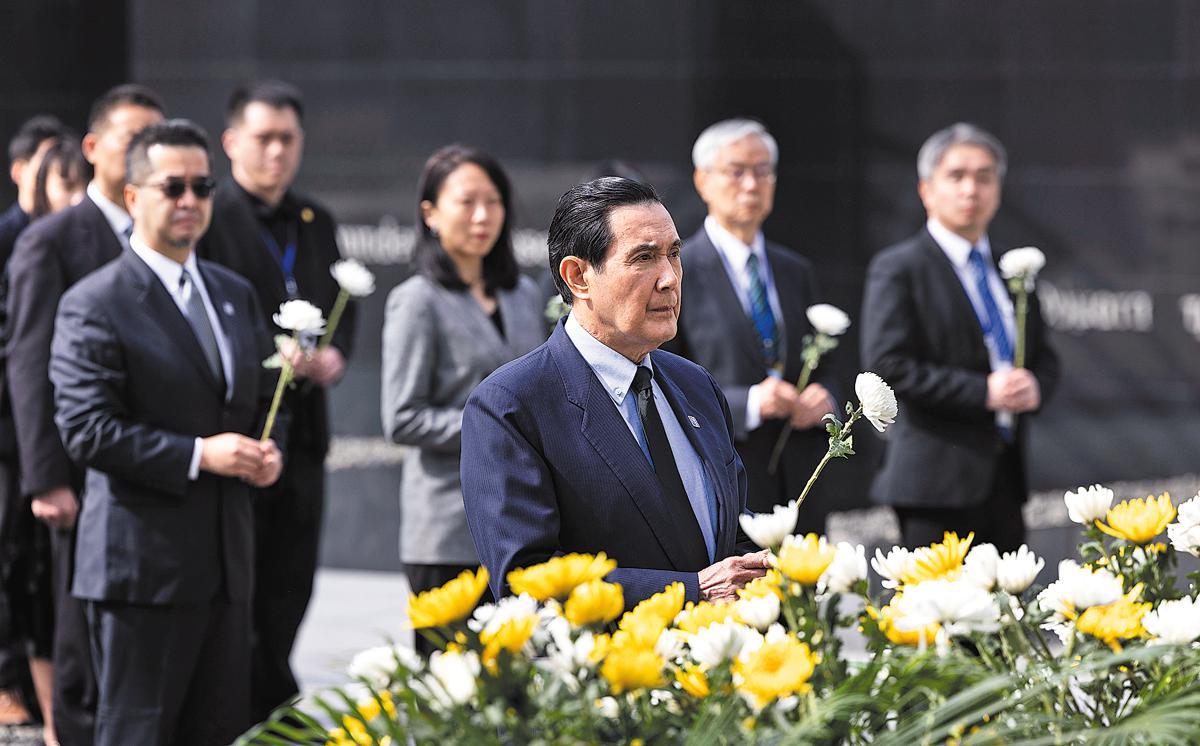 Ma Ying-jeou, former chairman of the Chinese Kuomintang party, expressed deep condolences on Wednesday for the compatriots who lost their lives in the Nanjing Massacre and said that history shall never be forgotten.
Ma said that Chinese people on both sides of the Taiwan Straits should be self-reliant and should fight back with courage when being bullied and humiliated by foreign powers.
He made the remarks while visiting the Memorial Hall of the Victims in Nanjing Massacre by Japanese Invaders in Nanjing, Jiangsu province, with a group of Taiwan students ahead of Qingming Festival, or Tomb Sweeping Day, which falls on Wednesday.
The Nanjing Massacre took place when Japanese troops captured Nanjing, the then-Chinese capital, on Dec 13, 1937. Over six weeks, they killed approximately 300,000 Chinese civilians and unarmed soldiers in one of the most barbaric episodes of the World Anti-Fascist War.
Around 9:30 am, the group led by Ma arrived at the memorial hall, which officially opened to the public on Aug 15, 1985, and was built on the site of Jiangdong Gate mass murder in the Nanjing Massacre.
Ma and the group of students from Taiwan looked at sculptures depicting damaged city walls, broken Japanese sabers and the heads and arms of the victims. They then paid a silent tribute to the victims.
Speaking to Xinhua News Agency, Ma said that although he had read some books and seen photos about the Nanjing Massacre, "I have never been so shocked as today".
He said that the massacre was "a rare bestial act in human history, and the Chinese are the biggest victims".
Ma said he hoped that the Taiwan students accompanying him would find their visit to be instructive. Such knowledge will serve as an important reference for their future development, he added.
The memorial hall's collection comprises nearly 4,000 photographs, almost 10,000 artifacts and over 260 pieces of footage, all of which present indisputable facts about the massacre.
The memorial hall has hosted a number of exchange programs with Taiwan compatriots over the past few years, including a 2007 seminar on cross-Straits studies of the history of the War of Resistance Against Japanese Aggression (1931-45).
In 2018, the memorial hall held an exhibition on the Nanjing Massacre in New Taipei City, Taiwan.
The Nanjing visit was part of Ma's trip to visit his ancestral home on the mainland on the occasion of Tomb Sweeping Day. The group will also visit Wuhan, Changsha, Chongqing and Shanghai.