Inventor helps make farmwork easier
Share - WeChat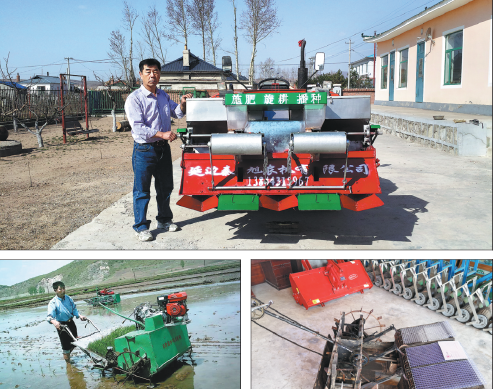 For the past 15 years, Jin Taixu has spent most of his time developing agricultural machines and in the process has obtained 12 national level patents.
Born into an impoverished family in 1960 in Longsheng village in Yanji, Jilin province, Jin began farming after graduating from high school to help support his family.
"Whenever I think of them, I see the generations who came before me bent over doing farm work," he said. "And all the grain was picked by hand."
So Jin dreamed of doing something to make work easier for his fellow villagers.
In 1992, he traveled to Russia in search of opportunities and money. He held various jobs, including as a small commodities trader. When he returned home in 1998, he found that some villagers, especially the older ones, were still working on farms, while most of the young adults had left in search of work in cities.
"I felt a pang of bitterness," he said. "Then I remembered my earlier dream and decided to see if I could invent a more advanced and practical rice transplanter to help reduce labor."
Jin decided to stay in Longshen to help his fellow villagers escape poverty. But right from the start, he encountered difficulties, beginning with his lack of theoretical knowledge.
"I hadn't studied at a college, so I had to learn as I went, making and remaking prototypes over and over again," he said. "Because I had very little money, I could only buy materials from flea markets."
In his small workshop, he assembled pieces of wood and iron plates.
"I often worked until midnight, and sometimes I only slept for three hours," he said.
He developed rheumatism and cervical spondylosis as a result of his long working hours, but he didn't give up.
In the spring of 1999, Jin finished his first handmade rice transplanter — consisting of two wheels, a rice seedling box and a seedling sending mechanism — most of which was made of wood.
It met Jin's goal of reducing time and labor with an efficiency equivalent to that of three farmers working as a team.
His elder brother advised him to apply for a patent, but Jin didn't really know how to go about doing so. He looked for information wherever he could and visited the National Intellectual Property Administration in Beijing several times.
Finally, in February 2001, he was awarded his first national patent.
To publicize the use of his machine and help more farmers, Jin took his patent certificate to local government departments, where his invention was the subject of great interest.
Soon after, he began to receive lots of visitors to his workshop who wanted to learn from him or work together, which made him more confident about promoting his research and business.
In 2012, he set up an agricultural machinery company and began to make equipment four years later.
During this period, Jin started to make his rice transplanter out of metal instead of wood and introduced a series of upgrades that raised transplanting efficiency to a 99 percent success rate.
He also came up with other innovations, including sowers and fertilizer distributors that can be used on dry farmland. Now, many farmers in Longsheng and other nearby villages use Jin's machines.
In 2016, with the support of local governments, he set up an agricultural machinery cooperative to help villagers make more money. In addition, Jin spends around 100,000 yuan ($14,420) every year helping villagers out of poverty.
"It's only by turning my inventions into machines that I've been able to help the farmers reduce the burden of heavy manual labor," he said. "Although I haven't had so many orders, their recognition is a great encouragement for me to continue my research."