Chongqing builds globe's largest rail transit network in a mountainous area
Share - WeChat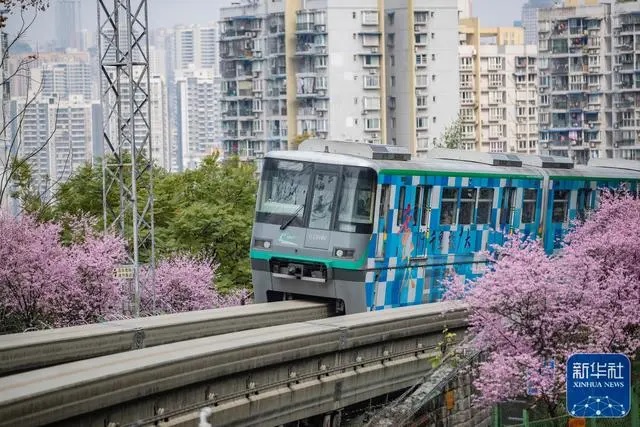 Chongqing municipality completed the construction of a 500-kilometer urban rail transit line on Feb 27, said to be the world's largest rail transit network in a mountainous area.
It also became the eighth domestic city to operate a rail transit line over 500 km, following Shanghai, Beijing, Guangzhou, Shenzhen, Chengdu, Hangzhou and Wuhan.
China has led the world in rail transit construction and operation in recent years. By the end of 2022, 53 cities have operated 290 rail transit lines with a total 9,584 km, according to the Ministry of Transport.
"With innovative designs and advanced technology, Chongqing Rail Transit has achieved many firsts in the country, even in the world, and become one of the city's features," said Yue Shun, director of the Chongqing Commission of Housing and Urban-Rural Development.
By 2025, Chongqing's rail transit system in operation or under construction is projected to exceed 1,000 km, with daily average passenger traffic in major urban districts exceeding 6 million travelers, accounting for more than half of the city's public transportation, according to the local government's plan.
Currently, the city's urban mass transit system is composed of 12 lines, including two monorails.
Due to the geography of Chongqing — a densely populated and mountainous city with multiple river valleys — transportation can be challenging and creative.
Chongqing boasts the country's longest rail transit mountain tunnel — the Tongluoshan Tunnel of Line 6 — and the deepest subway station in the country — Hongyan Village Station of Line 9, Yue added.
In 2004, Chongqing built its first urban rail Line 2 in the densely populated downtown area with rugged terrain, which was China's first monorail and the first rail transit line in western China. The heavy-monorail technology imported from Japan can leverage the ability to negotiate steep grades and tight curves and rapid transit capacity.
Liziba Station on Line 2 became one of the most famous stations in the world after videos of the metro train passing through a 19-story residential building went viral on social media in recent years.
The station and the building were built simultaneously in early 2000 to save space. It uses specialized noise reduction equipment to isolate station noise from the surrounding residences.
It is a must-visit for tourists in the city, and a viewing platform was specially built near the station for tourists to admire the trains.
Chongqing has the deepest subway station in China — Hongyan Village Station of Line 9 — with its train platform located 116 meters, or 39 stories, underground. It is one of the deepest in the world, taking about 10 minutes and eight escalators to reach the platform from the entrance.