Satellite to deliver stellar internet
Share - WeChat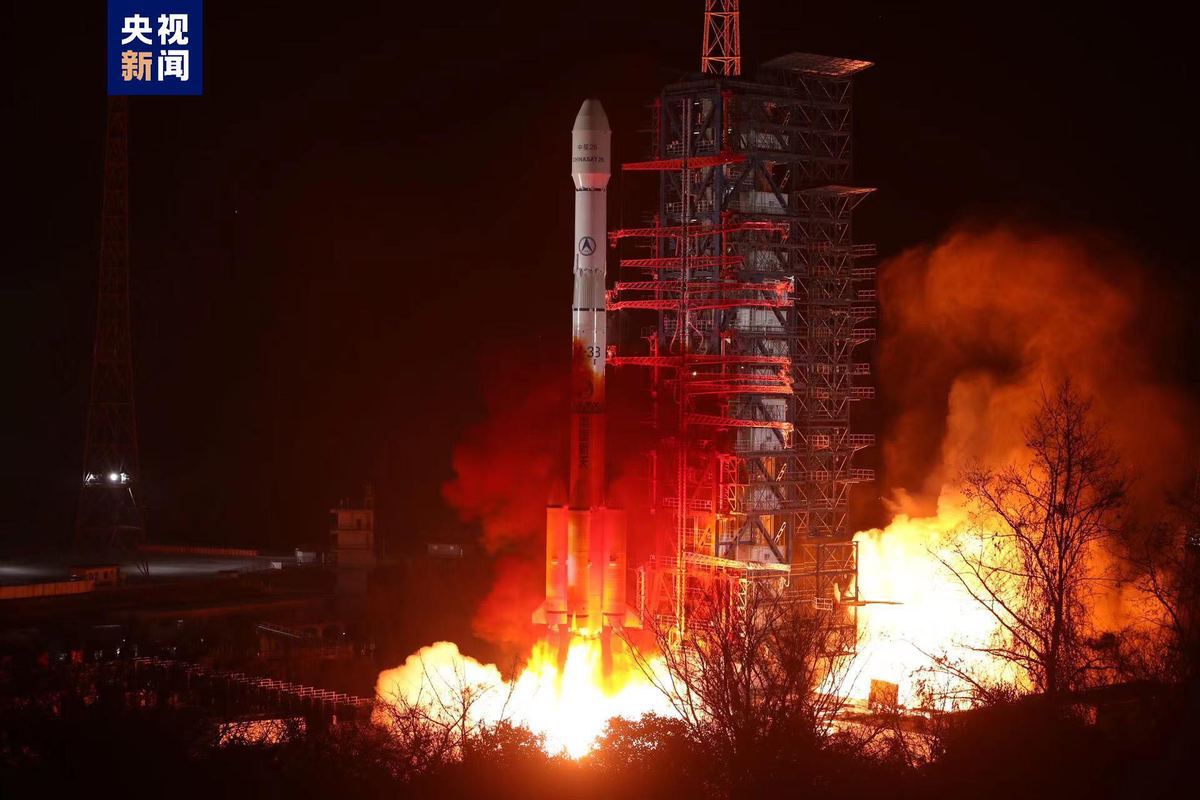 People in China and neighboring regions will soon have faster, more convenient access to the internet when traveling by air and sea, and even in the middle of the desert, thanks to a newly launched satellite.
The ChinaSat 26, lifted into space atop a Long March 3B carrier rocket on Thursday evening from the Xichang Satellite Launch Center in Sichuan province, is the most advanced civilian communications satellite in China and its overall capability is on par with the best in the world, according to China Aerospace Science and Technology Corp.
Developed by the China Academy of Space Technology in Beijing, a CASC subsidiary, the satellite circles the Earth in a geostationary orbit and has a working life span of 15 years.
After in-orbit tests carried out by engineers at the academy scheduled to last several months are completed, control of the satellite will be handed over to China Satellite Communications, another subsidiary of CASC, to start formal operation.
Wei Qiang, ChinaSat 26's project manager, said it will become a pillar of China's high-throughput communications satellite network and will be used to connect terminal devices mounted on cars, ships and aircraft to high-speed broadband internet.
Once a plane or a ship is linked to the web via the satellite, its terminal will act as an onboard Wi-Fi device enabling passengers to use internet services.
Carrying as many as 50 transponders — the most of any Chinese civilian satellite — the craft has the largest transmission capacity of Chinese communications satellites of 100 gigabits per second.
"It is able to serve as many as 1 million users at the same time. It will be useful in a wide range of businesses such as air and maritime transport, remote education and medical service, emergency communications as well as the protection of natural reserves," Wei said.
Prior to ChinaSat 26, China had deployed several high-throughput communications satellites including ChinaSat 16 and APSTAR 6D.
China Satellite Communications operates 17 communication satellites covering China, southern and southeastern Asia, the Middle East, and some parts of Europe and Africa.
Thursday's launch was the 463rd mission of a rocket from the Long March family and China's sixth launch in 2023, as well as the first flight of the Long March 3B model.
In 2023, there are plans for 60 launch missions, including manned and robotic flights to the Tiangong space station and the maiden flight of the Long March 6C.