Shenzhen's ambitious aim for 6% GDP growth in year ahead
Share - WeChat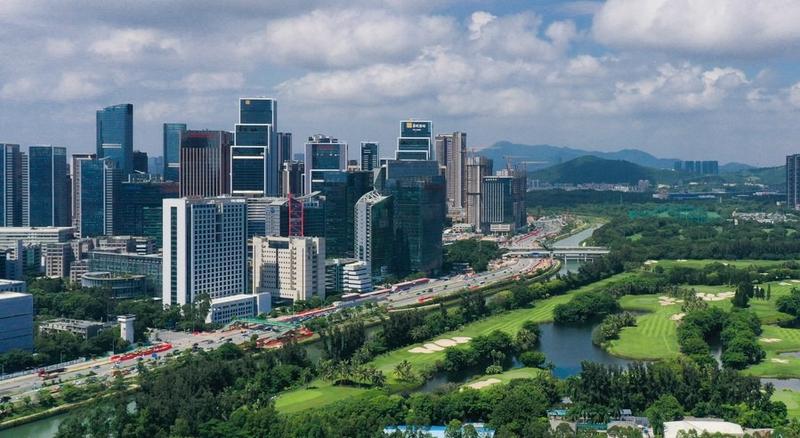 Southern economic metropolis seeks to better leverage links with Hong Kong
High-quality economic development and consolidating cooperation with the Hong Kong Special Administrative Region have become key as Shenzhen, Guangdong province, set a gross domestic product growth target of 6 percent this year.
City Mayor Qin Weizhong delivered the government work report at the opening meeting of the annual session of the Shenzhen people's congress on Tuesday.
He said Shenzhen's GDP in 2022 increased by 3.3 percent to a new high of 3.24 trillion yuan ($475 billion).
The report also states the total amount of imports and exports exceeded 3.7 trillion yuan last year, while export volume surged by 13.9 percent — remaining top among all mainland cities for the 30th consecutive year.
The R&D expenditure of the southern powerhouse accounted for 5.49 percent of its GDP, 7.25 percent of which was invested in fundamental research projects, the report said.
As a pilot demonstration area of socialism with Chinese characteristics, the city is expected to make a substantial contribution to exploring a new approach to building a modern socialist country in all respects.
Qin said that high-quality development is the priority of the city's modernization process. "The government will insist on putting the focus of economic development on the real economy, and accelerating the construction of a world-leading and influential center of the advanced manufacturing industry."
The city intends to achieve an investment of 200 billion yuan in the sector this year, an enhancement of about 20 percent compared with last year, especially in strategic emerging industries, such as network and communication, intelligent devices and high-end medical equipment.
He said the government will also strive to build the world's top business environment for both domestic and overseas investors. The aggregate actual use of foreign investment last year was $11 billion.
"We will work more closely with Hong Kong and Macao, facilitate cross-border practice for professionals, build pilot platforms of cross-border renminbi applications, and set up more incubators for youths from the two cities," Qin said.
Shenzhen's political advisers also offered various suggestions for in-depth cooperation with Hong Kong at the third session of the seventh Shenzhen committee of the Chinese People's Political Consultative Conference that began on Monday.
Allen Yeung, a political adviser in Shenzhen and also a Hong Kong deputy to the National People's Congress, proposed that Shenzhen and Hong Kong promote the flow of cross-boundary data, and establish an international data trading center.
He said Shenzhen can try to trade data with international buyers through Hong Kong, and trust eligible Hong Kong agencies concerning data storage and management, so that overseas companies could legitimately utilize Chinese mainland digital information.
Fang Zhou, another Shenzhen political adviser who's also research director of the One Country Two Systems Research Institute, believes that collaboration between the two cities has reached a new level that requires more institutional innovation.
As the HKSAR government has already set up offices in many mainland cities, the Shenzhen government could launch similar projects for in-depth exchanges between Hong Kong and the mainland, he said.
Such offices can represent the Shenzhen government in collaborating with all sectors of Hong Kong society, and allow people in Hong Kong to access Shenzhen government services without having to go to the mainland, Fang said.
Fang also recommended that the Hong Kong-Shenzhen Innovation and Technology Cooperation Zone, wedged between the two cities, should be used as a "free technology port".
"With the support of preferential policies, the zone should allow a more convenient flow of key technological innovation elements to help turn it into a comprehensive national science center," he added.