Traditional Tibetan operas sing out in NW China
Share - WeChat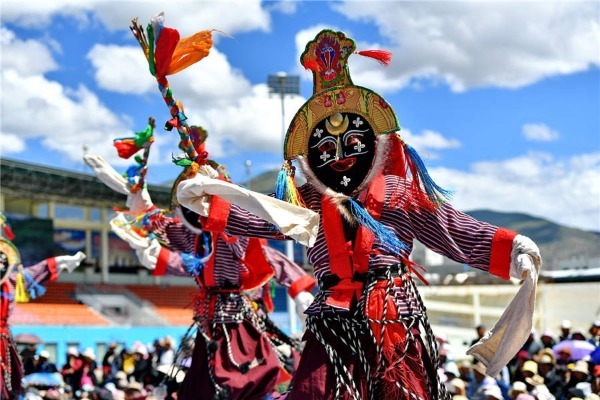 Seeing the square of Ji'ang village packed with people, Tsering Dorje and his teammates hurried to wear makeup and dress up. The Tibetan opera kicked up a cheerful sound of gongs and drums the next moment.
Ji'ang village is located in Gannan Tibetan autonomous prefecture in Northwest China's Gansu province. During this year's Spring Festival holiday, a folk group performed classic Tibetan operas in the village, bringing happiness to villagers.
Tibetan opera combines talking, singing, acting, dancing, and literature and has a history of over 600 years. It is regarded as a "living fossil" of Tibetan culture and was included in the UNESCO Representative List of the Intangible Cultural Heritage of Humanity in 2009.
"We've practiced for several days to perform better," said Tsering Dorje, 32, head of the Tibetan opera group in Ji'ang Village.
The folk group has a history of nearly 46 years, attracting more than 40 members in Ji'ang village who are interested in the art form. Although the group is made up of amateur actors, it has earned a reputation with the local people and is invited to perform on festive occasions frequently.
Things didn't go smoothly at the beginning. "Most of us had to work all year around and didn't have much time to practice and perform. Young people knew little about the traditional art, let alone learning it," Tsering Dorje said.
The local government has stepped up the protection and inheritance of Tibetan operas by allocating funds and organizing shows. With the support of the government, the number of folk Tibetan opera performing groups in Gannan has increased to nearly 30.
"We would receive 5,000 yuan (about $740) per show in subsidies from the government. The funds are used to buy instruments and costumes," said Tsering Dorje.
Besides the folk performing groups, a professional troupe has also been set up to develop Tibetan operas and give a modern touch to the traditional art form.
Gyalma Dorje, director of the art institute of Tibetan operas in Gannan, has created a new play based on a legendary figure regarded as the originator of Tibetan operas.
The Tibetan Opera Troupe of Gannan first staged the play in 2015 and then performed it in many cities in China. "The modernized opera provides a window for more audiences to learn about Tibetan art and culture," Gyalma Dorje said.
The local government has beefed up efforts on the protection and inheritance of Tibetan opera, making opera performances a part of the cultural and tourism industry.
Most Popular