Local tourism head wears multiple hats in viral video
Share - WeChat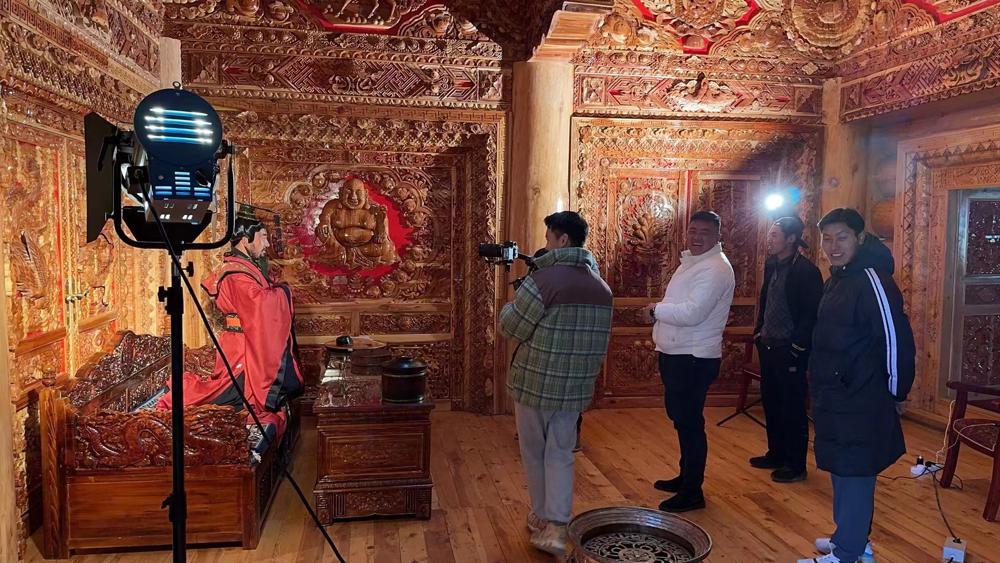 A three-minute video promoting the extraordinary landscapes of Dawu county in the Garze Tibetan autonomous prefecture in Sichuan province, has stirred comment online recently for its creative approach and unlikely protagonist.
In the video, titled Who Am I?, local official Gyaltsan Dorje appears as a spaceman, an emperor, a painter and even in the guise of legendary King Gesar, as he traverses the varied landscapes of little-known Dawu county.
Dressed as an astronaut, Gyaltsan Dorje wanders the gray stone forests of Moshi Park as if walking on the moon. In the following scene, dressed as an emperor, he drinks from a chalice in a Tibetan dwelling. Then, wearing a Tibetan traditional dress, he draws a thangka on the vast Yuke Grassland. Finally, as a heroic ancient soldier, he waves a sword and shoots an arrow while riding on the Longdeng Plateau, where King Gesar is reputed to have once camped.
Despite lighting up the camera, Gyaltsan Dorje is not a professional actor but is the director of the Dawu county bureau of culture, radio, television and tourism. The video is part of a provincial project to promote tourism and its economy by inviting tourism officials to star in front of the camera. Following its release on Wednesday, the short video had received more than 1 million views on microblogging platform Sina Weibo by Sunday.
"There is a wild beauty to it," one netizen commented on Weibo. Another said, "I've watched the video 10 times in two days".And another, "It's creative and every scene has meaning".
Gyaltsan Dorje said he is surprised the video has received so much attention. "It's not because of me, it's because Dawu is very cool," he said. "I hope more people can get to know and love Dawu as much as I do."
He said that the astronaut role was his favorite to perform. "People have said my walking was even more amusing than my dancing. After all, anyone in such a magnificent and beautiful setting would feel joy and be relaxed."
He added that the video expresses the idea that "tourists can see different scenery, feel different culture and be whoever they want to be in Dawu". They can even get a photo taken in spacesuits at Moshi Park.
Dawu received 1.85 million tourist visits in 2022, bringing in revenues of 2.08 billion yuan ($305 million), data from the county showed. It has nine 5A-rated scenic areas — China's highest-ranked tourist attractions — including a geological park, mountains, grasslands, valleys, springs and Tibetan-style dwellings. It has been named a "City of Chinese Tibetan Dwelling Art" and one of China's Top 10 Camping Areas by Chinese National Geographic magazine.
"After the severe winter of the COVID-19 epidemic, the tourism sector needs to warm up and then get hot," he said. "We will improve our services and offer great experiences to tourists."
In recent years, grassroots officials like Gyaltsan Dorje have occasionally appeared in social media searches as a result of similar short videos.
"It's the duty of tourism bureau directors to endorse their hometowns," Gyaltsan Dorje said. He is currently busy preparing for his next short video.