Eagles deep run game fuels Super Bowl run
Share - WeChat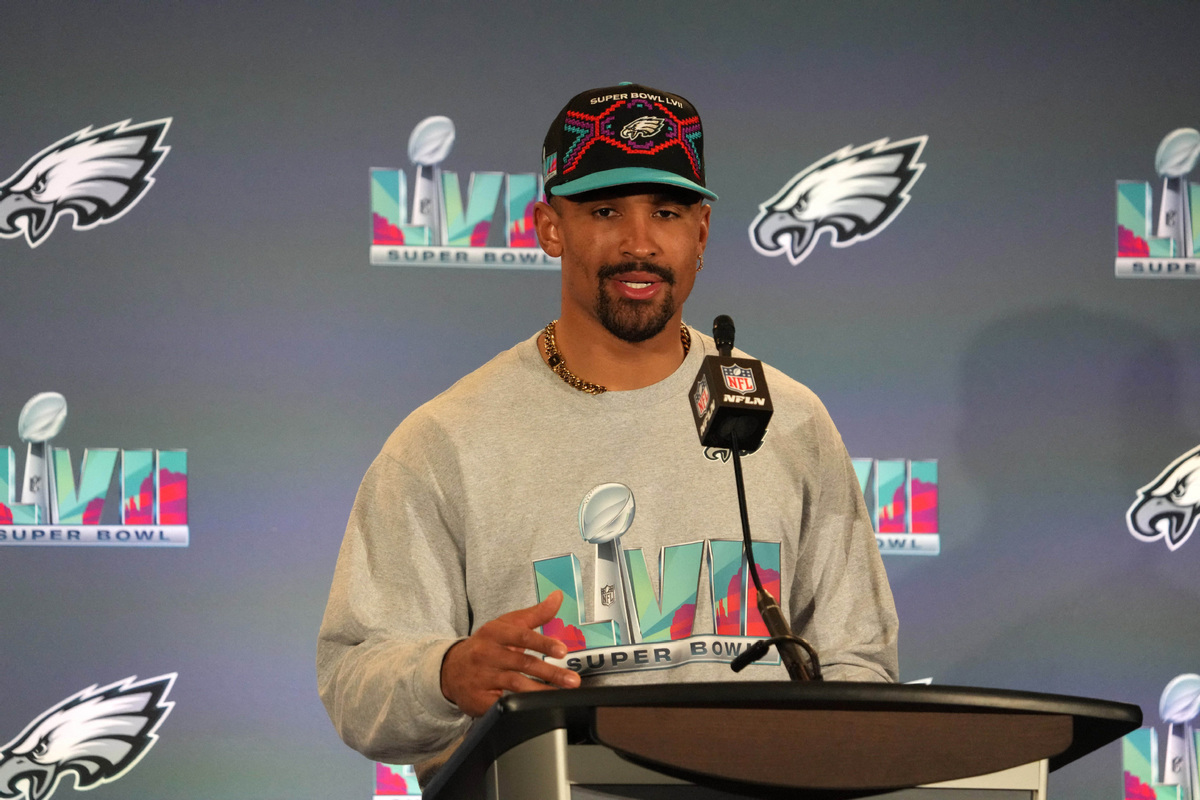 PHOENIX — While the fight song for the Philadelphia Eagles may be "Fly, Eagles Fly," the offensive formula that carried the team to the Super Bowl was more grounded.
With a trio of capable running backs, one of the best running quarterbacks and a dominating offensive line, the Eagles eschewed the pass-happy approach that has taken over the league in recent years to rely more on the ground game to overwhelm opponents physically.
"It's like a boxing match," running backs coach Jemal Singleton said. "Hopefully we're getting enough body blows in the first and second quarter that when it comes to the third and fourth quarter, those body blows get a little bit heavier and you start to diminish your opponent a little bit.
That's part of what we try to do is just stay physical throughout the game." Few teams have done that as well as the Eagles, who have run the ball on half their offensive plays and averaged 153.9 yards rushing per game, including the playoffs — which would be the highest mark for a Super Bowl champion since the 1998 Denver Broncos. Philadelphia's 39 TD runs are the most ever in a season.
The Eagles have a variety of options to fuel the running game with Miles Sanders leading the way with a career-high 1,269 yards and 11 TDs in a contract year.
"This year was kind of one of those years where I just wanted to make everybody feel me," Sanders said. "So I just took it upon myself to just control what I could control and just go out there and ball out every game, every time I touch the ball and make everybody pay for it."
He has done that and gotten plenty of help from Boston Scott and Kenneth Gainwell, as well as quarterback Jalen Hurts. Gainwell leads the team with 160 yards rushing this postseason, with Scott adding two TD runs.
"It's a really cool situation because we are all able to do pretty much everything you want," Scott said. "Whatever is asked of us, whether it's pass-block, running routes, running in between the tackles, outside speed, we can all do it. It's not really a situation where defense is going to be like, OK, this guy's in and he's doing this and that. It kind of helps us be unpredictable."
While some teams try to fool defenses with motion, the Eagles prefer a more static approach, believing a line led by All-Pro center Jason Kelce and right tackle Lane Johnson can control the trenches without using deception.
Philadelphia used motion on just 34% of running plays — about 10 percentage points lower than the next-lowest team.
"You might know what's coming, but the NFL is all about matchups," Johnson said. "So they're going to put matchups on and create matchup problems for the D-line, for linebackers with our schemes and what we do."
While the backs get the majority of the yards on the ground, the threat of Hurts running fuels the run game for the Eagles. They were held to 154 yards rushing in the two games he missed with a shoulder injury — about half their season average.
Hurts has rushed for 833 yards in his 17 starts with his 15 touchdown runs the most ever for a quarterback in the regular season and playoffs combined.
But just his presence is what makes the run game so successful.
"Even if he's handed the ball off, he may hold a guy for one step that allows us to hit a crease and gain 10 more yards we wouldn't have gotten had he not been a threat as a runner," Singleton said.
"He's a big part of our run game, a big part of what we do. I wouldn't say honorary member, he might be the president of the entire deal." The Chiefs use a different philosophy offensively, leaving the ball in Patrick Mahomes' hands to win by the pass.
Kansas City threw the ball on nearly 62% of offensive plays in the regular season, which would be the second-highest mark ever by a team to win the Super Bowl, behind only Tampa Bay in 2020.
They know slowing the Eagles run game down and forcing Hurts to pass will be key to their success on Sunday. But that won't come easily.
"The talent is in the players No. 1, the scheme No. 2, and then you put a quarterback in there that can do the things he can do, that makes them really difficult to defend," defensive coordinator Steve Spagnuolo said.
"You have to be on point with scheme. Players have to be on point with responsibility. You can see when that doesn't happen with people they've played, they expose them."
AP
Most Popular
Highlights
What's Hot