Holiday crowds descend on city where popular true crime drama is filmed
Share - WeChat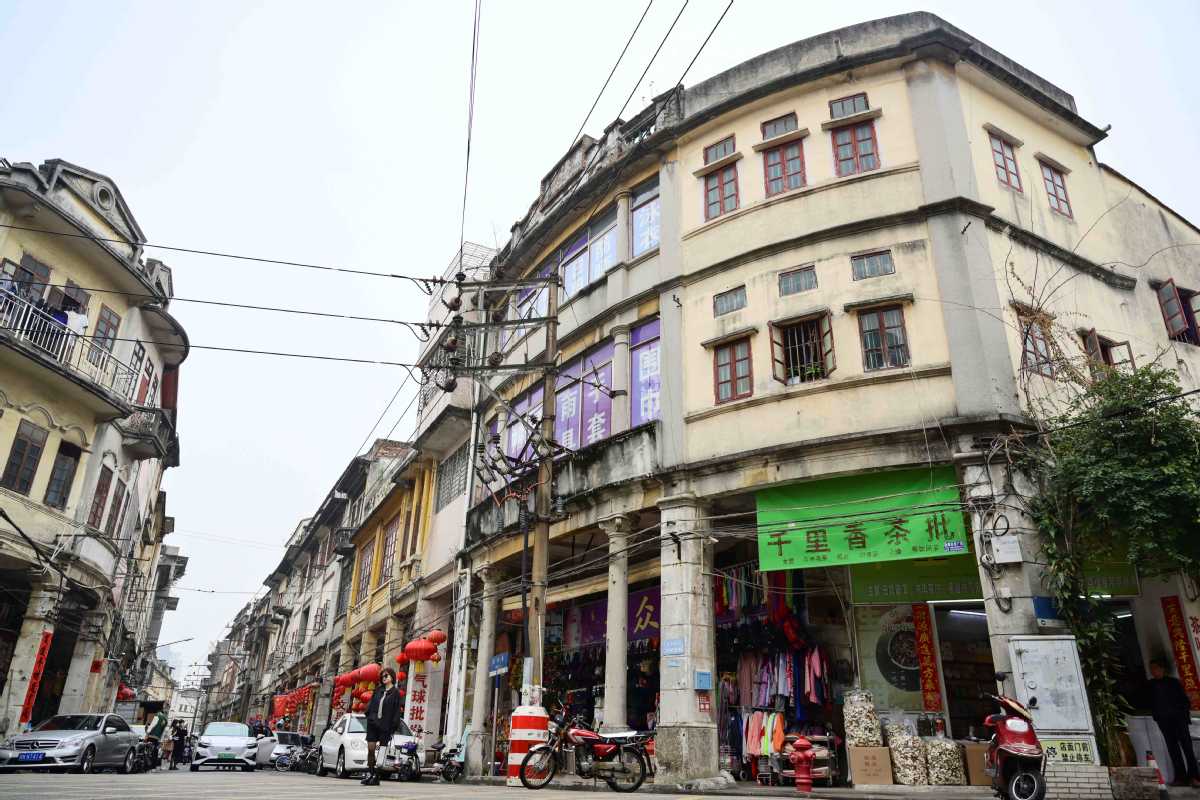 In the past several weeks, the city of Jiangmen in Guangdong province has swarmed with tourists wanting to get up close to where the popular TV drama, The Knockout, or Kuangbiao in Chinese, was shot.
Many scenes in the drama, based on real organized crime cases, were shot in Jiangmen, from the ancient streets of qilou to the traditional arcade houses of diaolou with structures blending Chinese and Western styles.
"After watching the drama, I joined a tour group to visit scenes shot here, which are full of historical and cultural elements," said a tourist surnamed Liu, from Guangzhou, the capital of Guangdong.
According to data from Trip.com Group, an online travel platform, the number of tourists searching for Jiangmen increased by 163 percent month-on-month in the last two weeks, driving bookings to increase by 121 percent monthly.
The number of tourists visiting the city increased 34 percent year-on-year to more than 2.54 million during the weeklong Spring Festival holiday, which concluded on Jan 27, according to local tourism authorities.
The production team of The Knockout searched many cities across the country before deciding to shoot most of the show's scenes in Jiangmen, thanks to its typical regional characteristics.
"Jiangmen not only retains old Western-style buildings, but also has a strong urban living atmosphere," said Xu Tai, the drama's producer.
As stories in the drama continue, the scenes and environmental backgrounds will also change, according to Xu. "Those changes in the drama can be found in Jiangmen."
The Knockout tells the story of a police officer's fight against organized crime over a period of 20 years, showing the rise and fall of underworld figures and corrupt officials.
The 39-episode drama has received a rating of 9.1 out of 10 on Douban, one of China's most-visited review platforms, and has become one of the most discussed topics on social media since mid-January.
Jiangmen, traditionally home to millions of overseas Chinese, has a large number of old streets concentrated with ancient Chinese and Western-style buildings. For example, the Changdi historical cultural area was an old business and trade center in the Pearl River Delta region after Jiangmen became a trading port city in 1902.
The city also boasts Birds' Paradise, a 10,000-square-meter island covered by banyan trees more than 400 years old.
The area, with a flourishing bird habitat and lakeside landscape, became a well-known ecological travel spot after Ba Jin, one of China's most acclaimed writers, wrote The Birds' Paradise, which was later selected as a textbook for primary students.
Local authorities have pledged to promote the in-depth integration of culture and tourism, based on a number of key projects including the Chikan ancient town of overseas Chinese, with an investment of 6.6 billion yuan ($973 million) for its first phase construction, and a water scenic spot in Gulou, which will be developed into a beautiful water town.