Surgeons perform Gambia's 1st pacemaker operation
Share - WeChat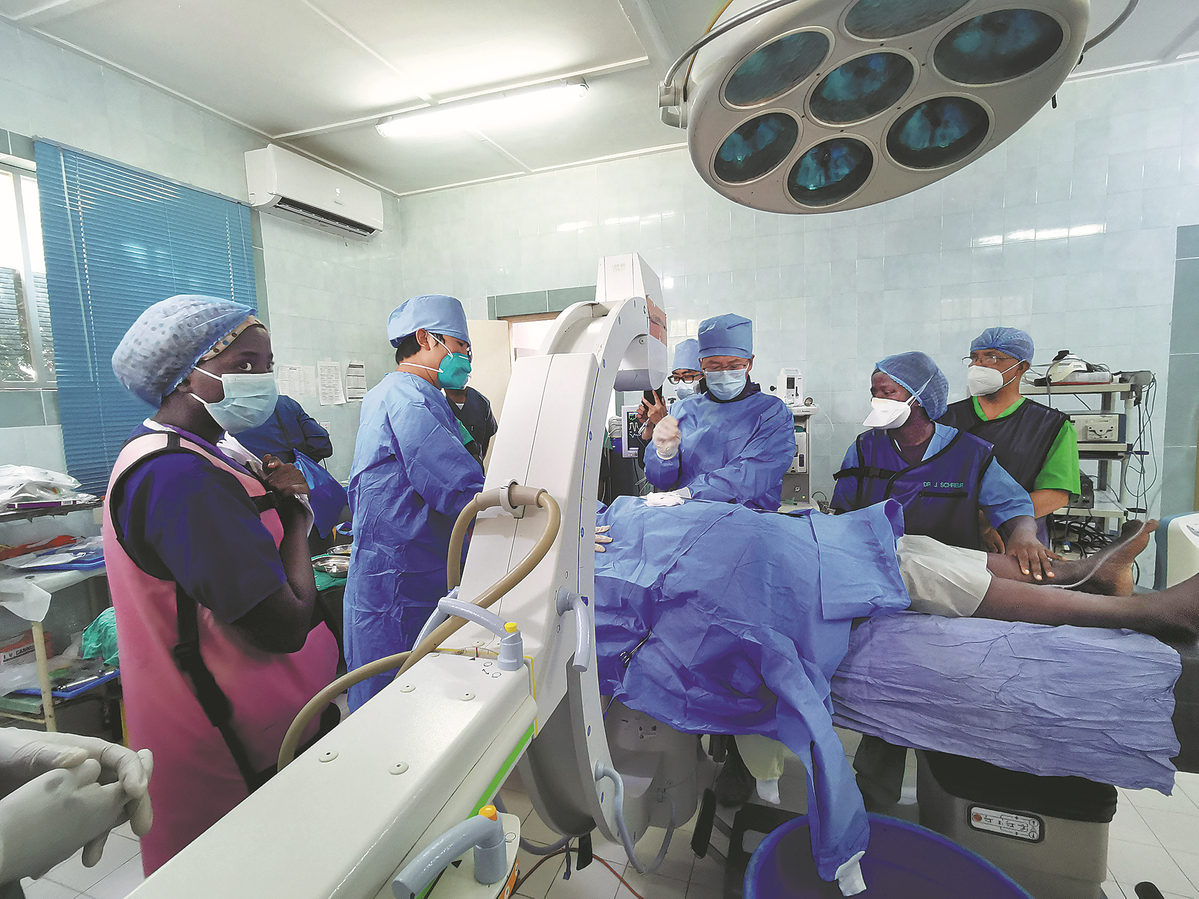 A Chinese medical aid team in Gambia has completed the country's first pacemaker implant surgery, offering hope for expanding access to the lifesaving procedure in the West African nation.
The fifth team of Chinese medical workers left from Shenyang, Liaoning province on May 29 for a year's mission based at Edward Francis Small Teaching Hospital in Banjul, capital of Gambia. The team consists of 10 healthcare workers from eight major hospitals in Liaoning.
Having learned about the arrival of the Chinese doctors, an 82-year-old Gambian man visited the hospital in Banjul on Dec 7 due to persistent heart troubles and lung infections, said Sun Jiaxing, a doctor from the Shengjing Hospital of China Medical University and head of the medical team, during a recent interview.
The patient was soon diagnosed with heart failure and the best option for him was to have a pacemaker implanted.
Sun said that after a week of treatment with medicines, the patient underwent surgery led by Li Yang, a doctor from the First Hospital of China Medical University's cardiovascular medicine department, on Dec 14.
"Chief surgeons are able to perform 300 to 400 such surgeries each year in China. But in Gambia, completing the procedure successfully requires experience and promptness due to a lack of standard equipment and medicines," said Sun.
Thankfully, the surgery lasted about half an hour and the patient was able to get out of bed and walk around the next day. She was discharged three days later.
Sun said that Gambian doctors observed the operation from the sidelines, and received training on preparing for pacemaker implantation, key steps for the surgery and post-surgery management from their Chinese counterparts.
The Chinese-made pacemaker used in the surgery was sent from China to Gambia with the help of domestic pharmaceutical companies and the Chinese embassy in Gambia.
"The Chinese medical aid team has not only brought advanced medical technologies to Africa, but also high-quality medical devices made in China," said a team news release. "More African people are bound to benefit from the mission."
According to authorities in Liaoning, the province has been tasked with sending medical assistance to Gambia since 2017. A total of five medical aid teams, a short-term medical team and an expert team comprising eye doctors have been dispatched so far.