Major hospitals see decline in COVID-19 patients after break
By HU DONGMEI in Yinchuan, ZHANG YU in Shijiazhuang and ZOU SHUO | China Daily | Updated: 2023-02-03 09:10




Share - WeChat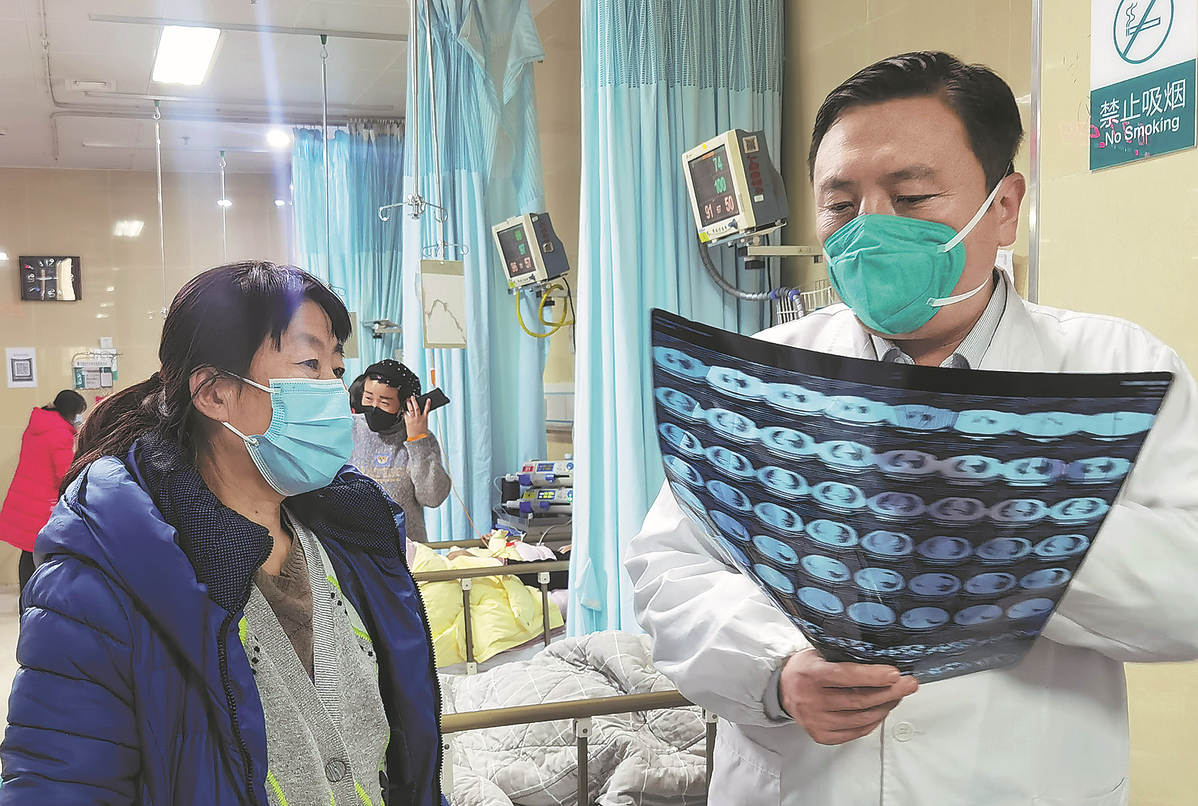 It is common for Chinese people to hope for good health and fortune for Chinese New Year, and Li Yongqiang's new year wish is all about having a healthy body.
The 55-year-old has been hospitalized at the Central Hospital of Ningxia Medical University for several days due to COVID-19 and will soon be discharged as he has almost recovered.
Li, who lives in a township in the Ningxia Hui autonomous region's Wuzhong city, was transferred to the hospital in Yinchuan after his symptoms became more serious. The infection in his lungs was worse every time he took a CT scan at his local hospital and his kidneys were also damaged due to the side effects of medication.
"I was worried that the Yinchuan hospital would be filled with COVID-19 patients and it would be difficult for me to get admitted, but the whole process was very smooth," he said.
"I am very satisfied with the treatment. I have my own bed and the doctors and nurses are very responsible."
According to Mi Feng, a spokesman for the National Health Commission, there is currently a low level of COVID-19 transmission in China, and the epidemic in the nation is steadily declining.
"The number of our patients infected with COVID-19 dropped greatly during the Spring Festival holiday, compared with the peak in COVID-19 infections ahead of it," said Yin Xiaoping, deputy head of the Affiliated Hospital of Hebei University.
Based in Baoding, Hebei province, the hospital put into use a national-level treatment center for epidemics in November, the first such center in use in Hebei. It has played an important role in preventing and treating severe infections of COVID-19.
According to Yin, the hospital only saw a few severe COVID-19 patients during the holiday.
"At present, there are no more than 20 COVID-19 patients in treatment at our hospital," she said, adding that they are all in stable condition.
Intensive care medical resources at the hospital are mainly being used to treat non-COVID-19 patients, she said.
"We have smoothly passed the peak of intensive care treatment for COVID-19 patients," Yin said.
Looking back at the peak at the end of last year, Yin said medical workers at the hospital didn't have time to return home for about a month.
"Our aim was to treat each patient well with all our effort and help them recover as soon as possible," she said.
Feng Ke, a senior doctor at the emergency department of the Central Hospital of Ningxia Medical University, said the hospital received about 300 COVID-19 patients daily during the Spring Festival holiday, down from a peak of more than 500 every day in late December and early January.
Most of the patients had complications from COVID-19 infections and were transferred from lower-level hospitals, he said.
Many of the patients were in serious condition, so most medical workers did not take a break for the holiday, he said.
However, he is deeply relieved that the infection peak has passed as he recalled the hectic scenes a month ago.
Sometimes, a single oxygen tank had to be shared by several patients and doctors conducted CPR on the floor, Feng said.
"During the peak, about half of the more than 200 medical workers in the emergency department were infected and many volunteered to go back to work as soon as their condition improved a little to keep the department functioning," he said.
There were just 16 beds in the emergency department, and we had to treat more than 100 patients, and many of them had serious symptoms, he recalled.
"Both of my parents were infected and as I did not have time to look after them, my father's symptoms got worse and he was hospitalized for more than a month," Feng said, adding that he spent Chinese New Year's Eve with his father in the hospital.