Formula for schools' scientific success
Share - WeChat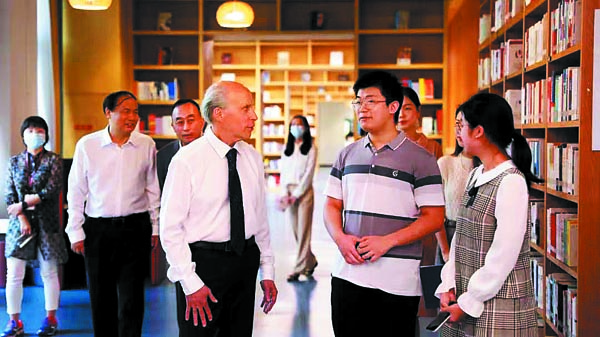 New organization will harness interest in, and enhance the appeal of, key field of study, report Tan Yingzi and Deng Rui in Chongqing.
A top body in science and technology — the World Laureates Association High School League — which consists of China's leading high schools, was established in Shanghai recently to boost the appeal of science, as well as to achieve enhanced sci-tech self-reliance and strength.
Three campus tours were held for the world's leading laureates at Chinese high schools where they interacted with the students.
And the WLA Sci-T Conference, held annually for outstanding high school students and freshmen from all over the world, has become a platform for cultivating the next generation of scientists, according to the Shanghai center of the association.
The report to the 20th National Congress of the Communist Party of China has given priority to the development of education, and urges the speeding up of work to build a strong educational system, and greater scientific and technological strength. It says the country will continue its efforts to cultivate talent.
The report also stresses that, by 2035, the country will significantly increase its economic strength, scientific and technological capabilities, and will join the ranks of the world's most innovative countries, with greater self-reliance and strength in science and technology.
At the fifth World Laureates Forum held from Nov 3-7, the WLA High School League, formed by the country's 13 top high schools including Shanghai High School, the High School affiliated to Renmin University of China, Shenzhen Middle School and Chongqing Bashu Secondary School, was officially established.
"The establishment of the WLA High School League will help introduce frontier scientific ideas to talented youth, harness their potential in the world of science and improve their ability to think on their own," said secretary-general of the WLA Shanghai Center Yu Licheng.
The fifth World Laureates Forum featured 60 top scientists from more than 20 countries and regions, including 27 Nobel Prize laureates. It held a total of 21 events covering a wide range of fields, such as digitalization, green development and young scientist cultivation.
In the past five years, the forum, an annual gathering in Shanghai for top scientists from around the world, has been a platform to share their latest findings in basic science and scientific solutions to cutting-edge issues.
"Old scientists are like spokesmen, but it's the young people who are the future," said Michael Levitt, 2013 Nobel Laureate in Chemistry and vice-chairman of WLA.
"One of the key missions of the association is to inspire and support the growth of the young generation in sci-tech," said Yu, adding that the recent forum launched a training program called "Next-generation Scientists" for innovative students, aiming to promote their research level and scientific literacy with professional training for one year.
Most Popular