Passengers enjoy resumed ferries to Kinmen, Matsu
Share - WeChat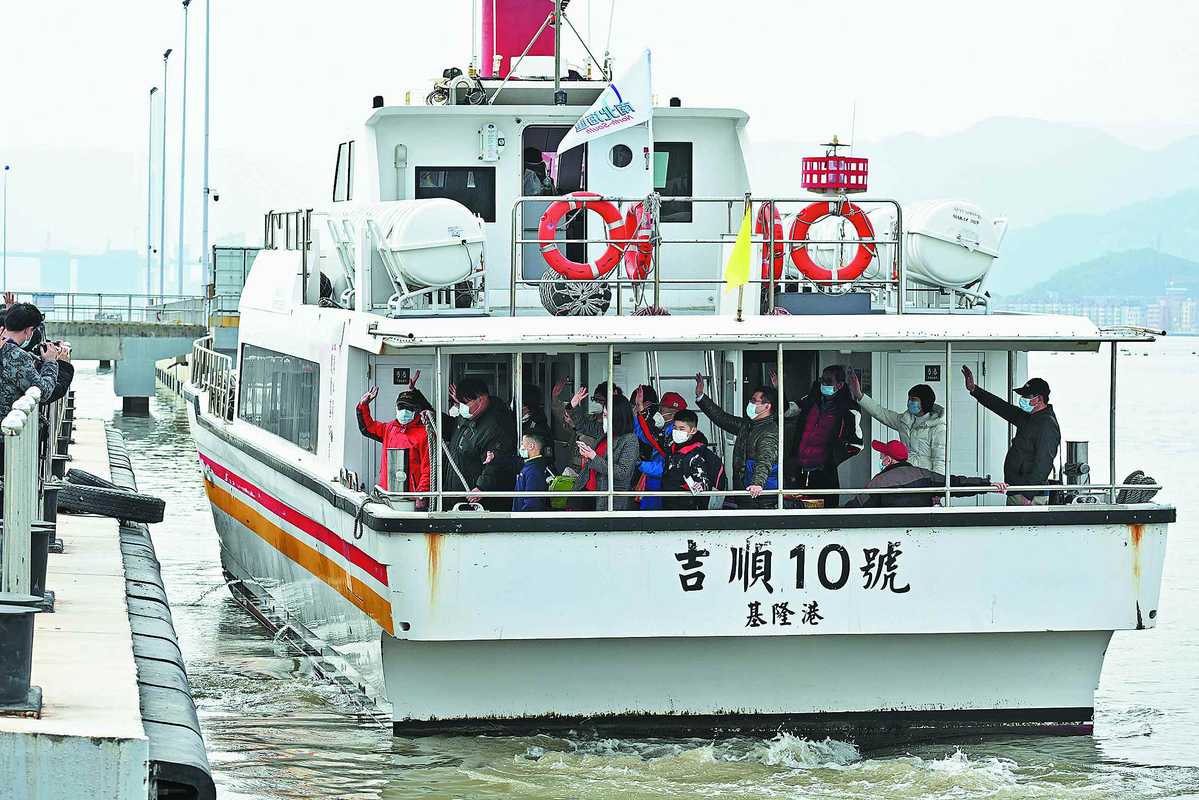 From Jan 7 to Sunday, more than 3,200 passengers took the ferry between the coastal areas of East China's Fujian province and the outlying islands of Kinmen and Matsu, which are administered by Taiwan, according to the Taiwan affairs authority of Fujian.
The ferry routes — which resumed on Jan 7 after being suspended for nearly three years — are important for residents of the outlying islands to travel to the mainland.
Ferries operating between Fujian's Xiamen and Kinmen carried more than 3,000 passengers on 46 trips, and ferries between the provincial capital Fuzhou and Matsu transported over 230 passengers on 10 trips, according to the Taiwan, Hong Kong and Macao Affairs Office of the Fujian provincial government.
Over the weekend, Song Tao, head of both the Taiwan Work Office of the Communist Party of China Central Committee and the Taiwan Affairs Office of the State Council, visited Xiamen to learn about the ferry operations.
He also met representatives of Taiwan compatriots working in Fujian to listen to their opinions and suggestions.
"Peace, development, exchanges and cooperation are the common aspiration of people on both sides of the Straits," Song said.
Now that the epidemic has been put under control on the mainland, Taiwan compatriots can feel at ease studying, working, starting businesses and living on the mainland, he said.
"Compatriots on both sides of the Straits have a strong desire for exchanges. We attach great importance to this and are fully prepared," he added.
Song condemned Taiwan's authorities for using the epidemic as an excuse to obstruct cross-Straits exchanges, saying it went against public opinion.
Lu Li-li, who comes from Kinmen, took the ferry on Saturday to return to Xiamen for work.
"I feel happy but with mixed feelings. The ferry's partial resumption was temporary, and we hope it won't stop again," she told Xiamen Daily.
Before the epidemic, Lu often took the ferry to Kinmen from Xiamen to take care of her child. She said that in the past three years, she had to fly to Taiwan and then head back to Kinmen, which cost her a lot of money and trouble.
"Many people said I should return to Kinmen because my child is still young, but I don't want to give up my efforts on the mainland. I want to continue my development in Xiamen," she told the media.
Xinhua contributed to this story.