Chartered train carries migrant workers to jobs
Share - WeChat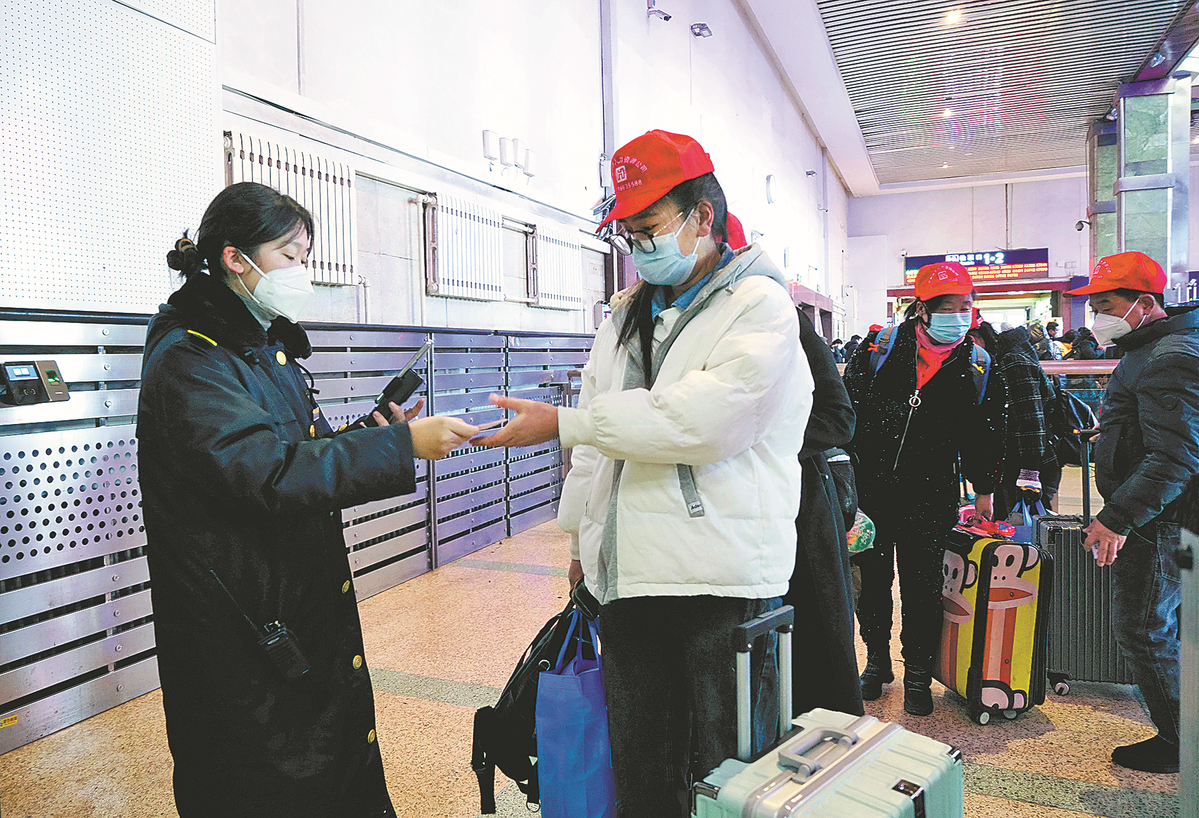 Wang Jingyun and her husband Hua Mingtian, together with around 110 migrant workers, boarded a train at Qiqihar Railway Station in Heilongjiang province bound for Ningbo in Zhejiang province on Monday, hoping to earn a satisfactory income to give their family a better life.
The chartered train departed Heilongjiang and will pass through several major labor-import regions in Zhejiang, such as Ningbo and Wenzhou, according to China Railway Harbin Group.
The first chartered train of this year set off on Jan 27, the last day of the seven-day Lunar New Year holiday, to help workers return to their jobs.
This year's travel rush started on Jan 7 and will end on Feb 15. The festival itself fell on Jan 22, and travel usually peaks before and after the seven-day holiday.
The 60-year-old couple from Gannan county in Qiqihar have manufactured insulation parts for high-speed rail and subways at a factory in Ningbo since 2018.
"Despite our age, we can handle the work easily," Wang said.
"My husband and I can save over 10,000 yuan ($1,480) each year, which is a really large amount for a rural family."
Affected by the COVID-19 epidemic, the factory suspended production in May 2022 and the couple returned to their hometown.
"When we received the call from my boss in late December to ask us to return to the factory, we immediately applied to the labor transfer service station of Gannan county to reserve the train tickets," she said.
"It is much cheaper by train than by plane and I hope to start working as early as possible."
In 2017, the group introduced special trains to carry migrant workers from rural parts of Qiqihar and set up a long-term contact mechanism to provide services in ticket purchase, station entry and other travel details.
"The number of migrant workers returning home for this year's holiday was twice that of last year," said Tian Yuan, director of the service station in Gannan.
"Many enterprises in Zhejiang have a huge demand for workers due to the saturation of orders after the holiday, so every day there are over 100 workers taking the train to their jobs."
In consideration of the fact that there is no train access in rural areas where some migrant workers live, Qiqihar Railway Station has combined bus and railway transportation for passengers.
Passengers can take the bus at a designated site and get to the station directly.
The station has also set up a green channel for migrant workers to help with ticket purchasing, travel information and baggage handling.
Since COVID-19 management was optimized and travel restrictions were lifted last month, nucleic acid test results and health codes are no longer required.
However, the railway station continues to implement epidemic prevention and control measures, including having proper ventilation and disinfection, improving public health information and opening more gates for ticket and security checks to avoid bottlenecks.