Riverside ranger keeps on riding to the rescue
Share - WeChat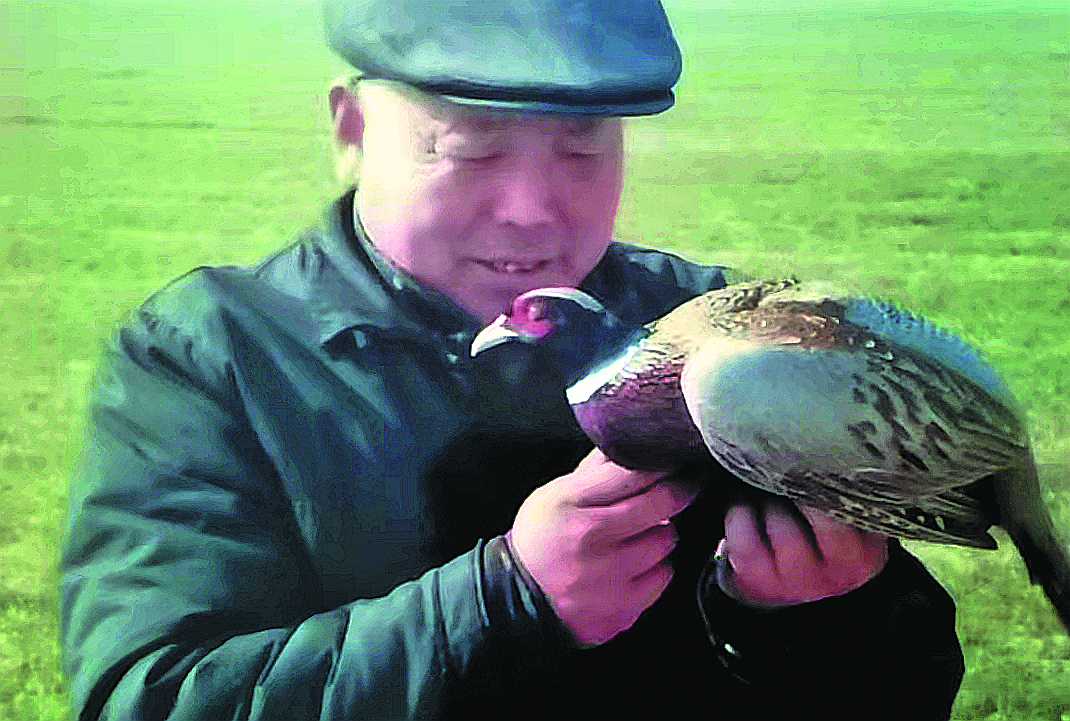 Editor's note: As protection of the planet's flora, fauna and resources becomes increasingly important, China Daily is publishing a series of stories to illustrate the country's commitment to safeguarding the natural world.
Every autumn and winter, a large number of migratory birds seek shelter in the area surrounding Fan Yunting's home village of Daxinzhuang in Kaifeng, Henan province.
It is always the busiest time of the year for the 66-year-old farmer.
Braving bitterly cold winds and occasional heavy snow, he often patrols more than 10 kilometers a day by bike along the banks of the Yellow River, dubbed "The mother river of the Chinese nation."
Fan has been doing this unpaid work for more than 20 years. To date, he has helped over 500 wild birds that have been trapped, injured or even poisoned, and prevented illegal hunting more than 200 times. His devotion has seen him wear out five bikes.
His avian enthusiasm dates back to his childhood.
As a small boy, he often fed wild birds with whatever food he could get. In early adulthood, he not only maintained the habit, but also sold crops for money to treat any injured or sick birds he came across. He even occasionally bought meat to feed wild eagles.
Back then, when few people were aware of the need to protect birds, his actions won him the derogatory nickname "Idiot". However, he just smiled when he was called the name and continued his protection work without complaint.
Fan's regular engagement with bird conservation began in 2000, when he was shopping in urban Kaifeng and he met a group of officials who were promoting the protection of flora and fauna.
While carefully listening to one of the officials who was using a loudspeaker, he couldn't resist interrupting occasionally to share some of his avian knowledge.
Astonished by the farmer's expert views, the officials invited him to work as a voluntary ranger for wildlife protection. He accepted without hesitation.
Since then, from October to March, when many migratory birds arrive to overwinter, Fan usually gets up at about 5 am to patrol the shores of the Yellow River near his village.
The freezing temperatures are not the only challenge he has had to face. In 2001, he even got into a physical conflict with hunters.
"I tried to persuade a group to stop hunting. But they refused and together they started to beat me," he recalled.
Instead of shrinking back, Fan tightly gripped the clothes of one of the men to prevent him from running away until rangers he had called arrived from a local wildlife protection station. Luckily for Fan, he was only slightly injured.
On learning that some people were hunting birds on a snowy night in 2008, he rushed to the site, but he broke his right arm after falling off his bike on the uneven, slippery road.
Fan started his patrols again as soon as he recovered. For a short time, he even shared a makeshift house a goatherd had made to allow him to oversee his livestock. That meant Fan could patrol without having to trek for too long in darkness to the riverbank.
When he finds injured or sick birds, he always takes them home for treatment.
Over the years, he has become experienced enough to diagnose some of the most common avian ailments, such as various fevers and influenza.
"Most of them can be brought back to life," he said with a smile.
Fan's perseverance has brought him many honorary titles. In 2011, he received 5,000 yuan ($740) after winning the Subaru Ecological Protection Award. He used the money to erect 100 billboards along the riverbank to advertise laws and regulations related to wildlife protection.
In 2017, he was honored as a model worker of Kaifeng, while Henan bestowed the same title on him in 2019. He became a model worker of China in 2020.
In 2021, he was selected as one of the country's top 100 model volunteers in the field of environmental protection.
Despite his hair turning gray, Fan has no plans to quit. "I enjoy much better working conditions, now. In addition to getting some binoculars from the Kaifeng authorities to facilitate my work, I have bought myself a camera and an electric bike," he said.
As his health is still good, Fan said he believes he can continue to patrol for a few more years. Even after he dies, he wants to stay at his post in spirit.
"I have told my family members that after I pass away I want my ashes to be scattered in the river. I want to continue to accompany the birds and safeguard the land," he said.