Workers keeping busy during Spring Festival
Share - WeChat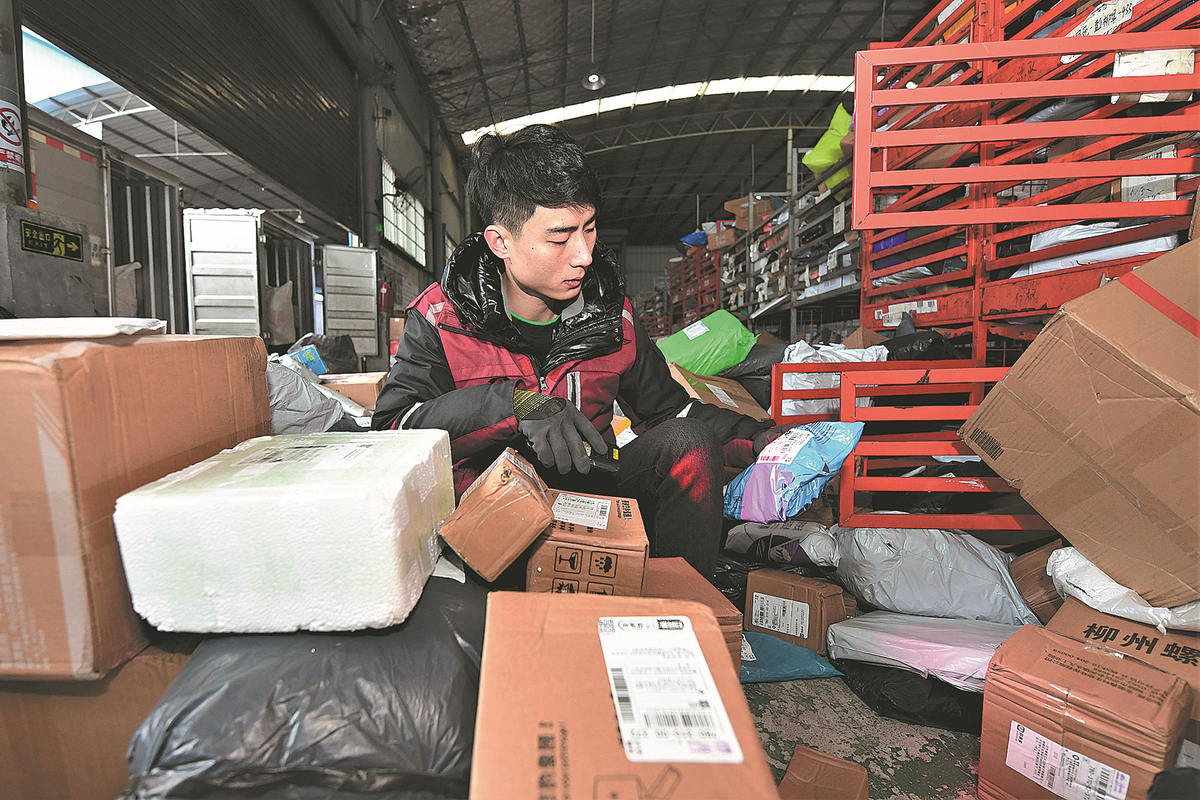 XIAMEN/NANJING - Spring Festival in China, traditionally an occasion for a family reunion, has always been described as a happy and relaxing time. But for those who choose to work, the seven-day holiday can be quite hectic.
On Tuesday, the third day of the Chinese Lunar New Year, 26-year-old Chen Jinping was busy packing parcels at a delivery station in Xiamen, Fujian province, before delivering the items to customers.
Originally from Gansu province, about 2,000 kilometers away, Chen has worked as a delivery man for nearly three years.
"I haven't celebrated Spring Festival with my family since then," said Chen, who kept working as he talked. "During Spring Festival, people tend to purchase more, and we are extremely busy. So I volunteer to stay rather than go back home."
On Tuesday, his day started before 6 am, and he arrived at the delivery station an hour later. Each day, he delivers more than 150 items to customers, working until as late as 9 pm.
Still, Chen loves his job.
During the COVID-19 outbreak in Xiamen, he often received phone calls from elderly people who needed medicine.
"They didn't know how to order online, so I helped them," the bespectacled man said. "It gave me a sense of achievement and responsibility."
Chen has also frequently held video chats with his parents. He is now preparing for an exam, after which he hopes to receive a bachelor's degree in human resource management.
His New Year wish: "Passing the exam and good health for my parents."
As Chen started his day on Tuesday, cleaner Li Youping was already collecting sea garbage in another part of the city.
On Chinese New Year's Day, Li and his colleagues worked from 5:30 am until nearly 7 pm to ensure the area would be clean for the fireworks party that was to be held in the evening.
The next day, they collected more than 70 metric tons of garbage, more than three times the amount they would normally gather on an ordinary day.
"Many of my colleagues are from outside the city and have been away from their homes for a long time," he said.
"I am local, so I should be the one working at this time."
Li said his happiest moment came when he heard visitors to Xiamen praise the city for its cleanliness, which encouraged him to work harder.
He said it was tradition to clean the area on the eve of the Lunar New Year.
"It means we sweep away our efforts of the entire year before entering a new one," he explained.
In Jiangsu, a major manufacturing province, many factories have continued operating during Spring Festival to complete their orders.
At Xuzhou XCMG Port Machinery Co Ltd, more than 100 people toiled amid roaring machines and flying sparks. The vehicles they manufactured will be exported to Southeast Asian countries in early February.
Zhou Yujie, head of the company's manufacturing management department, said one of the workers' big wishes was to watch the blockbuster The Wandering Earth II, which premiered during the holiday.
"Some of the vehicles in the movie were made by them," Zhou said proudly.
Wang Jiong, deputy general manager of Nanjing High Speed Gear Manufacturing Co Ltd (also known as NGC) in Jiangsu, saw the massive market potential behind the increasing orders, as their products were exported to more than 30 countries and regions.
On Thursday, one day before the end of the Spring Festival holiday, about 80 percent of the workers at NGC had returned to their posts.
"Everyone wants to work hard and have a good year," Wang said.
Xinhua