Heating on high to keep Mohe from freezing
Share - WeChat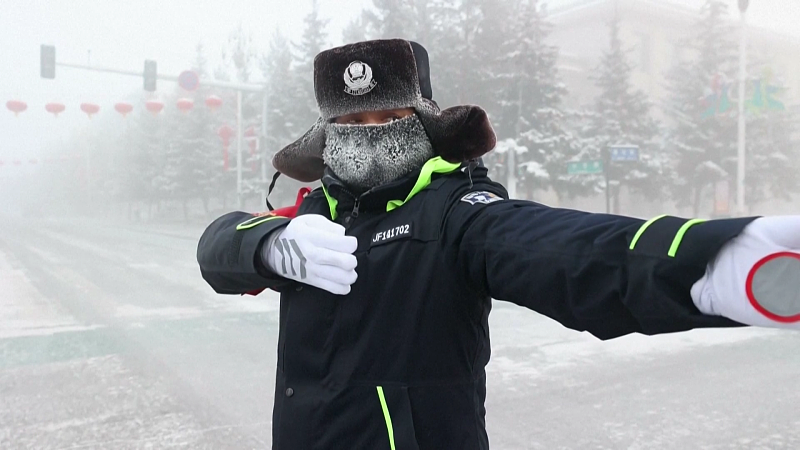 Mohe, a city in Heilongjiang province, recorded a temperature of -53 C on the morning of Jan 22, the lowest temperature recorded since 1969, as the recent cold snap continued to sweep across China, the National Meteorological Center said.
The last time the mercury fell below -50 C was in February 1969,when it reached -52.3. That figure was also recorded in Mohe, which is China's northernmost city.
Traffic police and thermal company workers have been working to keep the city running.
"All our boilers are running at maximum power. We're burning more coal, about 30 percent more than usual, to produce more heat, especially for the Spring Festival Holiday," said Xin Haiqi, who works at a Mohe thermal company.
Heating equipment is monitored 24 hours a day to ensure that indoor temperatures stay the same despite cold snap, Xin said.
The China Railway Harbin Group said that so far this year, it has transported about 6 million metric tons of coal for heating purposes, a rise of 19.6 percent year-on-year, to help Heilongjiang residents through the winter.
Extreme cold has led to ice fog in Mohe, reducing visibility to less than 10 meters. Traffic police are braving the extreme temperatures to direct traffic, but change shifts every 10 minutes rather than every hour, to stay safe.
Traffic policeman Sun Liqiang,said that in addition to wool and cotton shoes, he puts thermal plasters in his shoes to keep warm. Clothes freeze solid after being outside for only a while.
"Even a fully charged mobile phone is drained of power in my pocket after about half an hour because of the temperatures," he said.
More cold air is forecast to sweep across China, bringing with it strong winds and frigid temperatures,according to the National Meteorological Center.
Temperatures are forecast to plummet by between 8 C and 12 C in some southern areas on Wednesday,but starting on Sunday, temperatures will rise a little in northern and eastern areas.
The Tibet autonomous region is forecast to be hit by heavy snow from Sunday through Tuesday, the center said.
Over the past 30 years, an average of 5.4 cold waves have occurred in China each year. The highest number of cold snaps since 1991 was registered in 2021, which experienced 11,followed by 2009 with eight, according to the China Meteorological Administration.