Xi: Unity key in achieving modernization
Share - WeChat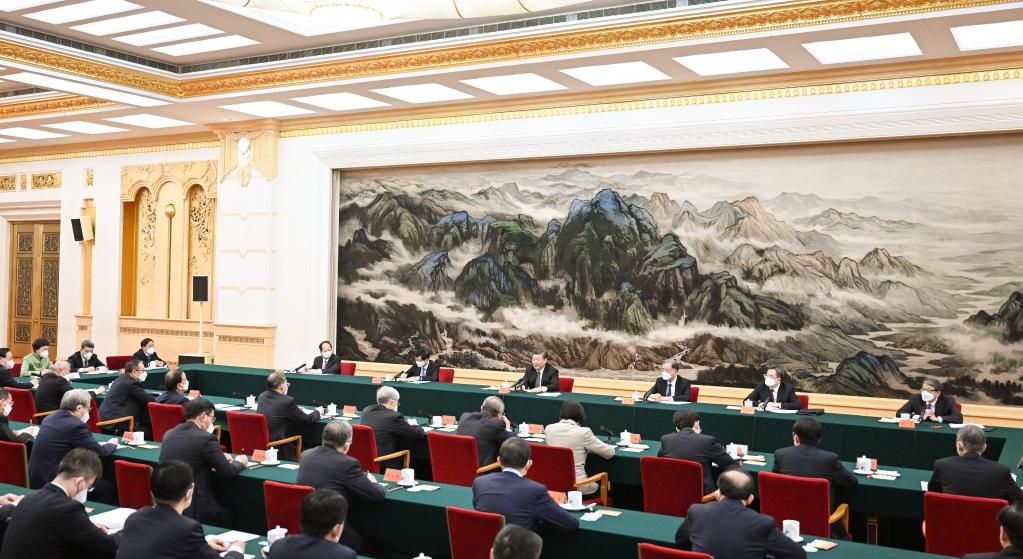 General secretary calls on non-CPC members to better pool their strength
Xi Jinping, general secretary of the Communist Party of China Central Committee, called on Monday for efforts from non-CPC members to play a greater role in pooling strength for the country's overall interests, and to mobilize and encourage more people to strive in unity for realizing Chinese modernization.
Xi, who is also China's president and chairman of the Central Military Commission, made the remarks at a gathering at the Great Hall of the People in Beijing on Monday attended and also addressed by representatives of non-Communist parties, the All-China Federation of Industry and Commerce and personages without party affiliation, ahead of Spring Festival, or Lunar New Year, which falls on Sunday.
On behalf of the CPC Central Committee, Xi extended his sincere festive greetings and best wishes to non-CPC members as well as those who are engaged in united front work.
He said that this year is the first in which the nation will implement the guiding principles of the 20th CPC National Congress, making 2023 a year full of hope and challenges.
Unity and hard work from the people across the country are needed in order to turn China into a modern socialist country in all respects and comprehensively advance national rejuvenation through a Chinese path to modernization, Xi said.
He urged non-Communist political parties to contribute their suggestions and opinions on the country's development through participation in the discussion and management of State affairs, democratic supervision and multiparty consultation, and serve as good advisers, helpers and workmates of the CPC.
Xi called on them to conduct more study and research on major issues, including the building of a new development paradigm and promoting common prosperity, and contribute their insights and suggestions.
He expressed his hope that the All-China Federation of Industry and Commerce could work to promote the implementation of relevant policies to benefit enterprises, and help private enterprises resolve their difficulties in order to boost the confidence of the private sector.
Noting that upholding the CPC's leadership and working in unity with the CPC are the political foundation of multiparty cooperation, Xi said that leveraging the political strength of China's new type of political party system requires all of the eight non-Communist parties to strengthen their capabilities, including by participating in the discussion and management of State affairs.
Xi praised non-CPC members for their contributions in the past year in developing research and democratic supervision centering on major issues that matter to the nation's reform, development and stability, saying that they provided significant support to the CPC Central Committee in scientific decision-making and the effective formulation of policies.
He also commended the All-China Federation of Industry and Commerce for its efforts in the past year in guiding private enterprises in fulfilling their social responsibilities and realizing high-quality growth.