New area of Chongqing makes deals with global investors
Share - WeChat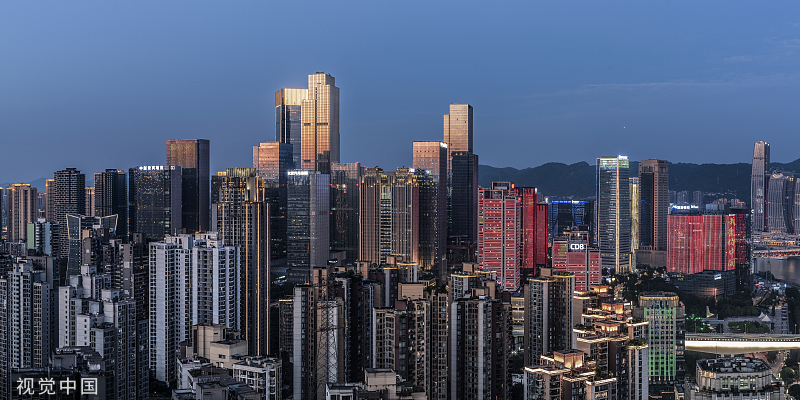 Liangjiang New Area in Chongqing signed 28 projects totaling over 30 billion yuan ($4.4 billion) at its global promotion conference on Wednesday, as it has sped up its efforts to attract more international investment after COVID-19 restrictions eased in the country.
The area, established in 2010, is the first national development zone in inland China and the third in the country after Shanghai Pudong and Tianjin Binhai.
It is accelerating the construction of an inland gateway for opening-up, as well as an intelligent city, as it strives to become a leading area for high-quality development and a demonstration area for high-quality living.
The new projects cover the fields of electronic information, intelligent manufacturing, digital economy, healthcare, exhibitions and cultural innovation.
Eleven scholars and experts joined a Liangjiang think tank and will offer advice about the area's development. The consultants include Li Zexiang, a professor at Hong Kong University of Science and Technology; Sylvain Laurent, director of Hopium France and former global vice-president of Dassault Systemes; John Z. Zhang, senior vice-president and general manager of Corning Display; and Denis Depoux, president of global management committee Roland Berger.
The conference was held both online and offline, with an overseas venue in Germany.
John Edwards, the UK trade commissioner to China, said via video link that Liangjiang New Area has always been a vital partner for the UK Department for International Trade and the British consulate in Chongqing in promoting trade and investment.
Chongqing is home to nearly 100 British companies in the areas of manufacturing, real estate, energy and technology. In 2021, trade between Liangjiang and the UK reached 3.94 billion yuan, an increase of 10 percent year-on-year.
Liangjiang New Area has formed industrial clusters of auto, information technology, advanced manufacturing, biosmedicine — all areas that offer great opportunities for UK businesses, he said.
At the Berlin venue, Michael Schumann, chairman of the board of the German Federal Association for Economic Development and Foreign Trade (BWA) said during a speech that many German companies are looking for ways to cut costs, relocate parts of their production abroad and open up new markets in Asia.
"I am convinced that China will remain such a partner for many German entrepreneurs. The relations between numerous companies from both countries have grown trustfully and dynamically over many years. And many are grateful for the share that China has had in their economic growth in recent years," he said.
He said there are great opportunities lying in places like Liangjiang New Area, which can offer attractive investment conditions and a good production environment for German companies.
Chongqing became the country's fourth municipality in 1997 after Beijing, Shanghai and Tianjin. Covering 82,402 square kilometers and housing a population of over 32 million, it is the largest of the four.
Located on the upper reaches of the Yangtze River, the city boasts key geographic advantages as a strategic pivot in the national development program for western regions, as well as a connecting point for the Belt and Road Initiative and the Yangtze River Economic Belt.
The municipality is one of the major economic centers in China, with a GDP over 2 trillion yuan in the first three quarters of last year.
Liangjiang is less than 1.5 percent of Chongqing's area, but it contributes about 15 percent of Chongqing's total economic output, 30 percent of its total imports, exports and foreign investment and is home to 50 percent of Fortune 500 companies that settled down in Chongqing, officials said.
Serving as a vital automobile manufacturing base in China and an important global intelligent terminal manufacturing base, Liangjiang New Area is building its automobile and electronic information industries into industrial clusters. The high-end equipment industry, the life and health industry, and the digital economy are also expanding.
"The new area provides a massive market, a first-class business environment and optimized policy support for enterprises to invest and grow," said Wang Yu, deputy director of the Administrative Committee and a member of the Party Working Committee of Chongqing Liangjiang New Area.