Chongqing tussles with COVID
By TAN YINGZI, DENG RUI in Chongqing, ZHENG CAIXIONG in Guangzhou, ZHENG CAIXIONG and ZHOU HUIYING | China Daily | Updated: 2022-11-11 09:29




Share - WeChat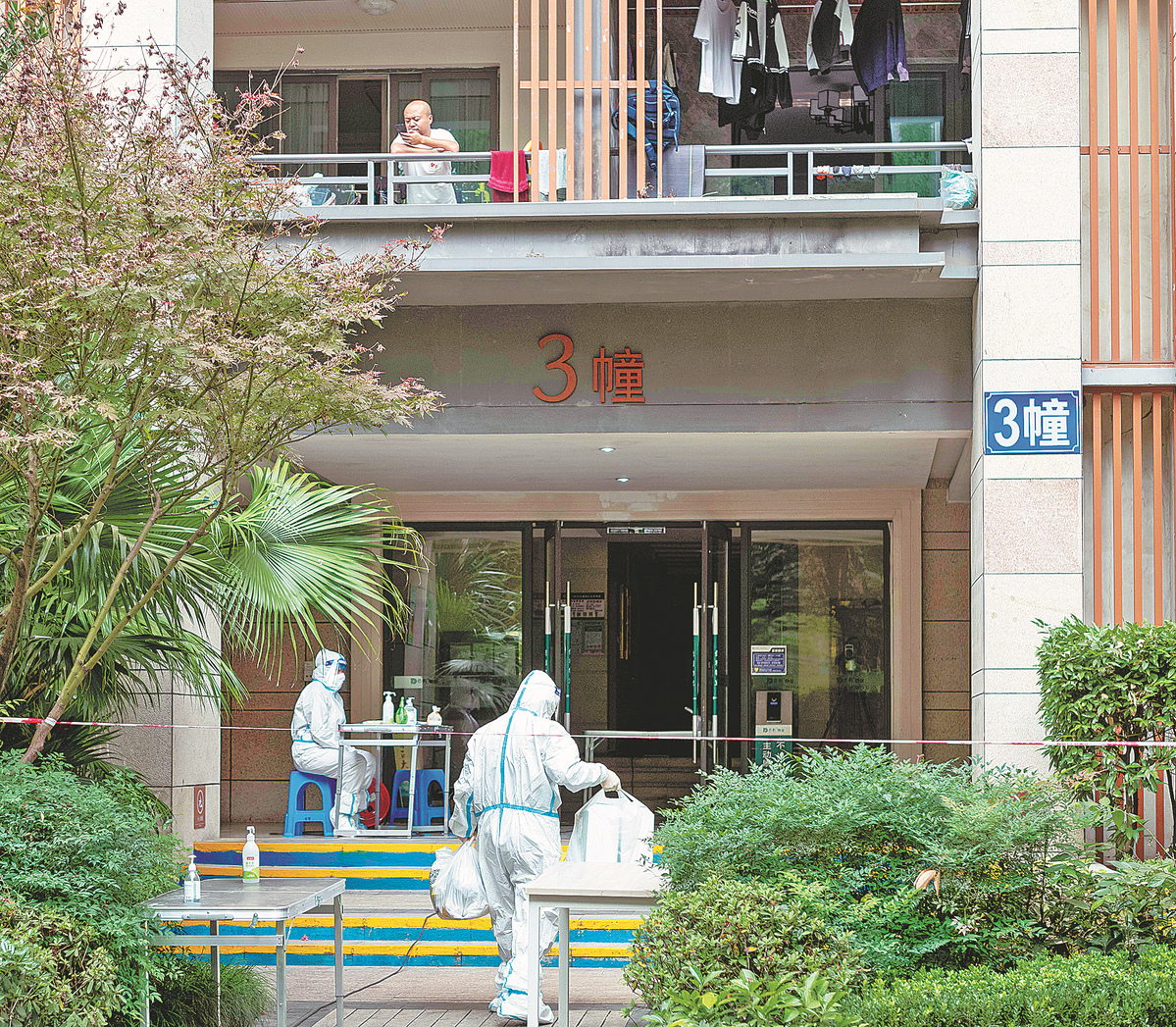 Municipality faces serious challenge as cases across 11 districts increase
Residents in 11 central urban districts in Chongqing are being urged not to leave their areas, and people from outside are being asked not to enter unless necessary, Li Pan, deputy director of the Chongqing Health Commission, said at a news conference on Wednesday.
Li said Chongqing is facing a serious challenge in COVID-19 containment, as local infections are rising rapidly in all central urban districts and spreading to districts and counties outside the region.
Chongqing reported 123 new local confirmed COVID-19 cases and 633 asymptomatic carriers on Wednesday, according to the commission.
As of Tuesday, 1,109 confirmed cases had been reported and linked to a transmission chain in Shapingba district that started on Nov 1. Infections have touched the city's 29 districts and counties.
Li noted that residents can travel within the central urban city region, covering 11 districts — for example, Jiangbei, Shapingba, Chongqing High-tech Industrial Development Zone and Liangjiang New Area — but are asked not to travel to other districts and counties outside the region.
To quickly find out the hidden source of the latest infections, central areas will carry out mass testing every day, and other districts and counties will adopt epidemic prevention and control measures.
On Thursday evening, Yuzhong and Shapingba districts issued notices to urge their residents to stay put at home for the next three days and reduce movement as much as possible in order to contain the spread of the virus.
Chongqing covers 82,400 square kilometers and has a population of more than 30 million.
Elsewhere, Guangzhou reported 2,555 infections on Wednesday, including 2,430 asymptomatic carriers. Of them, 25 were detected at the community level, according to the local health authorities.
Despite sporadic clusters of infections reported in the city's downtown Liwan district, Haizhu district remains the epicenter of this latest outbreak, according to Zhang Yi, deputy director of the Guangzhou Health Commission. A total of 2,369 infections were reported in the district on Wednesday.
The omicron BA.5 variant is the main strain in the outbreak in Guangzhou, officials said.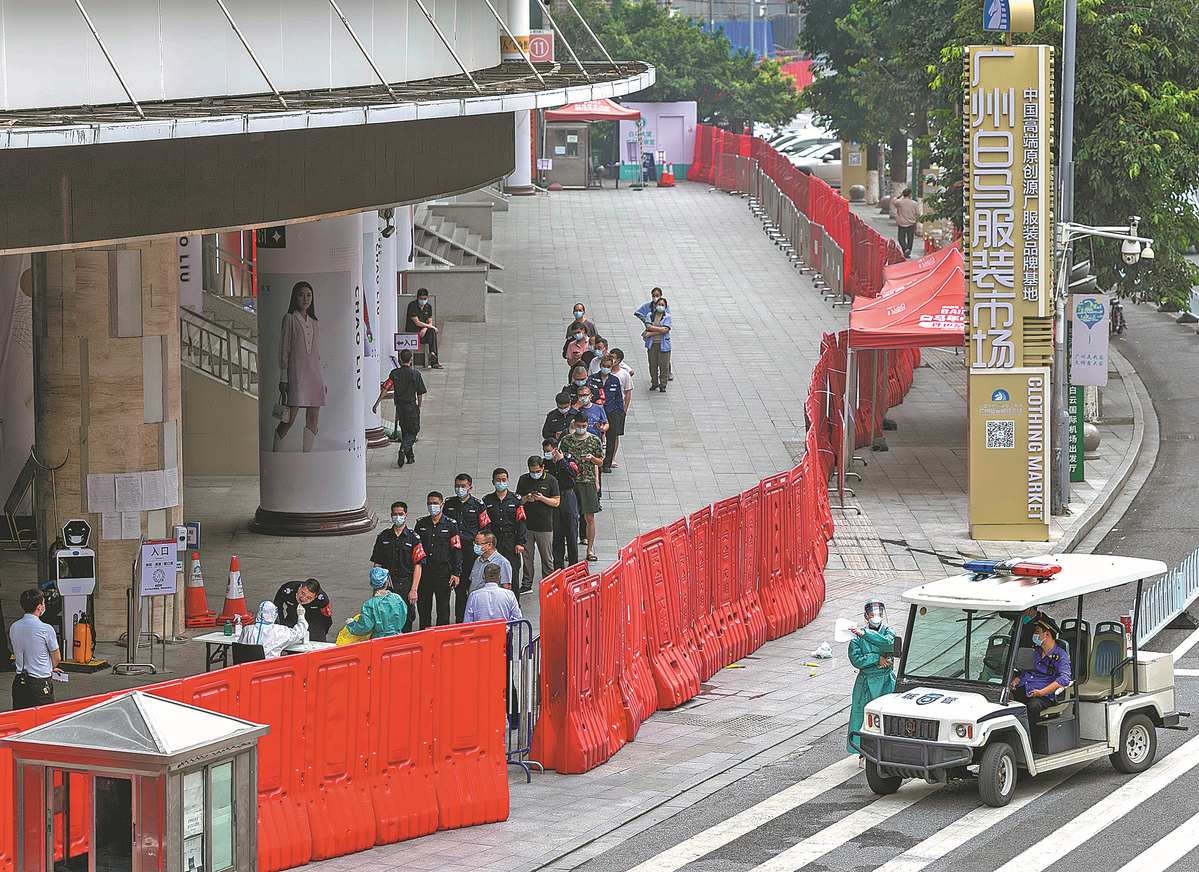 Starting Thursday, all of the city's primary and high schools, except those in Nansha, Conghua and Zengcheng districts, suspended in-person classes. Colleges and vocational schools are required to introduce closed-loop management to avoid campus outbreaks.
Zhang urged the strengthening of ventilation, cleaning and disinfection of classrooms, offices, canteens and toilets in the days to come, adding that a total of 14 schools in eight districts had been hit by the virus so far.
Zhang Zhoubin, Party secretary of Guangzhou Center for Disease Control and Prevention, said the real-time transmission index — a number that determines how many people can be infected by another person — in Haizhu had been reduced to 1.9 by Thursday.
By comparison, the real-time transmission index in Liwan district has recently risen to 2.6.
The COVID-19 transmission chain in Panyu district has been extended, and the number of affected areas has increased, said Zhang, adding that Panyu's real-time transmission index had increased to 2.5.
Mai Jieping, executive deputy head of Panyu, said the district has set up supply centers for living materials to ensure supplies of cereal, oil and other items are adequate.
Li Feng, executive deputy head of Liwan, said the district government has introduced targeted measures to help relevant departments fight against the virus and ensure adequate supplies of anti-COVID-19 materials and daily necessities to local residents.
Beijing is still facing a grim and complex epidemic prevention and control situation, according to local officials, with further cases of COVID-19 reported in the capital on Thursday.
"New cases have continued to be detected at the community level and the risk of hidden spread still exists," Liu Xiaofeng, deputy director of the Beijing Center for Disease Prevention and Control, said at a Thursday news conference.
"The omicron variant BF.7 has become the main strain in Beijing, with the characteristics of strong infectivity and concealment. The virus has been identified in express logistics, on construction sites, in parking lots, schools, restaurants, hotels and other densely populated areas, causing a number of outbreak clusters," he added.
Between midnight and 3 pm on Thursday, Beijing reported 59 locally transmitted COVID-19 infections, including 27 asymptomatic carriers.
Ye Zizhen contributed to this story.