More service sector programs announced
Share - WeChat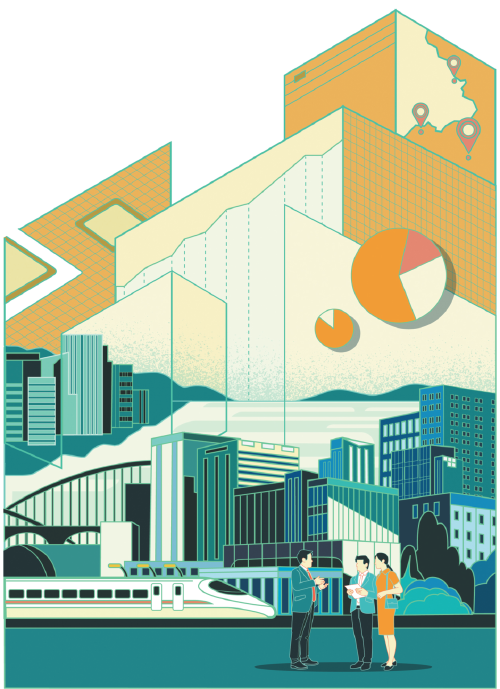 Six cities selected for opening-up as country eyes economic recovery
China has recently established pilot programs related to the service industry in six cities as it looks to expand opening-up nationwide and accelerate economic recovery, officials and experts said.
On Dec 20, the State Council, China's Cabinet, approved three-year pilot programs in Shenyang, Liaoning province; Nanjing, Jiangsu province; Hangzhou, Zhejiang province; Wuhan, Hubei province; Guangzhou, Guangdong province; and Chengdu, Sichuan province, bringing the total number of cities with similar programs to 11.
It was the third time that the list has been expanded since the first list started in Beijing in 2015.
According to the guideline, the six cities will encourage opening-up by improving industrial regulations, standards and management while focusing on development. In addition, local governments will advance reform and develop modern services that exploit their unique resources, making them more competitive globally and helping contribute to overall national growth.
The pilot programs in Beijing led to specific opening-up measures, including advancing reforms in technological services and innovation, boosting the development of the digital economy and trade, strengthening reform and innovation in financial services and fostering greater global cooperation through internet services.
One of the main reasons that these programs are important is because they help increase foreign investment, which is at the heart of opening-up efforts, according to a statement from the Ministry of Commerce. For example, a spike in foreign investment has driven the optimization and upgrading of China's industrial structure, which has helped the country's ability to meet demands.
With seven years' experience of piloting opening-up programs in the service industry, officials and experts believe that the addition of the programs, particularly since the optimization of COVID-19 containment measures, will significantly increase economic activity this year and in particular, boost economic recovery and create even more experience to draw on that can contribute to China's overall agenda for opening-up.
Tu Xinquan, a professor at the China Institute for World Trade Organization Studies at the University of International Business and Economics in Beijing, said that when the country first started the programs in the capital, the government's aim was to accumulate experience that other cities could learn from.
"That was also only two years after the Shanghai Free Trade Zone was established," Tu said. "One thing about Beijing is that the service industry makes up a greater proportion of the city's economic landscape, while manufacturing makes up a relatively smaller portion. Therefore, in terms of opening-up of the service industry, Beijing is playing a similar role to Shanghai's FTZ."
He added that overall, the level of opening up in the service industry is low.
Tu said that over the past seven years, the pilot programs in Beijing and four other provincial-level regions — Tianjin, Shanghai, Chongqing and Hainan — have been successful, and he expects that the six recently added cities will gain valuable knowledge from their own attempts.
For years, the service industry has been the primary means of attracting foreign investment and driving growth. During the 13th Five-Year Plan (2016-20) period, the average annual growth rate of foreign investment in the industry was 4.4 percent, accounting for more than 70 percent of the actual use of foreign capital.
From January to November last year, China's actual use of foreign capital in total stood at roughly 1.16 trillion yuan ($171 billion), marking a 9.9 percent increase year-on-year. Of that figure, the actual use of foreign capital in the service industry was 842.61 billion yuan, accounting for about 73 percent of the total.
Li Jun, director of the Institute of International Trade in Services at the Chinese Academy of International Trade and Economic Cooperation in Beijing, said that he expects the six new cities to take greater strides to boost opening-up in the high-tech production service industries.
"One common feature among the six cities is that they all have a solid development base in production and manufacturing," he said. "They can combine this with the pilot opening-up programs and developments in the modern service industry to explore and create new advantages for themselves."
Tu said that the expansion of pilot programs in the six cities was well-timed as the country is optimizing its COVID-19 containment strategies, and he expects the programs to achieve their stated goal.
"The COVID-19 situation over the past three years has dealt a heavy blow to the service industry, particularly endeavors that require contact between people, such as catering, transportation and tourism, which are also important areas in which China needs to expand opening-up," he said. "I believe the current optimization of containment measures and reopening will create new opportunities for the six cities to open up their service industries more effectively."
zhangyue@chinadaily.com.cn