TCM plays key role in virus treatment mix
Share - WeChat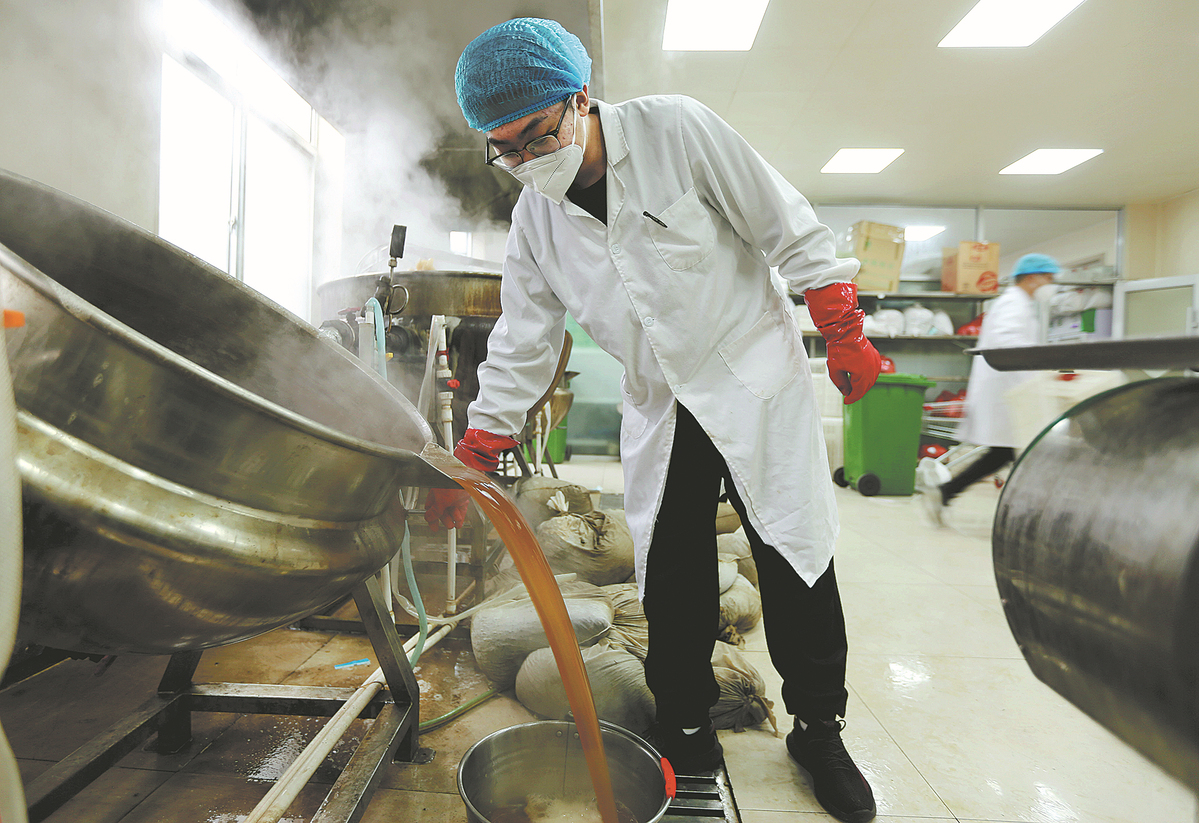 Traditional Chinese Medicine has played an effective role in preventing and treating serious COVID-19 infections, as well as accelerating rehabilitation, as TCM hospitals have ramped up fever clinics and intensive care capacity to adjust to the latest virus control strategy, authorities said on Tuesday.
Huang Luqi, deputy director of the National Administration of Traditional Chinese Medicine, said that over the past three years, China has developed and improved its treatment protocol that integrates TCM and Western medicine.
Home-based TCM therapies mean that patients are able to deliver TCM medications by themselves, and thus reduce the pressure on healthcare facilities, he said.
"TCM can also shorten the period it takes for mild and moderate cases to clear the virus from their bodies and thus reduce hospital stays. For patients at risk of developing serious symptoms, combining TCM with Western therapies can help halt or slow worsening conditions and reduce death rates," he said.
"In addition, many patients have felt that TCM can help ease coughing, fatigue, sweating and other lingering symptoms after testing negative again for the virus," Huang added.
As the focus of the country's COVID-19 response shifts from preventing infections to safeguarding health and preventing severe cases, Huang said TCM hospitals have been building more fever clinics and increasing intensive care capacity.
All secondary and tertiary TCM hospitals are now equipped with fever facilities. More intensive care beds are being added and training on critical care has been strengthened, he said, adding that online medical consultations have also been promoted to relieve strain on in-person healthcare services.
"We have published a guideline on home-based TCM treatment for COVID-19 patients, which recommends 70 TCM drugs and encourages localities to come up with their own prescriptions," he said.
To counter a shortage of drug supplies triggered by infection peaks in some regions, Huang said that the administration has worked with the Ministry of Information Technology and Industry to survey and expand the manufacturing capacity of drugmakers and advance the provision of a wider variety of TCM medications based on the availability of local resources.
Qi Wensheng, head of the emergency care department at China Academy of Chinese Medical Sciences' Guang'anmen Hospital, said that by observing patients' symptoms, monitoring their body temperatures, appetite and energy, TCM specialists can help identify patients potentially at risk of becoming more serious.
Zhang Zhongde, president of the Traditional Chinese Medicine Hospital in Guangdong province, said that TCM and Western medicine doctors have cooperated efficiently in treating serious COVID-19 patients.
For instance, patients who are intubated or put on a respirator due to breathing difficulty often suffer bloating and constipation as a result.
Zhang said TCM prescriptions and massage can help relieve these symptoms.