Movie focuses on and explores our common origins
Share - WeChat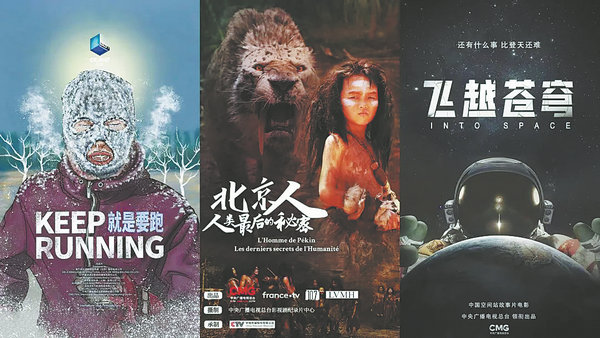 When did humans first make music? Did our distant ancestors start by beating things to create rhythm, or did they sing? How did art start? What made those early humans look at the world in a particular way? These are among the questions explored in the movie Peking Man, the Last Secrets of Humankind.
The movie seeks to reproduce those moments when our ancient ancestors first interacted with fire, created rhythmic sounds or paintings, and attempted to communicate with others. Based on the latest archaeological discoveries, it takes viewers on a journey into prehistoric East Asian jungles inhabited by gigantic animals that only existed at that time and on this continent, delving into different stages of human evolution. These subspecies of Homo erectus and Homo sapiens found in China, including Yuanmou Man, Lantian Man and Peking Man, appear in the movie which spans around 1 million years.
Its promotional videos were released on Dec 19, during the 4th Hainan Island International Film Festival.
As a joint production by both China and France, the movie aims to document the history of East Asia's first people in a scientific way. Directed by French director Jacques Malaterre, it uses scripts co-written by the paleontologist Yves Coppens.
The film starts with the early humans' first interaction with fire and later tells seven stories that show "how we became what we are today", says Malaterre.
He says the film will also inspire viewers to think about things like when, as a species, did we first feel sympathy? When did we cry the very first tear? And how did our ideas about an afterlife start to form? He believes that such emotive subjects will spark the interest of viewers.
Hainan is an excellent filming location for the movie as it boasts varied topographical features.
"The forests, caves, volcanos and ocean here meet our needs," says Guo Daming, the film's director of photography.
"Once, when Malaterre asked us to find a cave that exudes a strong sense of sacredness as a location for sacrifices, we traveled across the country to search for an ideal cave but we couldn't find a suitable location," Guo recalls.
Finally, one was found in Hainan's Changjiang, a cave that dates back more than 6,000 years.
"The stalactites deep in the cave can reflect sunlight in the afternoon, which casts a certain miraculous halo around the entrance. I exchanged a glance with the director and we knew this was the place."
Guo holds that the reproduction of details in the prehistoric environment can help modern people ponder our own situations.
China Media Group, the film's Chinese producer, also released two other movies, Keep Running and Into Space, at the same film promotion event.
Keep Running tells a story about how a group of long-distance athletes in the city of Genhe, Inner Mongolia autonomous region, train rigorously to pursue their dreams. Into Space uses 8K display resolution cameras to record the life of Chinese astronauts aboard the Tiangong space station.
Liang Hong, deputy director of CMG Film, Drama and Documentary Programming Center, and also the executive producer of the films Peking Man, the Last Secrets of Humankind and Into Space, said at the event that the three movies, themed respectively on prehistoric civilizations, the current reality and the vast universe, reflected the development of humankind from different perspectives. "These works embody their creators' big-picture thinking, the distinctive spirit of our times and an eager pursuit of humanistic ideals."
Most Popular