A new chapter for nature is expected
Share - WeChat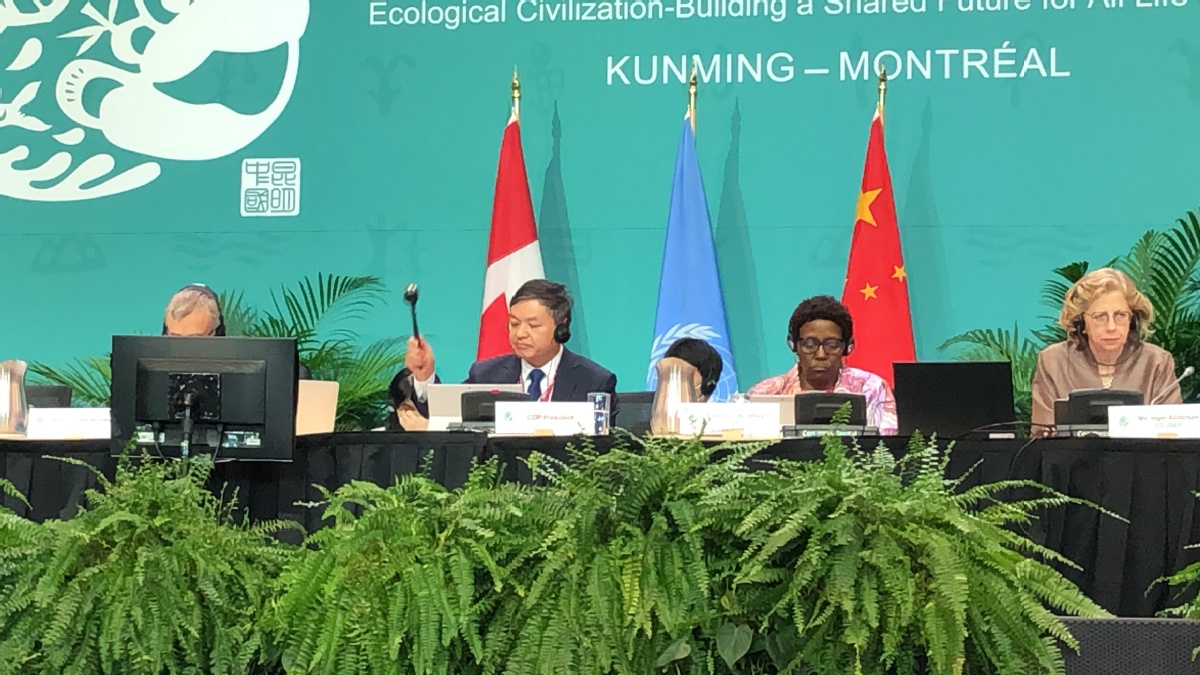 To celebrate the historic outcome of "Kunming-Montreal Global Biodiversity Framework", adopted in the Montreal biodiversity summit, the leaders said it is a victory of north and south.
The framework, presented two years later due to the global pandemic, was agreed upon by 195 countries and the European Union at the 15th Conference of the Parties (COP15) to UN's Convention on Biological Diversity (CBD) on Monday in Montreal. It is committed to stop and reverse biodiversity loss by 2030.
Speaking at a press conference on Tuesday, Huang Runqiu, president of COP15 and China's minister of ecology and environment, who has "a lot of pressure" in the beginning, said Montreal is a lovely city that brought luck.
Huang appreciated the parties' and leaders' support, especially Canada, saying the host country and China has a long history of friendship and cooperation.
As such, the China Council for International Cooperation on Environment and Development was initiated by Canada in the 1990s and has continued to operate today.
"This cooperation has had a great impact not only on China, but also on the world," said Huang, adding a healthy and stable China-Canada ties is a common interest for both sides.
David Cooper, Deputy Executive Secretary of CBD said it owes to a "combination of leaders from the north and the south." Cooper said: "It has been emblematic, but also enabling of the process to reach agreement over these days."
The journey to negotiations has been four years after the Aichi biodiversity targets agreed in Japan in 2010, where most of the targets have not been reached. The summit's outcome is a"turning point" as many said to slow down the loss of nature.
"It's not easy to get 196 nations to agree on every word in the framework, it is a triumph of multilateralism," said Cooper.
However, the framework will only be successful if it's integrated, Cooper added. "It's not just implemented by governments, but all sectors of the economy. In fact, beyond that, we need a [whole of] society approach."
China's leadership, instrumental in landing the deal, has been lauded from international leaders as well.
Espen Barth Eide, Norway's Minister of Climate and the Environment, who is one of the members of ministerial consultations invited by Huang during high-level meeting, told China Daily that he is "very happy" to work with Chinese presidency.
Eide along with Maisa Rojas, Chile minister for the environment, managed to put together the DSI (Digital Sequence Information) document, which African countries have been pushing for quite some time to agree on a deal.
"The Chinese presidency has been doing a very good job," said Eide. "We are able to give a clean text to the presidency so that we can find a quite new innovative solution. Now I will go home to Oslo and immediately start thinking about how to follow up."
Huang pledge to lead all parties to carry out the framework moving forward as China will continue to serve as the presidency in the next two years.
When it comes to finance, the agreement includes a commitment to mobilize at least $200 billion per year by 2030 in financial flows from "all sources", including the public and private sectors, to "progressively" close the biodiversity finance gap of $700 billion per year, and aligning financial flows with the Framework and the 2050 Vision for Biodiversity.
Huang said the coming actions include establishing a Global Biodiversity Framework Fund in 2023, establishing a multilateral mechanism for DSI benefit sharing, and starting the open-ended work group discussion for reporting to COP16, which will be held in Turkey at the end of 2024.
"We will comprehensively guide and promote the relevant process of inter-sessional meetings before COP16, actively guide the implementation of the framework goals, and ensure that relevant decisions passed are fully implemented," Huang said.
"The result of COP15 opens a new chapter of hope in the fight to keep our world a livable place for all. Implementing this deal will require increased and sustained mobilization,"Oscar Soria, campaign director of the international activist group Avaaz told China Daily.