President's call at COP15 praised
Share - WeChat Speech will boost global governance of biodiversity, experts say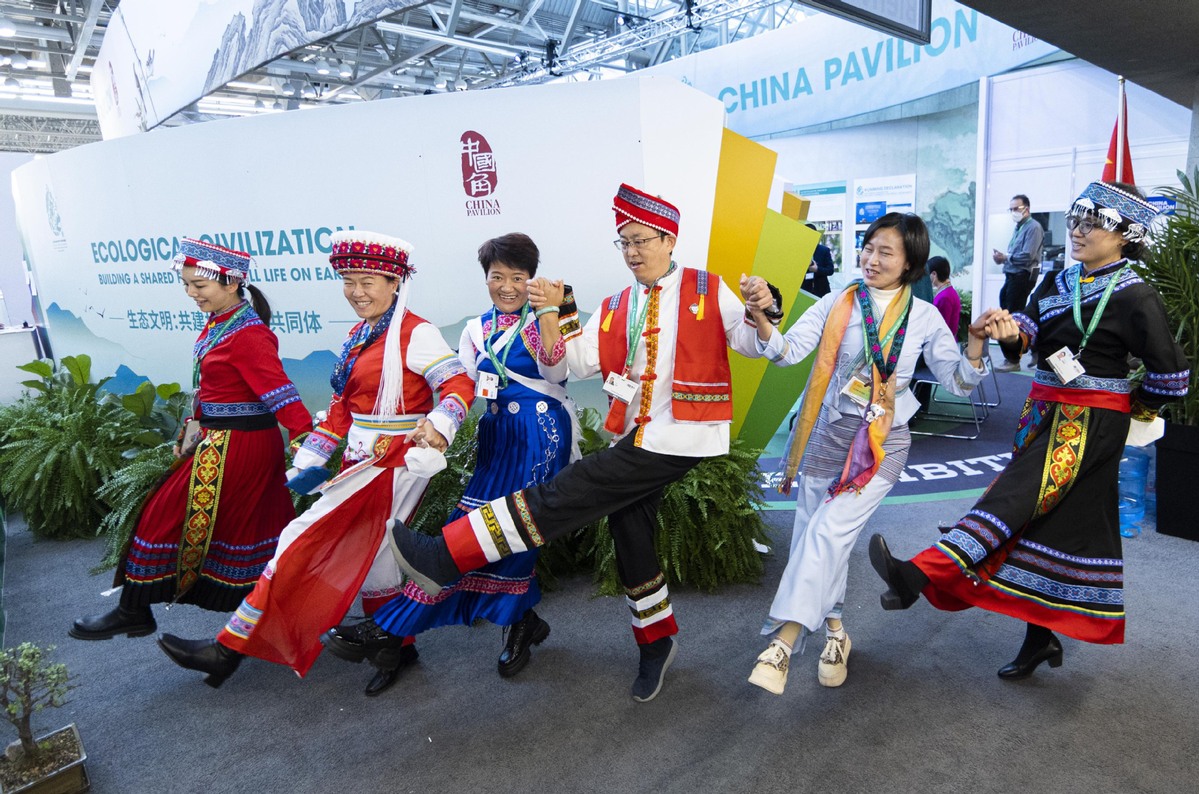 Chinese President Xi Jinping's call for building global consensus, pushing forward the global process of biodiversity protection and turning ambitions into action embodies China's commitment to biodiversity protection, and will inject a strong impetus into global biodiversity governance, experts and officials say.
Addressing the opening ceremony of the high-level segment of the second part of the 15th meeting of the Conference of the Parties to the Convention on Biological Diversity, or COP15, via video link on Thursday, Xi also called for promoting green development through biodiversity protection and upholding a fair and equitable global order on biodiversity protection.
"He made a very inspiring welcome address here at the COP15 in Montreal, where he really encouraged all parties to identify the path toward a global outcome on biodiversity so as to hold and reverse and protect nature," said Florika Fink-Hooijer, director-general for environment at the European Commission.
In the speech, Xi urged all parties to firmly defend true multilateralism, firmly support the UN-centered international system and the international order underpinned by international law, and form a strong synergy for protecting the Earth.
"I think it was also very positive that he firmly emphasized the international system with the United Nations at its core," Fink-Hooijer said.
The speech by Xi contained some powerful words, particularly the focus on the need to take action, said Marco Lambertini, director general of the World Wide Fund for Nature International, adding that this is what the world needs to reverse biodiversity loss.
"And at the moment, the negotiations are a little bit stuck. But we really also appreciate the effort of the Chinese presidency to mandate leaders from different governments to really begin to address the differences that still exist."
Xi's statement was inspiring, said Leonardo Cleaver de Athayde, director of the department of sustainable development of Brazil's Foreign Ministry.
"I think he conveyed all the right messages to delegations here at COP15. … I think it's an approach that is very compatible with the concept of sustainable development, which is very dear."
Salman Zafar, founder of EcoMena, an environmental think tank in Doha, Qatar, said: "President Xi's speech is of great importance due to the fact that biodiversity is an integral aspect of all processes which support life on Earth."
Xi's emphasis on biodiversity conservation is expected to spur all countries to initiate concrete steps to reduce the exponential loss in biodiversity, Zafar said.
Urgent steps needed
With natural ecosystems being increasingly threatened by human activities, it is essential for all countries to take urgent steps to protect and restore natural ecosystems, he said.
Deniz Istikbal, an economic researcher at the Foundation for Political, Economic and Social Research, a policy think tank in Ankara, Turkiye, echoed his view, and emphasized that international collaboration should be humanity's highest goal.
China has endeavored to promote ecological progress and biodiversity protection. As a country with some of the richest biological resources in the world, China has put biodiversity protection high on its agenda.
Since 2015 the country has established 10 pilot national parks, including parks dedicated to protecting Siberian tigers and Amur leopards, as well as giant pandas.
Ninety percent of China's terrestrial ecosystem types and 74 percent of key state-protected wild flora and fauna species have been placed under effective protection measures, the Ministry of Ecology and Environment says.
"We cannot do anything but support and work and help and learn from China on how it is managing nature, conservation areas, national parks, nature reserves and so on," said James Hardcastle, head of the International Union for Conservation of Nature's protected and conserved areas team.
For Nature conservation, China is "winning the World Cup," Hardcastle said.
Jan Yumul in Hong Kong contributed to this story.
China Daily - Xinhua