Xi urges global consensus on biodiversity
Share - WeChat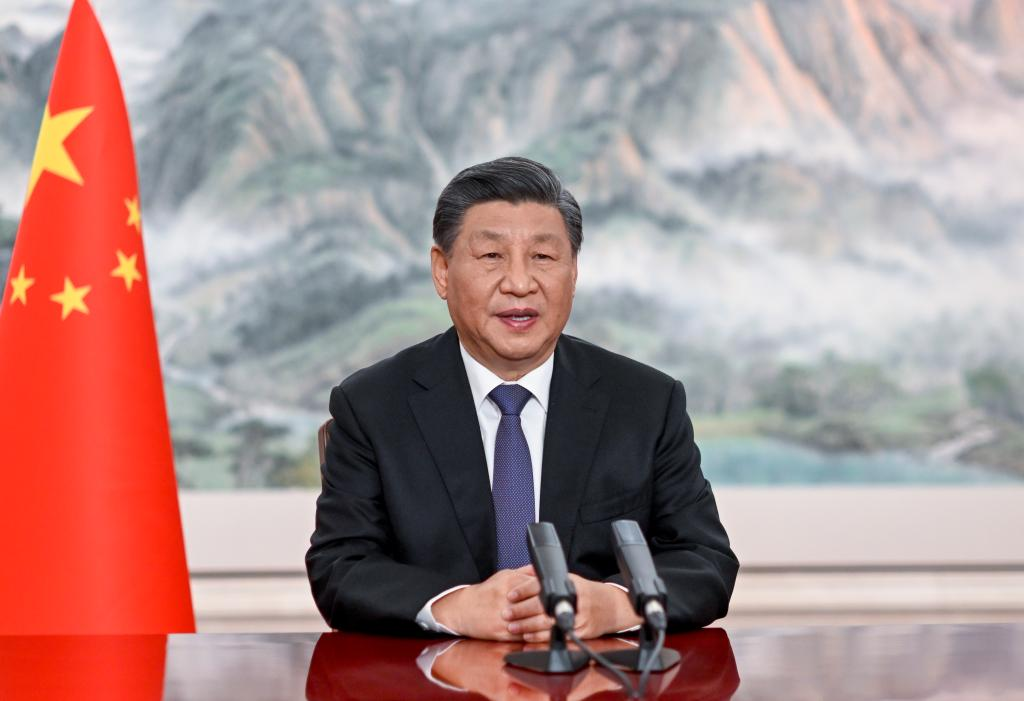 President Xi Jinping has underlined the need to build international consensus on biodiversity protection, and called for efforts to improve global biodiversity governance and build a community for all life on Earth.
Xi made the remarks while addressing the opening ceremony of the high-level segment of the second part of the 15th meeting of the Conference of the Parties to the Convention on Biological Diversity, or COP15, via video link on Thursday.
Focusing on the theme of "Ecological Civilization — Building a Shared Future for All Life on Earth", the high-level segment is being convened in Montreal, Canada, at a pivotal time as the international community rallies to address the current biodiversity crisis.
The objective of the high-level segment is to build and maintain political momentum in support of ongoing negotiations to develop a detailed and effective Post-2020 Global Biodiversity Framework, which is expected to be adopted at the Montreal conference. China is president of COP15 and has made efforts to lead and coordinate the negotiation process.
Xi said that humanity lives in a community with a shared future.
"Be it in overcoming the COVID-19 pandemic, or in enhancing biodiversity protection and achieving sustainable development globally, solidarity and cooperation are the only effective ways to address global challenges."
Noting that a sound ecosystem is essential for the prosperity of civilization, he called for international cooperation to promote harmonious coexistence between man and nature, build a community of all life on Earth, and create a clean and beautiful world for all.
Experts have warned about the biodiversity crisis the world is facing, and they urged developed countries to assume their responsibilities and help developing countries realize the vision of "living in harmony with nature by 2050".
Jiang Zhigang, a professor in conservation biology at the University of Chinese Academy of Sciences, said that the world is facing a biodiversity crisis, and genetic diversity in many plants and animals has eroded.
He cited a report from the Food and Agriculture Organization of the United Nations, saying 75 percent of the world's food is generated from only 12 plants and five animal species nowadays, and many plant and animal species in the wild are endangered and even extinct due to habitat loss and human activity, and ecosystem structure is damaged.
COP15 plays a crucial role in reversing biodiversity loss and restoring the natural environment by implementing the Post-2020 Global Biodiversity Framework, Jiang said in an article published on the website of China Global Television Network. Governments and stakeholders need to recognize the cost of inaction, he said.
In his speech, Xi called on the international community to build global consensus on biodiversity protection, jointly work for the conclusion of the Post-2020 Global Biodiversity Framework, and identify targets and pathways for global biodiversity protection.
While stressing the need to push forward the global process of biodiversity protection, he called for efforts to turn ambitions into action, support developing countries in capacity-building and coordinate efforts to address climate change, biodiversity loss and other global challenges.
Xi urged promoting green development through biodiversity protection, speeding up the green transition of development modes and lifestyles, and leveraging the China-proposed Global Development Initiative to deliver greater benefits to peoples of all countries.
"We need to uphold a fair and equitable global order on biodiversity protection, firmly defend true multilateralism, solidly support the UN-centered international system and the international order underpinned by international law, and form strong synergy for protecting the Earth, our common homeland."
Xi also reiterated China's commitment and actions on biodiversity protection as well as on building a shared future for all life, saying the nation will actively respond to the Action Plan for the UN Decade on Ecosystem Restoration, and launch a large number of key projects on biodiversity protection and restoration.
"We will do our best to provide support and assistance to fellow developing countries through the Belt and Road Initiative International Green Development Coalition and the Kunming Biodiversity Fund, so as to elevate global biodiversity governance to a new height."
At the Leaders' Summit of COP15, which was held in Kunming, Yunnan province, in October last year, Xi announced China's initiative to establish the Kunming Biodiversity Fund and take the lead by investing 1.5 billion yuan ($216 million) to support biodiversity protection in developing countries.