Summit links biodiversity with culture
Share - WeChat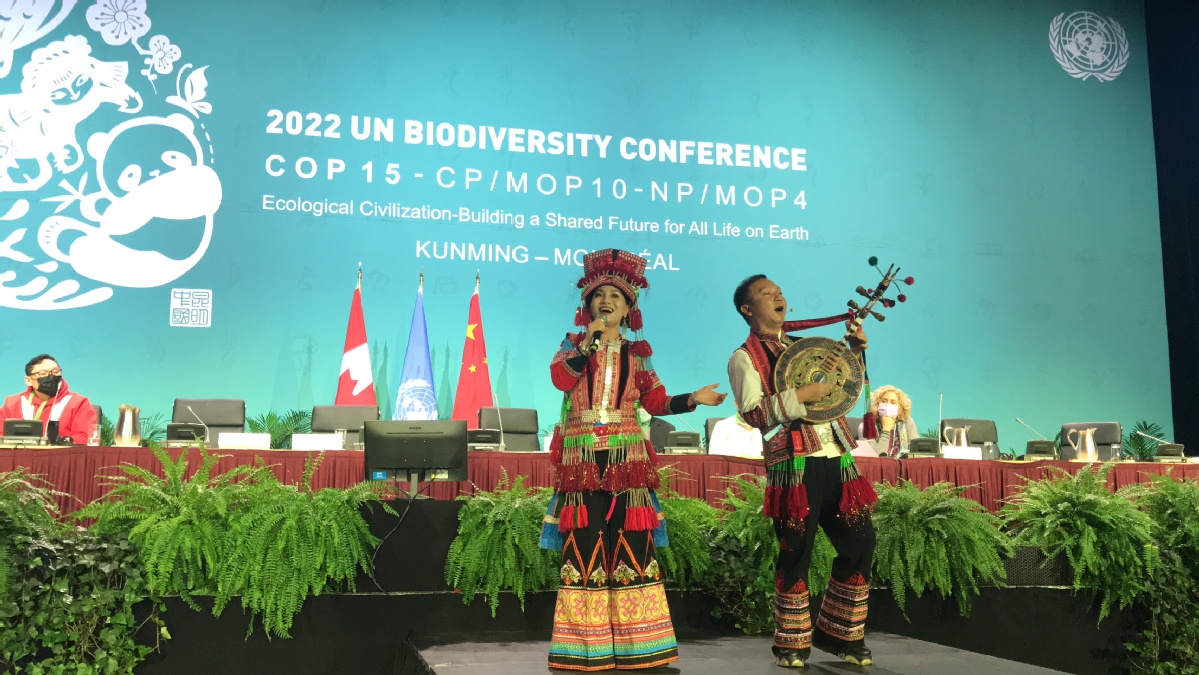 A global dialogue on strengthening the links between nature and cultures to achieve a sustainable and ecological civilization also highlighted the achievements and actions taken by China.
Officials, experts and nongovernmental organization (NGO) members gathered at a Nature and Culture summit during the 15th meeting of the United Nations' Conference of the Parties (COP15) to the Convention on Biological Diversity (CBD) Dec 11-12, in support of the implementation of the post-2020 Global Biodiversity Framework (GBF).
In his opening remarks, Huang Runqiu, the Chinese minister of ecology and environment and the president of COP15, stressed the importance of cultural diversity, especially the experience and knowledge from minority groups.
The relationship between nature and culture is vibrant, said Huang. Culture is deeply intertwined with the natural world. Chinese culture contains a clear concept of harmonious coexistence between humanity and nature, he said.
For example, Yunnan province, where the first phase of the COP15 meeting was held, is home to 26 traditional ethnic groups and 15 unique minority groups, forming a series of traditional ecological cultures such as the Hani Terrace Culture, Naxi Dongba Culture, Dai Long Mountain Culture, and Tibetan Holy Land Culture.
Their worldviews, cultural values and identities are closely connected to nature, as per their saying, "Humans and nature are half-brothers".
Huang urged protecting biodiversity by proposing to "fully respect and protect" the traditional cultures in various places and let the cultural awareness of biodiversity protection be passed on "from generation to generation".
He also called for strengthening mutual learning and communication between different cultures.
"We need to promote equal exchanges and dialogues between different civilizations and cultures, learn from each other and actively promote the process of global biodiversity governance," Huang told the summit.
Pei Shengji, a professor at the Kunming Institute of Botany and Chinese Academy of Sciences, explained how Yunnan is a prime example of how biological and cultural diversity are linked.
Situated in the Eastern Himalayas with a land area of 394,000 square kilometers, Yunnan's ecosystem ranges from low tropical forests to alpine pastures as one of 36 global biodiversity hot spots.
Today, there are 20,000 hectares of traditional tea forest with millions of 100-year-old tea trees maintained by local communities. The area's tea-production value is much higher than modern tea gardens, according to Pei.
Xishuangbanna is another tropical lowland area in Yunnan, inhabited by 1.2 million people of different cultural ethnic groups.
"They establish a culture of sacred nature sites, locally known as 'long forests', where some traditional cultures believe the forest water can rescue the men, leading to the establishment of distinctive cultural landscapes in the area, contributing to the conservation of the tropical rainforest ecosystem," Pei told the summit via video.
Ma Jun, a founding director of the Institute of Public and Environmental Affairs who has led the development and launch of China's first environmental public database, discussed action to raise awareness across all sectors on the links between biological and cultural diversity.
Through launching the China Pollution Map, as well as the Blue Map, a mobile app that helps the public file "micro reports" against factories violating environmental laws, the NGOs' Green Choice supply chain program and public supervision have motivated more than 20,000 companies to enhance their pollution controls and climate actions.
"During the process, we have witnessed the historic progress made on China's environmental transparency, the rapid improvement of air and water quality and the restoration of forest grasslands and wetlands. All of these have provided more and better habitats for species," Ma said.
The summit also provided roundtable discussions focusing on a new joint program of the links between biological and cultural diversity in support of the implementation of the post-2020 GBF.
Priscilla Settee, professor emeritus at the University of Saskatchewan, noted thar there are major battles around intellectual property rights on seed-saving and methods of production and distribution, which cause much human suffering and hunger throughout the world.
"So we need to get our history right. We need to acknowledge the centuries of colonialism … based in global imperialism through land grabs. We need to take a critical look at international free trade agreements that I call bills of rights for the rich and powerful," said Settee, whose parents attended a residential school during a dark period in Canada's history.
LVMH, a luxury goods company, told the summit that along with the Circular Bioeconomy Alliance, action will be taken to restore forest cover in the southern Ecuadorian Amazon and the northern Peruvian Amazon, while supporting and strengthening the development of a regenerative economy in Amazonian communities.
"We need a stronger signal to unite all parties, as the protection of biodiversity is not simply a plus but a subject that must transform our way of producing. I hope that we can build alliances between nature and humans without one dominating the other," Hélène Valade, the environmental development director of LVMH told the summit.