A bridge between both sides of Taiwan Straits
Share - WeChat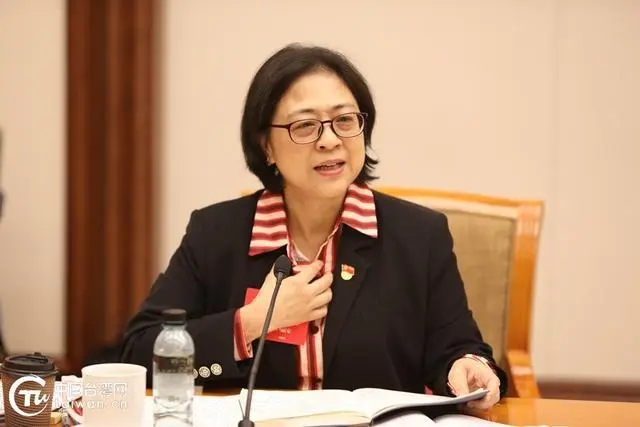 Lu Li'an, the only delegate at the 19th and 20th national congresses of the Communist Party of China who was born and raised in Taiwan, said she is not always pleased to be identified solely by her connection with the island, as much as she loves her home.
Instead, she prefers to be referred to as "a Chinese from Taiwan". After all, she has spent the past 25 years in Shanghai, a city she calls her second home.
Lu said when she and her husband moved to the mainland, their foremost desire was to "reclaim their Chinese identity" and expand their prospects. Ten generations of her family were born on the mainland.
"But if having such a label will attract more young people from Taiwan to witness the vast space for personal growth on the mainland, I would feel proud and honored," said Lu, a professor of English literature at Fudan University's School of Foreign Languages and Literature, and director of the university's Office of Global Partnerships.
As one of the 10 members representing Taiwan at the CPC National Congress, Lu, who has been teaching at the university since 1997, said she feels proud to promote cross-Straits exchanges so as to achieve the rejuvenation of the Chinese nation.
"Taiwan's reunification with the motherland is an essential part of the rejuvenation of the Chinese nation," Lu said. "It is up to each one of us to work together to achieve this."
Born in Kaohsiung in 1968, Lu spent 22 years in Taiwan before studying in the United Kingdom for her master's and doctoral degrees in English literature in 1991. She met her husband Shen Yifan, a fellow postgraduate also from Taiwan, in the UK.
As China's reform and opening-up policies gathered pace, Lu said she and her husband began to feel frustrated by Taiwan's political environment and hence decided to move to Shanghai, which is her father-in-law's hometown.
It was her husband's desire to come to Shanghai, and she fully supported his decision.
"My parents were supportive, too. They said, 'It's our motherland, so don't be afraid'," Lu said. "For us, it was a homecoming."
In 1997, Lu and her husband joined Fudan and became the university's first faculty couple from Taiwan.
Lu recalled that the move was a long and complicated process. She first expressed her desire to work on the mainland to the Chinese embassy in London in 1995. It then took two years of paperwork and coordination between the university and relevant government offices before she and her husband could finally move to the mainland.
Opportunities for Taiwan residents to study, work and live on the mainland have come a long way since the new millennium, she noted.
"As far as I know, there are about 3,000 Taiwan residents who are now working in universities or higher education institutions on the Chinese mainland. There are more than 200 such individuals in Shanghai and more than a dozen at Fudan," she said.
There are currently more than 1 million Taiwan residents who are working and living on the Chinese mainland, she added.
Besides her university work, Lu is an active member of the Shanghai Taiwan Compatriots Friendship Association.
Since 2013, she has been serving as the organization's chair and is responsible for forwarding suggestions and advice to government, including the Shanghai People's Congress and the Shanghai committee of the Chinese People's Political Consultative Conference.
She said that years of participating in public affairs have increased her sense of responsibility, and this was why she applied to join the CPC in 2014.
"I thought I could contribute more to society if I became a member," she said.
Gao Yongwei, dean of the school where Lu teaches and who is also a Party member, said he still remembers Lu's statement on her Party application.
"She really hoped to contribute more and we were all very touched by her sincerity," Gao recalled.
"She has always been a warmhearted and down-to-earth person."
Lu said Taiwan residents should not fear further integration with the Chinese mainland. However, she also notes that there is still much to be done to facilitate more cross-Straits exchanges and integration.
She describes the current obstacles preventing people on both sides of the Straits from communicating better as "invisible walls", which she will continue to tear down so Taiwan residents can enjoy the same rights as local people when they come to study, work and live on the mainland.
"We live in a challenging world. If we want to create a future of peace and prosperity, we must work together. With more and more people from Taiwan building successful careers and lives here on the mainland, we are showing that social integration and national reunification can be a reality. It must be," she said.