Jiangzhou tradition is carved in stone
Share - WeChat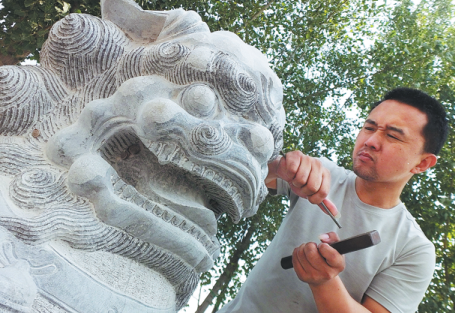 Ever since he was born in 1990 in Xizhuang village, Shanxi province, Jia Jinhui's life has been closely associated with stone carving.
"I have been surrounded by the sound of my grandfather, father and uncles carving stones for as long as I can remember," said Jia, who comes from a family with a long history of stone carving. "As I grew up, I began to learn how to carve from them."
The stones they carve come from the Mashou Mountains, about 25 kilometers northwest of Xinjiang county. Thanks to local government policies, the villagers have been able to profit from the stone processing boom in recent years.
Jiangzhou stone carving, a traditional skill originating in Xinjiang county, dates back at least a 1,000 years, and Xizhuang has carefully preserved the tradition. The village has three courtyards dating back to the Ming Dynasty (1368-1644) and 20 to the Qing Dynasty (1644-1911) that showcase a wide variety of structures, demonstrating the changing styles of each period.
Unlike other forms of stone carving, the Jiangzhou method is a comprehensive art that includes sculpture, painting, calligraphy, seal cutting and modeling.
After graduating from junior middle school in 2006, Jia joined his elders to help develop the family business.
"At the time, I could only carve easy pieces like hitching posts, which are used to decorate the house gate," he said. "I spent a whole year learning from my father."
He also spent a lot of time reading about traditional stone carving and art to improve his skills and appreciation.
In just a few years, his efforts paid off, and his pieces were well-received at cultural expos across the province.
"My grandfather started a family workshop in 1989, one of the first in the village," he said. "In 2015, we registered a company and began to expand production."
Previously, the family worked in their front yard, a small space about 300 square meters in size. Now they have a manufacturing area of 2,000 sq m, including workshops, an exhibition hall and offices.
In recent years, Jia has traveled to provinces like Shandong, Hebei and Fujian to study their stone carving industries.
He then tried out new ideas he had picked up and developed new products.
"Traditional carved items, like hitching posts and stone lions, are usually used to decorate classical architecture," he said. "Now we have developed pieces that can be used in modern architecture, including a fish tank and a table."
Their carvings have caught the eyes of buyers across the country, which has helped the company grow. It now has an annual turnover of 2 million yuan ($279,600) and employs 30 villagers during the busiest periods.
"Over the last few decades, my family has trained around 100 stone carvers from the village as well as nearby villages," Jia said. "After leaving, some of them have successfully started their own businesses."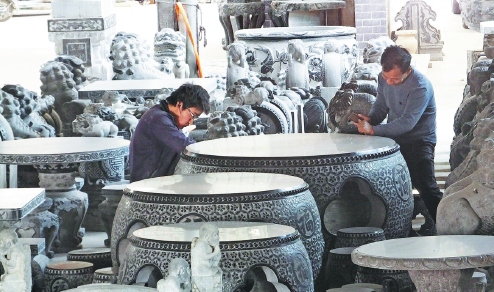 In 2017, Jiangzhou stone carving was listed as a provincial-level intangible cultural heritage, encouraging more residents of Xizhuang to take up the trade.
In 2019, Jia was listed as a city-level inheritor of the intangible cultural heritage.
The Xizhuang Stone Carving Park is home to 100 stone carving factories and hundreds of experienced craftsmen, including inheritors of the craft at the provincial, city and county levels.
In recent years, modern mechanical carving skills based on traditional methods have been introduced to increase variety, quantity and efficiency.
The village now produces about 1,000 items in 10 series.
They are sold both domestically and overseas.
Stone carving has become an important way for local farmers to increase their incomes, and the sector is now worth about 100 million yuan a year.
"As an inheritor of intangible cultural heritage, I feel more responsibility to pass on traditional culture to the next generation," he said. "I also hope more people around the country will get to know the culture of our province through our beautiful stone carvings."