People stock up on drugs after controls eased
Share - WeChat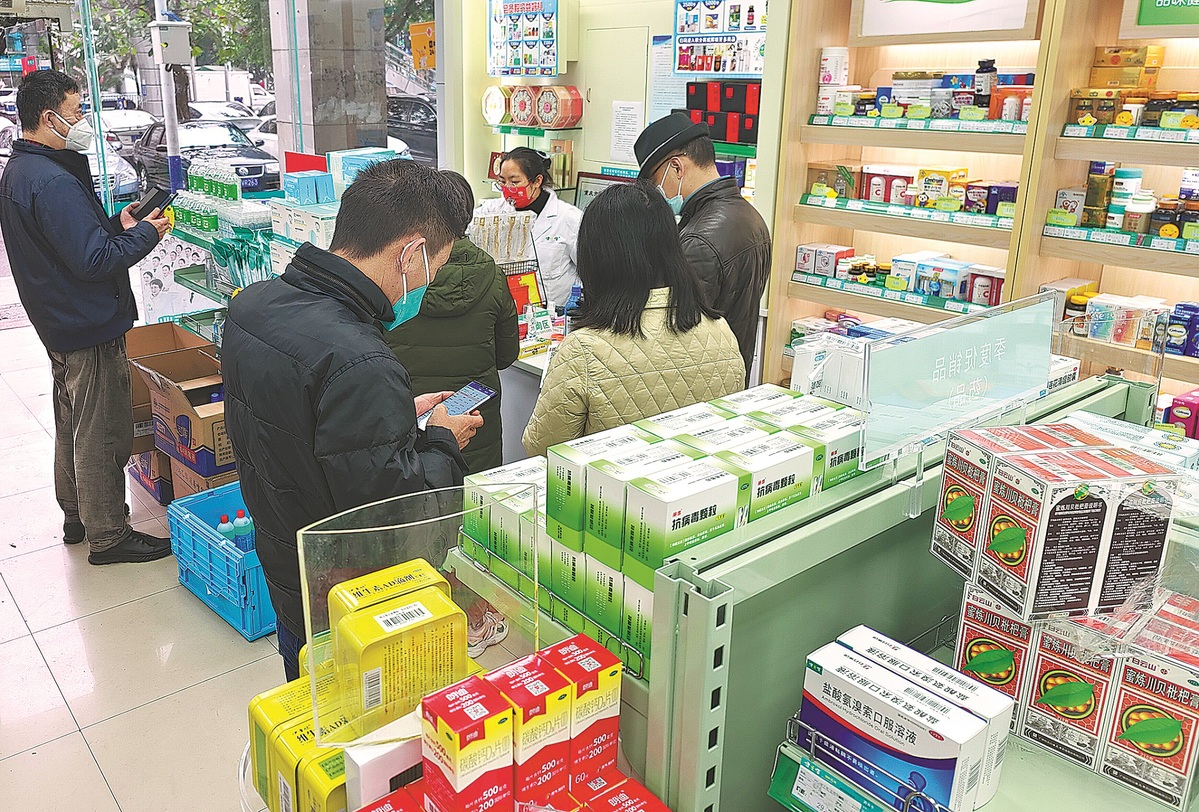 Medication, test kits become bestsellers as cities no longer require buyer details
People are bracing for greater risk of infection by stocking up on items from medications, painkillers and vitamins to test kits, as authorities modify COVID-19 control measures to tackle the less lethal yet super-contagious Omicron subvariants.
The fervor has been reflected in part by several lists of medications widely shared on messaging app WeChat and microblogging service Sina Weibo, whose pronounced aim is to navigate a person through dealing with a possible infection at home.
One such catalog contains eight medications, including the common cold medicine Lianhua Qingwen, the anti-inflammatory drug Ibuprofen and vitamin C tablets.
An accompanying note provided advice on which drugs should be used in four scenarios: prevention, early stage, middle or recovering stage and when the body aches.
Others even went as far as to recommend drugs approved for COVID-19 treatment, such as the pricey antiviral pill Paxlovid, and devices such as oximeters, which measure the oxygen concentration in arterial blood, and lung ventilators.
The growing demand in Guangzhou, Guangdong province — where Omicron-fueled outbreaks induced widespread lockdowns last month — prompted the province's medical products bureau to call for sensible purchasing.
"It's necessary to prepare some short-term, emergency drugs, yet there is no need for hoarding them in large quantities," the bureau said on Tuesday, adding the lists trending on the internet are unreliable.
Finance website JRJ.com reported on Monday that the seven-day retail sales of cold, fever, cough and anti-inflammatory drugs grew 18-fold on e-commerce platform JD.
Searches for Lianhua Qingwen, a bestseller on the platform, have increased by 2,000 times year-on-year, it said.
The sales of antigen test kits on JD surged by 344 percent between Nov 28 and Sunday, compared with the previous week, the report added.
The explosive growth in demand came after cities including Beijing, Tianjin and Hangzhou in Zhejiang province adjusted control measures earlier this month in line with central government directives and scrapped a rule banning online sales of fever, cough, antiviral and antibiotic drugs.
First imposed in October last year, the rules required brick-and-mortar pharmacies to register buyers as part of an effort to track possible infections.
Hoarding has also been fed by concerns that eased COVID-19 restrictions — such as allowing older and pregnant patients to quarantine at home, and stopping checking test results for subway riders — would result in a spike of cases.
Sun Zhijia, a respiratory medical expert in Guangzhou, warned against the random use of medications. In an interview with Global Times, he said the drugs featured on the lists are mainly for upper respiratory symptoms such as cough and a runny nose, and therefore would be ineffective for patients with other COVID-19 symptoms including diarrhea, and the loss of appetite and sense of smell.
Huang Guoxin, a pharmacist in Shanghai, told the news website ThePaper.cn that people grappling with associated symptoms are advised to use antigen test kits first.
If results return negative, he said Ibuprofen and other fever drugs can be used to lower body temperature as people wait out the discomfort. If the symptoms persist, people are advised to seek medical advice and treatment, he added.