New hothouses under construction for hibernation of captive-born Chinese alligators
Share - WeChat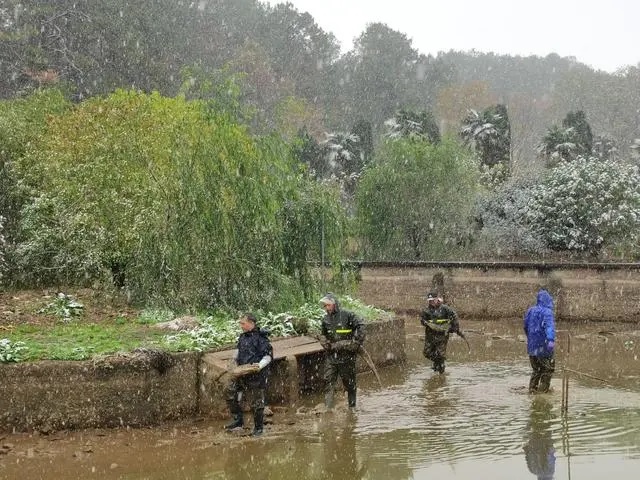 HEFEI -- Workers in a Chinese alligator national nature reserve are moving thousands of captive-born alligators one by one from a breeding pond to their hibernation houses. Such toil, however, leads to the undergoing of a new project.
Eleven underground caves with intelligent devices such as cameras and sensors will be hothouses for the captive-born alligators to spend hibernation next year, said Xia Tongsheng, deputy director of the reserve administration.
He said the administration started in 2021 with the upgrading and building of the breeding facilities of Chinese alligators, with a total investment of 16.15 million yuan ($2.28 million), including the underground caves and scientific research monitoring equipment to minimize human interference. Next year, captive-born Chinese alligators can climb from the breeding pond to the artificial caves to hibernate by themselves.
The new home is capable of meeting the hibernation needs of nearly 4,000 adult Chinese alligators, Xia said.
The Yangtze alligator, also known as Chinese alligators, has lived on Earth for over 200 million years. It is listed under China's first-class animal protection.
Since 1979, artificial breeding of the Yangtze alligator began in the reserve in Xuancheng, East China's Anhui province, which is the main habitat of the species.
The reserve currently boasts approximately 14,000 captive-born alligators. It is also the world's largest breeding and research center for the species. It has begun reintroducing the endangered reptiles into the wild since 2003, and as of 2020, a total of 508 Chinese alligators have been released in 16 batches.
Every winter, when the outdoor temperature drops to around 10 degrees Celsius, workers transport the alligators to hothouses. They need to be moved back to the breeding pond next spring.
"We have divided the Chinese alligators into 53 hibernation houses according to their length and size, where they undergo physical examination and disinfection," Xia said.
The room temperature is kept between 10 and 12 degrees Celsius, with workers disinfecting the indoor environment.